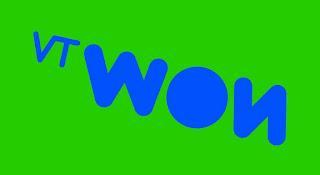 When we think of Sky, the dish and the classic decoder immediately come to mind, to be placed in the living room to be able to see all the contents offered by this platform.
However, many users do not activate Sky precisely because of the annoyance of having to place a dish on the roof or on the balcony, to which are added some limits provided for in the contract (the mandatory years of constraint and the vexatious clauses included in the classic subscription).
But what if we told you that
it is possible to see Sky without a dish
and with a much more flexible subscription?
In this guide we will talk about Now TV, Sky's on-demand service dedicated to all users who fall into the aforementioned categories and who wish to see the contents of this platform on-demand (on request) or live (channels broadcast as were on the decoder).
1)
What is Now TV
Now TV is the service offered by Sky for all users who do not want to subscribe to the classic subscription with satellite dish and decoder (for users with satellite dish and decoder another reserved On-demand platform is available, namely SkyGo) and want to see the contents legal streaming via the Internet.
Now TV offers a large variety of On-demand content; for those unfamiliar with this term, just know that it is possible to see and review the best programs already seen on the satellite as if they were simple videos, with the possibility of pausing, going back and forth and stopping the viewing at any time, without interruptions advertising.
In addition to On-demand content it is possible
also see the live broadcasts of some of the channels visible on the satellite platform
: the number of available channels is not high (otherwise it would be ruthless competition with the satellite platform!) but all the most viewed channels are present and it is possible to watch most of the successful programs broadcast on Sky.
The channels currently available on Now TV are as follows.
Cinema
Sky Cinema One
Sky Cinema Family
Sky Cinema Comedy
Sky Cinema Max
Sky Cinema Cult
Sky Cinema Classics
NOTE: You can watch these channels for free with
a single TimVision subscription that includes Sky
Entertainment and TV series
- Sky One
- Sky TG 24
- Fox Life
- H
- Nat Geo Wild
- MTV
- Fox
- Fox Crime
- Sky Atlantic
Children and boys
- Disney Junior
- Disney Channel
- Fox Animation
- Nick jr.
Sport
- Eurosport 1
- Eurosport 2
- SkySport 24
- SkySport 1
- SkySport 2
- SkySport 3
- SkySport Plus
- SkySport F1
- Fox Sports
- SkySuperCalcio
- SkyCalcio (12 channels)
The list is not bad and allows you to enjoy the best of Sky's satellite platform without using the dish, but
connecting to the Internet and viewing streaming content
.
We can see all channels supported by Now TV here ->
Channels available on Now TV
.
2)
Now TV subscription
All the channels that we have presented above can be viewed upon subscription of one of the available subscriptions, called
Ticket.
Each ticket guarantees access to the dedicated channels to which it refers, and in order to see all the Now TV channels we will have to subscribe to all the tickets available; obviously, it is up to the user to customize the offer and pay only for the channels and content he is interested in.
Tickets do not provide for any type of constraint and can be managed as if they were a simple rechargeable: every month Now TV will charge the cost of the Ticket (or Tickets) activated and if we no longer want to see a ticket, simply cancel it, without further explanations or constraints.
We can change tickets, reactivate and deactivate them at any time
, so as to customize the offer according to the needs of the moment (if for example in that month we want to see only TV series, we can request only that ticket and then deactivate it to go to the ticket dedicated to films or sports).
The tickets currently available on Now TV are:
- Ticket Cinema
- Entertainment ticket
- TV Series Ticket
- Ticket Sport
The following prices are available for Cinema, Entertainment and TV Series Tickets:
- 1 Ticket of your choice at € 9,99 / month
- 2 Ticket of your choice at € 14,99 / month
- All 3 tickets € 19,99 / month
If, on the other hand, we want to attend live sporting events, the Ticket Sport can be activated (together with the other tickets or even alone) with the following prices:
- 1 day Sport Pass ticket: € 6,99
- 7-day Sport Pass ticket: € 10,99
- Monthly Sport Pass Ticket: € 29,99
To see all the channels offered by Now TV you will therefore have to pay € 49,98 each month
, but as we had already mentioned, it is possible to customize the offer according to personal needs or the needs of the family so as to spend much less (the only really expensive package is the monthly one dedicated to sport, the others have affordable prices).
In any case it is possible
try the service for free for 14 days
then decide whether to keep and pay the chosen tickets; with some promotions (such as with the Now TV Box) we can get 2 months of viewing some tickets for free (in HD and without renewal), alternatively we can focus on one of the partner promotions (such as Fastweb) that offer 4 months of free viewing or a discount on the cost of the Internet subscription if we subscribe to Now TV.
Tickets can be purchased by credit card, rechargeable debit card (such as Postepay or PayPal card) or by directly using a PayPal account.
To subscribe to the service and choose a ticket we can use the link here ->
Now TV
.
Alternatively we can subscribe
Now TV with some special offers from mobile operators
, listed on the partner page.
Among them are Vodafone, Fastweb, Playstation, Xbox and others.
3)
How to watch Now TV
We can use the Now TV service on the following devices:
Smart TV (dedicated app), PC, tablet, smartphone, iPhone, iPad, Sony PlayStation 4, Microsoft Xbox One, Vodafone TV, Chromecast and the TV box dedicated to the service (called
Now TV Box
).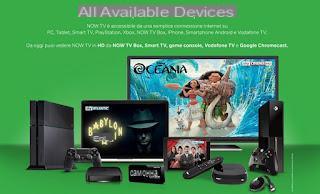 As you can see the compatible devices are numerous, it is difficult not to find a system to watch Now TV wherever you want; if you only have a PC, just use a Web browser to view the contents and channels.
Currently Now TV allows viewing on one device at a time and allows you to manage up to a maximum of 4 devices on the same account (always with the viewing limit limited to a single device at a time), plus it transmits at a standard display quality (480p).
By combining the
Plus package (€ 2,99 per month additional)
we will unlock
la
HD resolution
(only for some enabled devices) and we will be able to see the contents of
Now TV on two devices at the same time.
HD-enabled devices are:
- Chromecast
- Now TV Box
- Sony PlayStation 4
- Microsoft Xbox One
- Vodafone TV
- Smart TV app
It is not possible to see in HD from smartphones, tablets and PCs even by purchasing the Plus package.
In order to correctly view all the contents of Now TV without clicks, blocks or slowdowns, an Internet connection is required with at least 3 Megabits per second in download (standard quality channels); for HD channels, at least 8 Megabits per second are required in download.
4)
What is the Now TV Box
One of the simplest and most immediate ways to try Now TV is to buy the branded TV Box from the service, that is
Now TV Box
.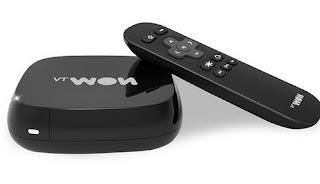 This small device (based on the Roku 2 TV Box) allows you to
view Now TV content and live channels on any TV or monitor equipped with an HDMI port
, even in high resolution.
Simple to install, it offers the Now TV app as a reference for viewing content (there is also the dedicated button on the remote control) but it also offers other interesting apps, to be used to make every TV without Smart functionality truly multimedia.
The additional apps currently available are: Spotify, YouTube, Vimeo, VEVO, the
Roku Media Player (DLNA compatible)
and RedBullTV, plus a few minor news and entertainment apps.
It is not possible to add other apps from a Store or via APK (being based on Android): Sky chooses the apps to add to the firmware and makes them available via updates.
To use the TV Box, simply connect it to the home WiFi network (even with a 5GHz network, since it is dual band) or via an Ethernet cable to the LAN socket, enter the access credentials to your Now TV account and start using the content and apps offered.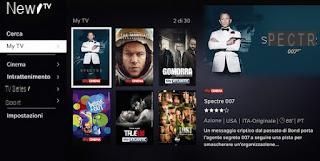 The Now TV Box (Smart Stick) can be purchased at a cost of € 19,99 (without ticket) or € 29,99
(with free ticket for 2 or 3 months)
from one of the following e-commerce sites:
-
Now TV site
-
Amazon
-
Unieuro
-
MediaWorld
We can also find it in the physical stores of the aforementioned chains, so you can also buy it during a normal shopping session.
5)
Personal experience
As owner of the Now TV service and the branded TV box, here are my considerations on the goodness of this service.
As the owner of other on-demand subscriptions (Netflix and Mediaset Premium Play) I do not appreciate the choice of charging HD separately, as well as the limit in viewing devices (should I pay separately to watch on 2 devices?).
Despite everything, the quality of the streaming is very good, even on not particularly brilliant connections (try to respect the minimum requirements, otherwise the channels will be "cuby" and jerky).
Even at standard quality, the transmitted signal is of a higher quality than the channels transmitted on digital terrestrial, which demonstrates the goodness of the Sky service from the point of view of visual quality.
By enabling HD it is difficult to see the difference compared to the signal transmitted via satellite, the quality is really excellent!
Nothing to complain about the audio, very good especially on live channels (it still transmits Stereo audio, supporting DTS and Dolby only as passthrough on compatible TVs).
The prices are in line with the competition, and ticket management is really very convenient (Netflix has made school!).
The only real limitation of Now TV is on the optimization of the streaming stream for live channels: if we use the service on Chromecast, on the web browser or on other devices, we could run into a buffering problem that cannot be solved even with the 1000 Mega line!
On average every 10-15 minutes the audio and video stream freezes for a second, and then resumes without problems: a really frustrating problem!
The only way to get around the problem is to use the Now TV Box, completely immune to the buffering problem: this therefore excludes problems on the part of the servers but demonstrates a lack of optimization on some of the supported devices.
So you can watch Now TV without any problem
and appreciate the service 100%
I recommend trying the service in combination with the branded TV Box
, only in this way will we get total compatibility and will be able to see all channels live for hours without interruptions.
How to see Sky without a satellite dish and a fixed subscription