How to spy on WhatsApp with QR code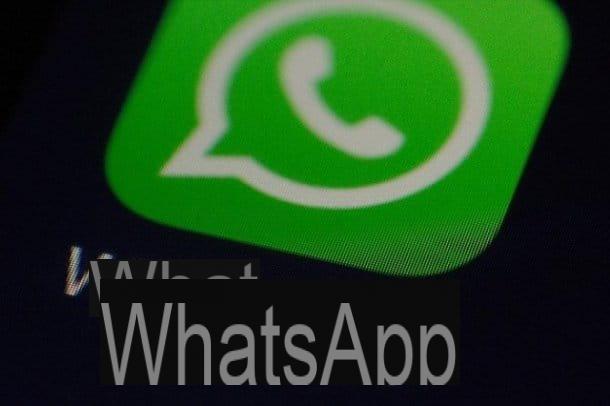 If you asked yourself how to spy on whatsapp with qr code, they will undoubtedly have come to your mind Web WhatsApp and the client's WhatsApp for PC, two solutions developed by Facebook (a company that owns WhatsApp) that allow you to use WhatsApp on your computer using a QR code to be scanned with the app for Android or iPhone. Before explaining how to proceed, I would like to reassure you, however, about the WhatsApp security system.
You may not know, but the app in question uses a technology of end-to-end encryption, that is to say "from point to point", which is called Textsecure and it works roughly like this: messages arrive on smartphones and service servers in encrypted form, and the content can only be seen by legitimate senders and recipients. The problem is that WhatsApp is a closed source app, so its source code cannot be thoroughly examined, which makes it impossible to verify whether end-to-end encryption is applied perfectly or not.
What could happen? Well, for example, it is not certain that with some specific software, such as Wireshark, you cannot sniff some WhatsApp data through less secure wireless networks, such as public ones.
How how? Is it not clear to you what you just read? I try to explain everything to you: it sniffing it is a technique through which the data passing through a wireless network can be captured and analyzed; consequently, if WhatsApp had flaws in the implementation of end-to-end encryption (which, I repeat, has not occurred at the moment) and you connected to a public network without using a good VPN, the risks you would run would be many. I have given you more details on sniffing networks in this guide that will certainly dispel all your doubts.
Let's go back to the heart of the discussion: therefore, how to spy on WhatsApp via QR Code? It is not a simple procedure, not so much for what it needs to be done but because it is difficult for certain mistakes to be made by the account owner. Everything is based on the fact that the service stores the user's identity (just tick the box Stay connected after the first login) and it works regardless of the connection you use on your smartphone: this means that even if the phone is away from the PC, WhatsApp Web is still accessible.
Yes, I know what you're thinking: under these conditions, just take the smartphone you want to spy on and connect it to WhatsApp Web by scanning the QR code; at that point, even if the victim takes the phone with him, it will not matter because you can still continue to use the service. You say that it is impossible to take a phone and connect it to WhatsApp Web in a short time, without the rightful owner agreeing to it? You are not completely wrong, which is why I told you that it is a complicated procedure.
I also remind you that now the service also sends notifications at every access, then the owner will be notified that WhatsApp Web is active, and can immediately act accordingly. Which you will have to do too, in case you notice that someone is spying on you on WhatsApp. How do you say? Wouldn't you know how to proceed in case something like this happens? Don't worry, I'll explain it to you right away.
How to protect yourself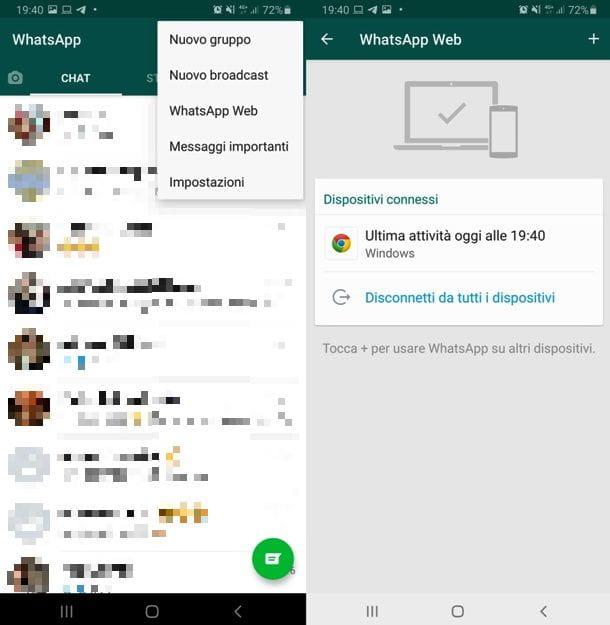 Let me advise you, first of all, to don't lend your phone to strangers or in any case to people you do not trust blindly; if you want to do it, make sure to controllare that they are actually doing what they told you; secondly, do not leave your smartphone unattended and don't forget to choose a secure PIN and change it regularly. And no, the advice didn't end there.
Even if you don't particularly like it as an idea, you might as well think of set up unlocking the phone with the fingerprint sensor or face recognition, in case your smartphone was equipped with it. You're thinking that, in reality, you look great with yours unlock with sequence? I strongly advise against it, to be honest, because if someone is spying on you it takes little to memorize your movements on the screen.
Furthermore, you must know that, by activating a biometric recognition system, you will prevent any unauthorized access to Web WhatsApp/Destkop: in this case, in fact, the connection must be confirmed by the device owner.
Don't forget to either prevent the display of SMS on the lock-screen, which, despite being a convenient feature, would allow the attacker to see the SMS with the WhatsApp activation code even if you have locked the screen. I'll explain here what is the procedure to follow.
I advise you, then, to check the active sessions on your account for WhatsApp Web and WhatsApp for PC, in order to find any suspicious activity. How do you say? Don't you know how to do it? Let's fix it right away.
Open, therefore, WhatsApp on your smartphone and go to the menu of Settings (on Android by pressing the ⋮ button located at the top right and on iPhone by selecting the appropriate tab at the bottom right), then select the item WhatsApp Web / Desktop.
At this point, you will see one list of browsers and computers from which you can access your messages and also the last accesses made. Have you noticed any suspicious activity? Very well: select the item immediately Disconnect from all computers / Disconnect from all devices, in such a way as to immediately disconnect any computer and device.
I recommend: given the sniffing techniques I told you about before, never connect with WhatsApp to public networks because they are the preferred means of attackers. Use only the services of VPN because they encrypt all the connection data and hide the location of the phone, thus protecting you from any tracking. In this regard, I recommend that you download or NordVPN (I'll talk about it here) or Surfshark (find more information here).
How to spy on WhatsApp without QR code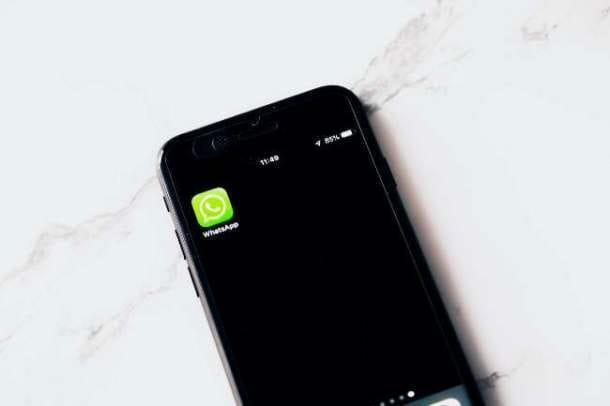 Now I'll explain how to spy on WhatsApp without QR code, since the techniques are many and do not end with the use of WhatsApp for PC. How? Didn't you think it was possible? Well, fortunately, these are complicated procedures to implement, so just be careful and you will see that no one will be able to spy on you from a distance.
Cloning of the MAC address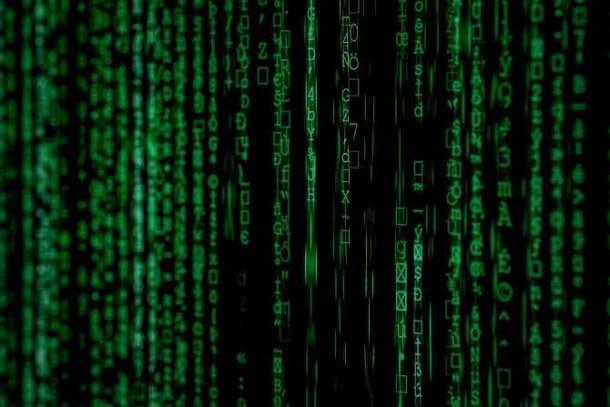 If you think about it, the use of WhatsApp Web with QR code by an attacker is essentially a identity theft. There is another similar technique that you shouldn't underestimate: it is the MAC address cloning, that is the twelve-digit code that uniquely identifies all devices that can connect to the Internet. Well, this code can be disguised precisely to deceive the WhatsApp verification systems; it is not a quick procedure but be careful with it anyway.
What exactly happens? I'll explain it to you right away: once he gets hold of your smartphone, the attacker will do nothing but set his phone in such a way as to have the same MAC address as yours - this only apparently, since I told you about "camouflage" -, by installing a copy of WhatsApp and activating it with your number; this will allow him to bypass the restrictions of the service, which cannot be used on more than one smartphone at the same time, and to gain free access to your conversations.
Among the most famous examples of this technique are undoubtedly SpoofMAC for iPhone and BuxyBox e Mac address ghost for Android, although there are several apps of this type. I advise you to always keep an eye on your smartphone and follow all the advice I have given you so far: it may seem impossible for certain things to happen, but, in reality, it is precisely our carelessness that an attacker takes advantage of without thinking twice. But I still have more to warn you about.
Spy applications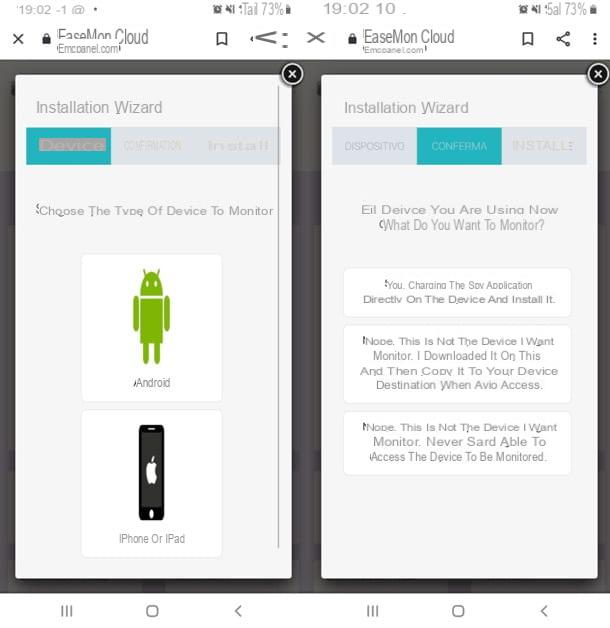 Spy on WhatsApp it is also possible using the so-called spy-applications, which you must not confuse with app for parental control, that is, with those apps that, if properly configured, generally allow you to monitor the behavior of your children; in this case, you can certainly check what a third party does on WhatsApp but it is also true that it is a limited control since the apps were designed for parents and not to achieve other goals (God forbid, even if sometimes they are "bent" to uses that are not very moral!).
When you hear about spy applications, in the strict sense of the term, we refer to apps designed specifically to spy on users' activities. These are programs that generally remain hidden and do not appear in the system menus, since their goal is to secretly keep track of activities from multiple points of view: for example, they capture the phrases typed on the keyboard, the screenshots and the messages exchanged on the phone.
These apps, in reality, are very expensive, so they are not affordable for everyone; however, I do not advise you to underestimate them as a little carelessness is enough to find yourself in unpleasant situations. How? Would you like to have an example? Sure, that's what I'm here for!
Among the most used there is undoubtedly iKeyMonitor, available for both Android and iOS (no jailbreak), other than PC Windows e Mac. The price is not low: after the trial period, in fact, the service costs $ 29,16 / month if you want to use all the features of the app.
The app's functions are clearly visible in its management panel, accessible from the official website: you can check what has been typed on the keyboard by selecting the item Keystrokes; the voice SMS logs allows you to see messages; the voice WhatsApp, to view the chats of the well-known messaging service and so on.
I could go on and on: it is possible, for example, to send the geographic location and screenshots by email to a designated email address. In this guide you will find more information about the service.
I remind you, once again, that spying on users represents a very serious violation of privacy, so I advise you not to download the app with bad intentions but to simply deepen your knowledge to protect yourself from any malicious persons.
How to protect yourself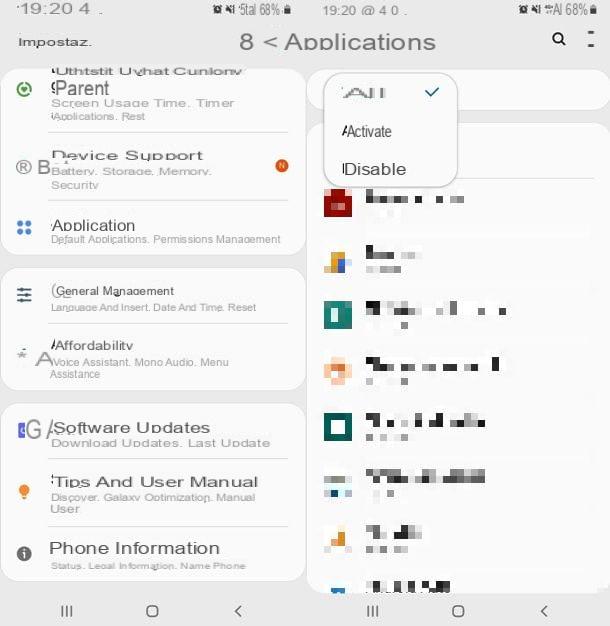 How to protect yourself in case you notice that you are being spied on by such an app? I reiterate the importance of do not lend your smartphone to people you don't know or trust; secondly, do not root or jailbreak because these procedures unlock system protections and make your device extremely vulnerable; also remember to use a secure unlock code hard to guess. These are small tricks that, however, help a lot.
You may have followed all of these tips but find yourself in trouble anyway. Maybe you did something wrong and didn't realize you downloaded some dangerous app: that's why I recommend you check the apps installed on the device: if you use Android, go to the menu of Settings, then on the voice Applications, finally select the option All from the drop-down menu at the top, as soon as the new screen opens; I also recommend that you check the apps with elevated permissions by going to the menu Settings> Security> Other Settings> Device Administrators. If you use a iPhone, invece, go to the menu Settings, then select the items Generali e Free space iPhone. This will make it easy to control because you just need to swipe through the apps on your device. In case of suspicious apps, uninstall them from Android or iPhone.
Consider, however, that many spy apps can hide in your phone and cannot be viewed, except with special codes that you should type: all you have to do is start the browser of your smartphone and connect to the addresses localhost: 4444 o localhost: 8888, which are the ones used by many spy apps to hide their configuration panel. That's not all. You should also start the dialer, that is, the screen where you enter phone numbers, and enter the code * 12345: this is because you may have access to the possible configuration panel of a spy app installed on the phone.
If you have a rooted Android device, I strongly recommend that you boot too SuperUser / SuperSu, to check if there are any spy apps among those that have obtained root permissions: needless to say that, if by chance you find any, you must immediately revoke the permissions in question.
If you want to feel safe, do you think they are really monitoring your activities and you have not been able to find or uninstall the spy apps, do not waste any more time and format the device, erasing all data: I explained how to do it in special guides that I have dedicated to Android reset and iPhone reset.
Finally, remember that if you have an Android device, you can install a good anti-malware which will certainly be useful for blocking not only spy apps but also other malware designed for the "Big G" operating system, even in the future. I have recommended some of them in this guide.