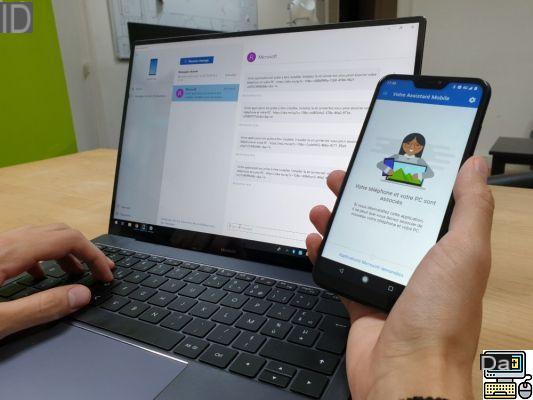 Thanks to its new "Continue on PC" feature deployed from the Fall Creators Update, Microsoft offers a new way to synchronize your Android or iOS smartphone with a PC on Windows 10. As its name suggests, it allows you to continue on a PC a task started on smartphone. A way to move from one screen to another smoothly.
There are several advantages to synchronize your smartphone with a PC. Many users are constantly switching between their computer and their cell phone. Many times, the need arises to move from one screen to another while continuing what we had started on the previous one. Thanks to the new functionality Continue on Windows 10 PC, Microsoft is making it easier.
Synchronize your smartphone with Windows 10
The option is available from the Fall Creators Update. It not only allows you to easily switch between web browsing on phone to PC, but also share text for common clipboard use. In other words, you will be able to copy text on your smartphone and paste it directly into any software on the PC. Microsoft promises to enrich the possibilities over the versions.
To configure synchronization between your smartphone and a Windows PC:
Go to Settings> Phone
Click on Add Phone
Enter your phone number. Check that you are positioned at the level of the correct callsign
An SMS is sent to you in the following seconds with a link to download the Microsoft Launcher application if you are on Android or Continue on PC if you are using an iPhone or iPad
After installing Microsoft Launcher for Android smartphones, you don't have to set it as the default launcher. Synchronization will work even if it does not. From any browser, whether it be Chrome, Safari, Firefox or Opera Mini, click on the menu access button then on "Share".
From the list of sharing options, select "Continue on PC". On iPhone, click on the "More" link. The application scans and displays the previously configured PC. Select it and the page will automatically open in Microsoft Edge. So you can continue where you left off.
It is also possible to click on the link "Continue later". In doing so, the page does not automatically open on the PC. However, a message is constantly displayed in the notification center as a reminder guide.
You will also notice that Windows forces web pages to open in Microsoft Edge without being able to change the default browser. Fortunately, there is a workaround to set Google Chrome or another browser as the default in Windows 10.
At the moment, the synchronization between an Android smartphone / iPhone and a Windows PC does not work with all applications. For example, it is not possible to use it with the Photos / Gallery apps of iOS and Android to share pictures. "Continue on PC" is currently compatible with most smartphone web browsers, but also a handful of apps like Flickr and SoundCloud.
The editorial advises you:
Windows 10: How to turn Windows Defender on or off
Ipconfig: how to find out your local IP address and MAC address on Windows
Windows 10 won't start? Several reasons can cause problems when starting Windows 10 for the first time or after an update: Bad BIOS settings,... The battery is one of the essential parts of our laptops. Like smartphones, battery life is a crucial factor for a good experience. Some applications act…Creating a WiFi access point on Windows 10 in order to share your Internet connection is done in two steps, three steps. We explain the procedure to you in this… On Windows, there are several ways to update the drivers. Generally, these update automatically. But it is sometimes necessary to force the maneuver,…