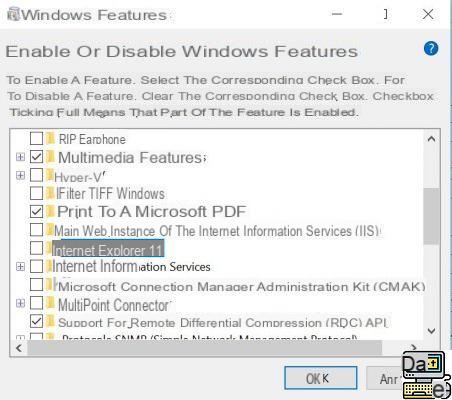 You are told how to uninstall Internet Explorer on Windows 10. The browser still has a market share of 2,7%, a figure that seems insignificant especially when compared to the more than 60% of Google Chrome. But the number of browser users remains very high despite the risks to which it exposes. Which recently led Microsoft to beg Internet users to stop using it.
Internet Explorer, Microsoft's unloved browser is still widely used around the world. Rest assured, it is even more so than Edge which replaced it by default on Windows 10 for four years. And this, despite the many efforts made by the Redmond firm to encourage users to use its new browser.
However, Internet Explorer only receives minimum support for its latest version 11. Microsoft occasionally deploys security updates. Apart from that, the browser is neglected to such an extent that it is overtaken by the evolution of web technologies. the firm strongly exports users to no longer use it. On Windows 10, uninstalling Internet Explorer may seem easy at first, but is not necessarily easy.
How to remove Internet Explorer from Windows 10
Internet Explorer is not the default browser for Windows 10. It is nevertheless present on the operating system. For those who would still be tempted to use it at the expense of Edge, Chrome or Firefox, uninstalling it is one of the better solutions.
Like Android, uninstalling default installed apps is not as easy as you might think. If you want to remove Internet Explorer, the system does not really offer this option except to disable the browser. This alternative works like an uninstall since it will be impossible to access the application.
It will disappear from all places where it can be found. Only that it is not really uninstalled since it will be possible to restore it after reactivation. You can still say goodbye to Internet Explorer if you do not intend to reactivate it.
Access the Parameters Windows 10 then click on the option Applications.
On the right (or by scrolling down the page depending on the version of Windows 10) identify and click on the option Programs and Features below section Associated programs.
In the right menu, click on Turn Windows features on or off.
A small window will appear. Search Internet Explorer 11 in the list and uncheck the box to the left of the option.
Validate your choice in the dialog boxes that appear subsequently, then restart your computer and you're done.
The editorial advises you:
Internet connection problem: what to do when you can no longer connect?
Windows 10: how to activate God Mode or "God Mode"
Windows Insider: how to become a member of the program
Windows 10 won't start? Several reasons can cause problems when starting Windows 10 for the first time or after an update: Bad BIOS settings,... The battery is one of the essential parts of our laptops. Like smartphones, battery life is a crucial factor for a good experience. Some applications act…Creating a WiFi access point on Windows 10 in order to share your Internet connection is done in two steps, three steps. We explain the procedure to you in this… On Windows, there are several ways to update the drivers. Generally, these update automatically. But it is sometimes necessary to force the maneuver,…