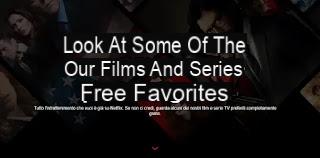 Netflix is ​​almost taken for granted by now, but even though it is the most used streaming service in the world it is also one of the most expensive, reaching up to 16 Euros per month for the superior subscription.
However, there are many ways to watch Netflix for free or for much less, and we are not talking about illegal methods or piracy, but simply some clever tricks that, even if with some limitations, can lead to watching movies and TV series. Netflix completely free.
1)
Netflix free site
You can watch Netflix for free in a very simple way: just go to the web page with your PC or smartphone browser
https://www.netflix.com/it/watch-free
where is it,
without having to register an account and without a subscription
it's possible
see some of the platform's best content in streaming without paying anything
. This is obviously a promotion, a way to attract new customers who will then be able to get a taste of the streaming quality. At the moment, among the TV series proposed for free viewing on Netflix there are Stranger Things, Baby Boss, Elite, a documentary and then some films such as Bird Box and Murder Mystery.
Free Netflix content is available worldwide, but only when viewed from a PC or Android device. Viewing this page of the Netflix site on iPhone, iPad, Smart TV and Fire TV is not supported.
The available movies can be watched until the end, but unfortunately, TV series like Stranger Things are limited to only the first few episodes. So how to continue watching and see what other movies and series are on Netflix without paying?
2)
Try Netflix over and over again
The classic way to watch Netflix for free
, the most obvious and banal one, would be
sign up for a free trial
. The Netflix trial lasts 30 days and has no limitations; once the thirty-day trial is over, it's possible
then register another trial account and then again and again
. The key trick is to unsubscribe before the free trial ends, otherwise the money will be charged from the credit card registered during registration. Unfortunately, from 2019 this trial registration has a cost and is no longer free (usually 4 Euro but sometimes it can happen to be able to register for 1 Euro only).
Of course, creating new Netflix accounts every time requires the use of different email addresses (the credit card can also always be the same, at least for three registrations). In some cases it is possible that Netflix will send the offer of a second free trial via email a few months after the first one ends, so it would also be useful to use real email addresses. This is a trick that can be very beneficial for those who only want to use Netflix to watch specific movies or TV shows and have no interest in keeping a subscription running all the time.
3)
Share an account
This is still today
the best solution to get free Netflix
or paying no more than half the price: use the same account shared between two or more people. Today, especially families, they keep a single Netflix account for everyone and the same can be done between friends. In addition, there are also platforms that allow you to manage the sharing of Netflix accounts, in order to facilitate the collection of the money needed for the monthly renewal.
Furthermore, for each Netflix account, it is possible to create different profiles that keep in memory the contents seen, the progression of the TV series and the advice to start new series or films based on what has already been seen. Profiles are definitely the best side of Netflix, especially when the same account is shared between multiple people, even if they don't live under the same roof.
The only thing that cannot be done is to assign a different password to each profile and prevent others from spying on what we have seen. However, you can always delete the history of the viewed contents if you want to hide some particular vision from friends or family who use the same account.
4)
Take advantage of telephony offers
Netflix is ​​now offered as an additional service or as a bonus in some telephony subscriptions. If you are planning on changing your carrier or internet network, it may be a good opportunity to choose one that also includes full and free access to Netflix.
At the moment it is possible to subscribe to Netflix with TIM, even if you have to choose the most expensive plan.
How to watch Netflix for free and without paying