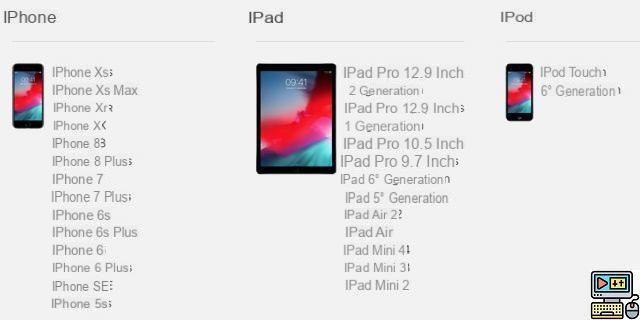 Comment (20)
Point by point, let's go back to the major improvements made by iOS 12, the latest version of the system now available to the general public.

© Apple.

Here we are ! Owners of iPhone (from iPhone 5s) and iPad (from iPad mini 2) are invited to update their terminals to take advantage of the new features of iOS 12, the latest major version of the system Apple's mobile operating system. This public version follows no less than twelve beta versions which, over the past few months, have allowed Cupertino developers to refine the OS. To switch now to iOS 12, it's very simple: just go to the Settings of a compatible iPhone, then tap on the General section and finally Software update. Logically, your phone should then offer you to download and install this version. Why update? Beyond purely technical considerations and the need to keep your terminal up to date so that it is more secure, iOS 12 is an opportunity for Apple to offer many new features and optimizations. It would be too tedious to list them all, but let's mention the most important to us.
A more responsive OS, even on old terminals
Undoubtedly, the first thing that iPhone users who have upgraded to iOS 12 (and even more so owners of older iPhones) will do will be to check that the new system does not degrade the user experience by slowing down their terminal. , as had already been the case in the past. Well, be aware that cold sweats are not in order, quite the contrary, Apple having set itself the task of making iOS 12 one of the most optimized systems. This is why it will work on all terminals eligible for its predecessor (iOS 11), a first for Apple. Also, be aware that most of the tests conducted independently by users of beta versions of iOS 12 have shown that this version has the virtue of improving the responsiveness of most of the older models of iPhone and iPad tested.
If many parameters come into play (precise model, battery wear level of a terminal, etc.), Apple generally mentions gains of up to 40, 50, or even 70% compared to iOS 11.4, depending on the use case Admittedly, saying that an iPhone 6 will once again become as fast as it did in its first days under iOS 8 would probably be going a bit too fast. We can't wait to read everyone's feedback on this point to see if the Apple firm keeps its promises.

Apple promises speed with iOS 12 © Apple.

Screen time to become more aware of your smartphone addiction
Like Google, which offers a similar function with the latest version of Android, Apple is introducing Screen Time with iOS 12, a new entry in the Settings menu that allows you to consult the main statistics of use of their iPhone or iPad (most used apps, number of daily unlocks, number of notifications received, minutes spent in front of the screen, etc.). Note that the activation of this function is proposed during the first start of iOS 12 and that it is possible through this to set "time limits" in order to try to use certain functions or specific apps less. Limits that can also be imposed on devices other than your own as part of iCloud Family Sharing. A good way to limit the playing time of his offspring, for example.

The Screen Time feature. © Apple.

A revamped Photos app and improved Camera
It is by taking inspiration from the presentation of Apple Music that iOS 12 has redesigned its Photos app. It becomes easier to share with loved ones the shots in which they appear, while the Recommended Photos and For sections allow you to obtain a more practical view of the photos previously divided between Memories and Shares. Good news, it is also more efficient to go through the search bar to find a particular photo, since it becomes possible to enter the name of a place to find the images taken there (a restaurant , for example, where we remember having had a good time with the family).
It is also more practical to launch searches with several factors (place, person, etc.). On the side of the Camera itself, the changes are quite minor, but still notable: the Portrait mode is supposed to better preserve the details between the subject and the background blur, the memojis are appearing (it it's no more and no less animojis customizable to the image of the user), the recordings of animojis extend to 30 s and new effects are appearing. Ah, we almost forgot: the RAW format is now supported for saving photos.

New layout for the Photos app. © Apple.

Battery status dissected
We are not telling you anything, Apple had to overcome this year a
#BatteryGate of the most violent. Quickly, the firm had integrated into iOS 11 changes to the Battery menu to show more information about the level of wear of it. With iOS 12, Apple is making the effort to present an ever more complete Battery section: we see the level of charge and use of the battery over 24 hours and over the last 10 days. Ditto, the battery status assessment tool is now finalized and the restriction (or not) of the performance of its terminal in the event of a worn battery is clearly notified.
A more optimized presentation of notifications
Finally ! iOS 12 is able to group notifications of the same kind (from the same app, for example) into packets. This allows you to benefit from a much more practical view of your notifications by limiting the length of this list. By going to the Settings of the terminal, to the dedicated section, it is even possible to set up some display rules to, among other things, group notifications intelligently when they refer to app discussions Posts.
It is also possible to mute a particular type of notification for a given time, knowing that the Do not disturb mode is enriched with a very practical menu accessible with a strong pressure via 3D Touch: it is therefore possible to mute notifications for 1 a.m., until the evening, until you leave the place where you are or until the end of an event in your calendar (typically, a work meeting) .

Notifications are grouped by genre. © Apple.

Shortcuts for Siri, but "not only"
It's a fact, Siri respects the privacy of its users more than other competing assistants, which deprives it of a whole lot of data and explains that it is generally less efficient. That said, Apple is not giving up and is seeking with iOS 12 to make Siri more useful on a daily basis. It thus becomes able to better analyze the habits of users (based on information obtained locally) and to offer its help in a contextual way through Siri Suggestions which are displayed under the Spotlight search bar. Difficult for the moment to assess the interest of these shortcuts, always very basic at first. Apple guarantees that this function will become more and more intelligent over time, Siri can for example draw information from the user's calendar, or even be based on geolocation.
It is also possible to define your own Siri shortcuts: you record a sentence and associate a defined action with it. It's a relevant way to automate certain recurring actions, especially since the Shortcuts app is also enriched with new features allowing – based on what the Workflow app was – to combine several actions to make scripts. more powerful. It does not require any special programming knowledge, just ideas and a lot of time to tweak its shortcuts according to its needs. Let's finish on this point by specifying that Siri is now able to translate Spanish into seven other languages, and that it is obviously possible to deactivate its most advanced functions if desired.

The Shortcuts app replaces Workflow. © Apple.

Welcome Third-Party Password Managers
Security is an important aspect for Apple, and this year the Cupertino company has chosen to strengthen it by allowing iOS 12 to manage third-party password managers, such as the very useful (and widely used) 1Password, LastPass or even Dashlane. Thus, when one is asked to enter a password to identify themselves on a service, the user can choose a password saved by one or other of these apps. It is also possible for this to use the iCloud Keychain, whose presentation has been made clearer than before (you have to go to the Settings, then tap on Passwords and accounts, and finally Web/Apps passwords ). You should also know that the version of Safari integrated into iOS 12 protects Internet users more in their browsing: all sharing buttons and comment widgets on social platforms are blocked by default. Also, the digital footprint of users is unified, so as to limit tracking – in particular advertising.

Safari is even more concerned about the privacy of its users in iOS 12. © Apple.

There are still many points that we could have addressed in this presentation of the new features of iOS 12 (the redesign of iBooks, the appearance on iPad of gestures from the iPhone X, the possibility of recording two faces to Face ID, the improvements made by ARKit 2.0 for multi-person augmented reality, etc.). But when it comes to more minor improvements, we let those who wish to discover them by consulting the complete "patch note" of iOS 12 posted by Apple.

The list of Apple devices compatible with iOS 12. © Apple.