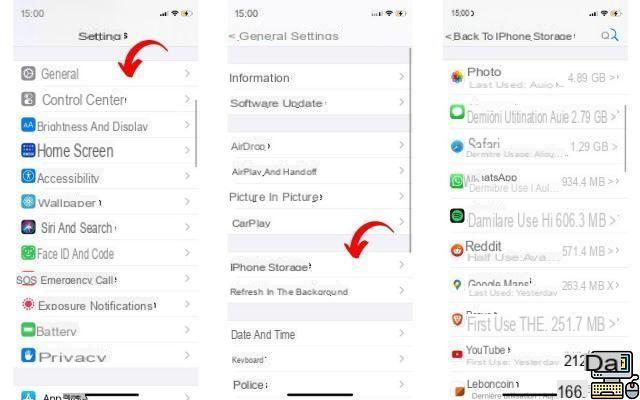 Emptying your iPhone's cache frees up space when storage memory starts to run out. The cache of browsers and applications does indeed end up occupying a considerable place over time. In this article, we show you how to clean cache on iPhone (or iPad).
iPhone. Image Unsplash
IPhones and iPads are known for their fluidity. However, over time, the corners of iOS are blocked by unnecessary files. For comfortable use, it is better to choose a model with enough storage space. Extension via an SD slot is in fact still not an accessible option. And if your smartphone is starting to get sluggish and running out of space, it's time to clean up. We will see how to clear the cache of browsers, but also applications on an iPhone.
Clear application cache on iPhone
Unlike Android smartphones, you cannot clear iPhone apps cache strictly speaking and directly from iOS. For now, iOS users simply have the choice of "unloading the application", that is, deleting it but keeping the data associated with it. You can also delete it altogether, to make room if you run out of space and no longer use it. In both cases, it will be necessary to cleaning application by application. Here's how to unload an app on iOS.
Go to Settings> General> iPhone storage
Hold on. Scroll down, and in the list of applications, select apps that take up too much space and that you don't use (or no longer use).
Image TechnologiesTips
Choose Download the app if you want to delete it BUT keep the documents and data associated with it.
Choose Remove the App to erase it from your iPhone and save space. If you want, you can download it again from the Apple Store. Warning, this will erase the saved data of the application, if however they were not synchronized with iCloud.
If the application is very heavy base and occupies for example 450 MB and the documents and data (cache, backups, images and others) only occupy 50 MB, it would not be useful to delete the application if you plan to reinstall it later.
Clear iPhone Internet Browser Cache
Unlike apps that don't allow you to delete cache and data without uninstalling, browsers like Safari and Chrome can do so from Settings.
So go to Settings> Safari
Scroll down and select Clear history, site data
Alternatively, press Advanced just below the option Clear history, site data. This path is used to have a list of sites against which data is recorded. By pressing Edit at the top right, you can choose to clear the cache and data for certain sites only.
The editorial advises you:
Insufficient storage: how to clean your Android smartphone
Netflix: how to delete a profile or your account?
How to delete your Facebook account
The 2022 iPad Pro is going to be redesigned and will have wireless charging capability, like Apple's other mobile devices. After the presentation of the iPad mini 6,… All the power of a Mac computer on your eyes: this is what Apple promises in its future mixed reality headset, scheduled for the end of 2022. While the Apple Watch, the 'iPad… Do you have an iPhone and want to change your PIN code? The option, buried in the twists and turns, of iOS is not so easy to find. However, this code ... There are a few options available to unlock an iPhone. Some online services offer to do this quickly for a few euros. The law also obliges operators to do it for free ...