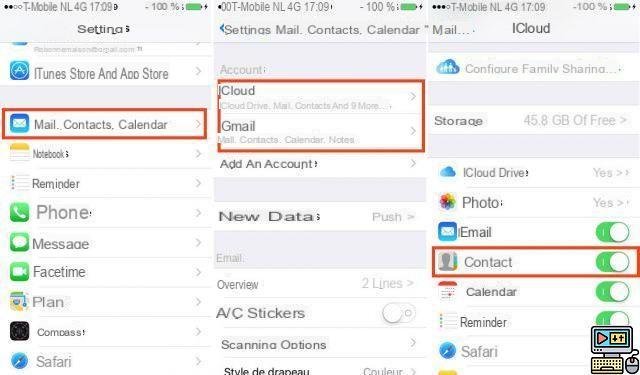 Your iPhone is going for repair and you want to delete all the contacts that may still be on it? With this tutorial, learn how to desynchronize your iPhone contacts with those of iCloud (or other compatible service) and delete only those which are in your smartphone.
Desynchronize and delete your contacts
If you really want to delete all your contacts, we recommend that you first make a full backup of your iPhone. You must then desynchronize your smartphone from the suppliers (iCloud, Gmail, Hotmail…) supposed to save your contact files. Your contacts could well, otherwise, immediately end up in your iPhone when you thought you had deleted them.
Go to Settings
touch Mail, Contacts, Calendar
Go to each configured account and deactivate the option each time Contacts, then choose Remove from iPhone
Plug your iPhone into your computer and open (if it doesn't happen automatically) iTunes
Go to the tab Info
uncheck Synchronize contacts
Most of your contacts should now be missing, so to speak, on the call. For the irreducible few who would still be in your iPhone, there is no other solution - remove them one-by-one by following the following steps:
Go to Phone
Touch the icon Contacts at the bottom of the screen
Tap a contact to delete, then tap Edit at the top right of the window
Scroll down to the bottom of the contact card, and touch Delete contact
Confirm
Your iPhone is now free of its contacts - at least in the application Phone . There are indeed third-party applications that allow you to manage your contacts with an additional degree of security. Of course, if you are going to sell your phone, it would have been smarter (and easier) to erase everything on your iPhone completely.
After contacts, maybe you also want to delete all photos from your smartphone to free up space?
The editorial advises you:
iOS: How to remove native Apple apps from iPhone?
The 2022 iPad Pro is going to be redesigned and will have wireless charging capability, like Apple's other mobile devices. After the presentation of the iPad mini 6,… All the power of a Mac computer on your eyes: this is what Apple promises in its future mixed reality headset, scheduled for the end of 2022. While the Apple Watch, the 'iPad… Do you have an iPhone and want to change your PIN code? The option, buried in the twists and turns, of iOS is not so easy to find. However, this code ... There are a few options available to unlock an iPhone. Some online services offer to do this quickly for a few euros. The law also obliges operators to do it for free ...