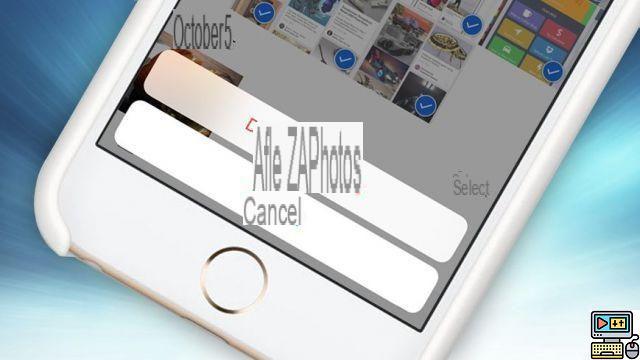 iPhone memory is limited, and sometimes you have to delete most or even all of the photos to free up enough. It may seem strange for Apple products, but when it comes to deleting large groups of photos, the operation is actually much more complicated than it seems! So here is how to delete all photos from your iPhone.
Delete all photos from your iPhone
If you want to erase all photos from your iPhone at once, you will need to download an app from the App Store. If necessary, there is also an iOS trick allowing you to delete all photos in groups. Remember to back up your smartphone via iTunes before you start!
Launch the app Photos on your iPhone, if you haven't hidden it with this trick.
To delete groups of photos, you have to touch the timeline several times, until you get to the Moments
To touch Select at the top right of the screen, then select the "Moments" (groups of photos) to delete
Once all your photos are deleted, go to the album Recently deleted to confirm deletion. If you do nothing, the photos in this album will be automatically deleted after 40 days (but not before…).
Of course, deleting everything like this can take a while, although it's already a bit better than deleting photos one by one. To go faster, there are many applications on the AppStore made for this. Here is for example how to proceed with the free app Cleen :
Launch the app Cleen
Drag down the Collections that you want to delete
Touch the trash can at the bottom of the screen, then Delete All at the bottom left
The Cleen app is available for download on the App Store
Delete photos from "My Photo Stream"
Once all your photos are deleted, surprise! There remain a few die-hards, stemming from My Photo Stream. This tool automatically "pushes" the photos you take to all your devices. If you wish, you can disable this feature:
Go to Settings
Go to Photos and camera
To touch To My Photo Stream to disable the option. A message warns you that previously uploaded photos will be deleted.
There is so much you can do without jailbreak, via the Accessibility panels of iPhones, that it seems very surprising that it is still not possible to easily delete all photos at once.
Feature disappeared from Settings under iOS6 without anyone, then, being moved. It was, however, very useful! To go further, we also explain how to delete contacts from your iPhone.
The editorial advises you:
iPhone: How to Recover Deleted Photos?
How to delete or deactivate a Twitter account
iOS: How to remove native Apple apps from iPhone?
The 2022 iPad Pro is going to be redesigned and will have wireless charging capability, like Apple's other mobile devices. After the presentation of the iPad mini 6,… All the power of a Mac computer on your eyes: this is what Apple promises in its future mixed reality headset, scheduled for the end of 2022. While the Apple Watch, the 'iPad… Do you have an iPhone and want to change your PIN code? The option, buried in the twists and turns, of iOS is not so easy to find. However, this code ... There are a few options available to unlock an iPhone. Some online services offer to do this quickly for a few euros. The law also obliges operators to do it for free ...