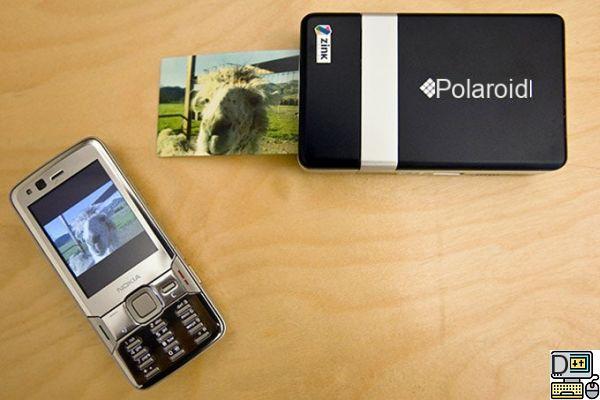 Presentation
After the instant photo, make way for instant printing. Polaroid's PoGo pocket printer should seduce "Pola" nostalgics and appeal to a young, trendy and festive target. As part of the nomadism cherished by thousands of young people, the PoGo hits the mark and its concept attracts. Ease of use, pocket size, self-adhesive photos, something to delight night owls who, hooked to their photophone, can easily take the portrait of their friends in a few seconds. What is this little PoGo worth? Will it be a simple fashionable gadget or will it become the new flagship of a brand that once offered an original and addictive way to photograph its tribe?
In the pocket
Who says nomadism says compact ergonomics and all-purpose object. The PoGo is a small matte black and aluminum box with a sober look, no bigger than a deck of Tarot cards. It is light (just over 200 g) and will fit easily in a girl's bag or in a jacket pocket.
Limited autonomy
Another quality required for a mobile product: battery operation. The PoGo recharges much more slowly than it discharges... the user will print a maximum of a dozen photos before the printer turns off. You will then have to walk around with the power supply, which is almost as big as the printer. For Bruno Lauvray, Managing Director of Polaroid Spain, "people don't necessarily want to print fifteen photos in a row. This is not a 10x15 printer. We also offer a range of products that allow you to reload the printer anywhere, by car for example. However, we have not closed the door, if users want greater autonomy, we will think about it."
With two interfaces, Bluetooth and USB, it should pair with most mobile products: mobile phones (iPhone does not work), laptops and digital cameras (PictBridge compatible). A list of compatible products is available on the Polaroid website.
To finish on the exterior appearance of the little one, we were surprised by the warmth it gives off after a few impressions. In charge, its power consumption rises to 22 watts, which is quite normal. A 10x15 consumes an average of 35 watts.
A taste of Pola, less enticing
Damn. The original concept and the practical aspect of the PoGo are tarnished by a disappointing photo rendering. If we expect (even hope) to find the vintage side of the pictures of our parents, the result is well below our expectations. "You can't compare this product to a 10x15, everything also depends on the eye of the photographer. Finally, the rendering also varies according to the cameras used to take the photos", explains Bruno Lauvray. Certainly. Some "non-photographers" also found the pictures of very questionable quality.
[link src = "/ printers / face-to-face"]
[/link]
Two devices were used for the test: an LG Secret phone with a 5-megapixel sensor and a 960-megapixel Canon Ixus 12Is. The photos taken with these two cameras are disappointing: they are very noisy, the colors are green, yellow, blue, the contrast is almost non-existent and the whole is very dull. As for black and white, we will rather speak of blue and gray. We clearly perceive a little something of the 70's photos, except that it is much less successful.
Regarding the printing time, count on average 42 seconds, excluding transfer time. Time that varies depending on file size. For comparison, a good 10x15 sublimation printer takes 50 seconds to output a photo.
If the start is child's play, we encountered some small problems during printing: a sheet got stuck in the middle of printing, another time, two blank sheets came out simultaneously.
Photo Sticker
Finally, a little originality, the photos are self-adhesive. A touch that accentuates the playful side of the PoGo.
What more can be said ? Totally seduced by the concept, I had the unfortunate impression of testing a prototype... This is why we will be testing another model this week, and we will not fail to confirm or modify our test. ****
Highlights
Concept

Ease of use

Compactness / nomadic

Bluetooth
Weak points
Battery life too low

photo rendering

Paper price

Box that heats up

Smallness of outlets: 5 x 7,6 cm
Conclusion
Note globale
We love the concept, but can do better. Correct photo rendering? Greater autonomy? The PoGo is a very original idea that deserves to be (re)worked.
Read more