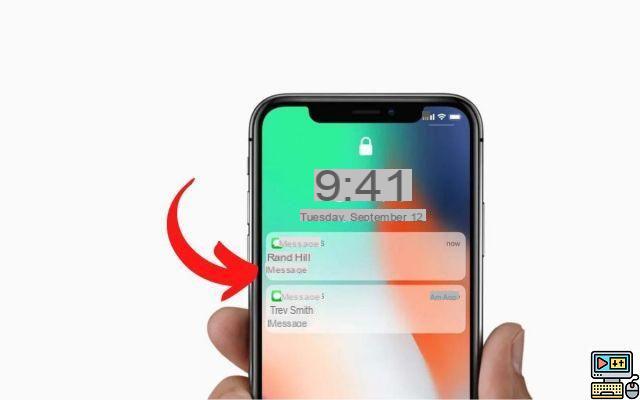 The iPhone provides a preview of received messages without having to open them, although sometimes we would prefer that they remain hidden. Some users therefore prefer to deactivate this option. Here's how to hide the content of your received messages in notifications on iPhone.
The text messages we send often reveal an uncomfortable amount of personal information about us. Yet the iPhone, at least in its default configuration, does very little to keep our conversations private.
Rest assured, since on iPhone, but also on iPad, you can lock or hide messages and even turn off message previews on iphone so that your personal information remains private.
But then, how to hide notifications on an iphone ? Follow the guide below: we show you how to do it and even why it might be necessary.
Why hide messages on iPhone?
Imagine someone's birthday is fast approaching. You want to throw a big party for that person, and naturally you want the party to be a surprise. Keeping everything a secret is hard enough if you don't live with the person, but it can be downright impossible if you do.
Something as simple as leaving your iPhone on the kitchen table could turn into a minor disaster. A telltale text message appears on the screen when the birthday person is seated at the table, a message received and voila: the surprise is ruined.
See also: iPhone: How to securely hide your photos
Likewise, it's quite common for a co-worker, friend or child to borrow your phone, with or without your consent. If this happens to you often, you might not want your personal conversations to be just a few taps and swipes away from being discovered.
On recent versions of iOS (iOS 11 and later), message privacy has improved a lot. Now a preview of the text message is displayed, but it cannot be seen until you unlock the iPhone, either through Face ID or Touch ID. That said, there are still some things you can do to keep text messages hidden in other ways.
How to Hide SMS Previews on iPhone Lock Screen?
By default, your iPhone is not very discreet when it comes to receiving messages. It's all there, on your iPhone's locked screen. However, you can never predict what kind of message you will receive in the second. Nor can you prevent people within sight from reading it at a glance.
Knowing that it is also possible to reply to these messages directly from these previews without having to unlock the phone, this starts to make a lot of reasons to deactivate this option. Here's how.
Go to Settings, touch the menu Notifications then go to Messages, which you'll find in the middle of your other apps.
Scroll down and turn off Show previews. Select Never.
now the content of the messages you receive will no longer be visible when the iPhone is locked. Instead, you'll just hear the usual ringtone and/or vibration. If you followed the steps above, you will no longer see the content of the message when you receive one on the locked screen, you will simply see the mention "Message" or "iMessage".
To go further and completely remove notifications on your phone screen, you can also disable the option Allow notifications. Finally note that this guide is valid for all your applications.
Want to learn more iPhone tips? Learn, for example, how to hide native iOS applications or how to reduce the brightness of your iPhone beyond the minimum authorized by your iPhone.
The editorial advises you:
iPhone: how to recover deleted messages?
WhatsApp: 20 hidden features that will make your life easier
iPhone: How to hide the content of messages and notifications on the lock screen
The 2022 iPad Pro is going to be redesigned and will have wireless charging capability, like Apple's other mobile devices. After the presentation of the iPad mini 6,… All the power of a Mac computer on your eyes: this is what Apple promises in its future mixed reality headset, scheduled for the end of 2022. While the Apple Watch, the 'iPad… Do you have an iPhone and want to change your PIN code? The option, buried in the twists and turns, of iOS is not so easy to find. However, this code ... There are a few options available to unlock an iPhone. Some online services offer to do this quickly for a few euros. The law also obliges operators to do it for free ...