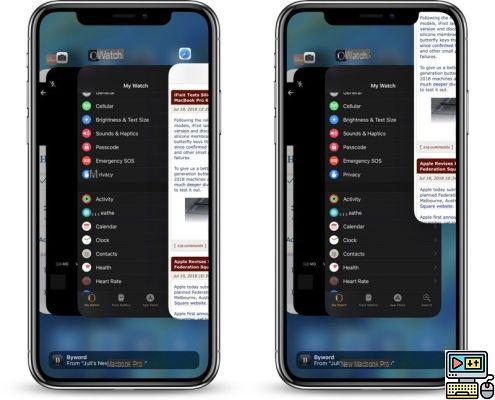 The iPhone X completely changes the way of managing multitasking because of its huge borderless screen and therefore the absence of a physical Home button. So closing an app or forcing it to quit can be quite confusing the first few times. In this tutorial, we will show you how to do it with two methods.
Since the first iPhone, closing an app or forcing it to quit was as simple as quickly double-tapping the Home button and swiping the app up. The iPhone X changes for the first time what has become a real reflex, at the risk of confusing users a little at first. So how do you close an application with the new gesture without a physical Home button? It's not necessarily easy to find on your own.
How to Close One or More Apps on iPhone X
To close one or more open applications:
Tap the bottom of the screen and while holding down, swipe your finger towards the middle
Grab a random app and press and hold it until a No Entry button appears at the top left of the app
You can then close an app in two ways, either by tapping on the button or by swiping the app up
Of course it is also possible to close several applications at once by swiping them up like on other iPhones. The disappearance of the physical Home button implies many changes in the way of switching from one application to another. But the long press at the bottom of the screen followed by a slide up quickly becomes a reflex on this smartphone. It is nevertheless possible to give it a Home button that works closer to the classic button by following this tutorial.
Note that in most cases closing applications is not necessary on iOS: it does not necessarily extend battery life, nor has any real impact on performance. Preloading applications, on the other hand, speeds up their opening. However, there are cases where closing applications is desirable, especially when an application crashes (it will nevertheless close on its own in most cases) or if it remains active in the background and has an undesirable behavior.
The editorial advises you:
Insufficient storage: how to clean your Android smartphone
How to take a screenshot
How to change default music app on iPhone or iPad?
According to a survey conducted by SellCell, 79% of iPhone users want Touch ID back on their smartphones. According to a study conducted by the American company SellCell, 79% of…Some users have noticed significant autonomy concerns with the latest update for iPhones, iOS 14.2. A handful of iPhones updated to iOS 14.2 are experiencing major issues…Here are the best apps optimized for the iPhone X screen, voted by DisplayMate as the best screen on the market, even though the notch at the top of the smartphone blemishes. Many…The iPhone X made its market debut on November 3, 2017. Interested in Apple's new flagship? Find out at what price you can get it, its details…