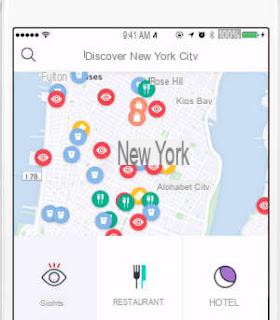 Who doesn't know the Lonely Planet? This is the
the world's most famous low cost travel guide
, written since the 70s directly by travelers, where you can find all the addresses, telephone numbers and reviews of the cheapest places to sleep and eat and which presents itineraries to discover the most interesting corners of each city.
The Lonely Planet is a very large guide that until now could only be bought in bookstores.
From now on it is possible
travel and take with you all the advice of the Lonely Planet on your smartphone
, on iPhone or Android phone,
for free
LonelyPlanet's new Guides app contains maps, tips and guides for several major cities around the world and lets you download the same guides so you don't have to go online.
For the moment, there are
guides for 37 cities
including Amsterdam, Barcelona, ​​Paris, Rome, Berlin, Dublin, Moscow, Venice, Prague, Budapest and Vienna in Europe, Boston, Chicago, San Francisco, Montreal, New York and Washington DC in North America, Tokyo, Beijing, Kyoto, Singapore and Seoul in Asia and then also Rio de Janeiro, Dubai, Cape Town and other cities.
Once you have downloaded a city guide, you will find an overview, a currency converter and a tool to calculate the budget according to your financial resources.
Each city also has a map marked with the main attractions, restaurants and bars, hotels and other accommodation options, shops for shopping, and other places to have fun.
You can search and filter through each of these categories by price and by distance from your current location
There is also the option to save destinations in a list.
The only thing that is a bit lacking concerns the section of photos, few and without any videos.
However, this allows you to keep the app on your phone without taking up too much space.
On the other hand, an itinerary planner is missing, which would be perfect to make Lonely Planet an indispensable tool for any trip.
Lonely Planet therefore becomes a great alternative to the others
travel and vacation app
, first and foremost TripAdvisor which provides guides for individual cities in a rather similar way.
The Lonely Planet Guide app is free
to
Android
and for
iPhone
.
Le Guide Lonely Planet for free on iPhone and Android