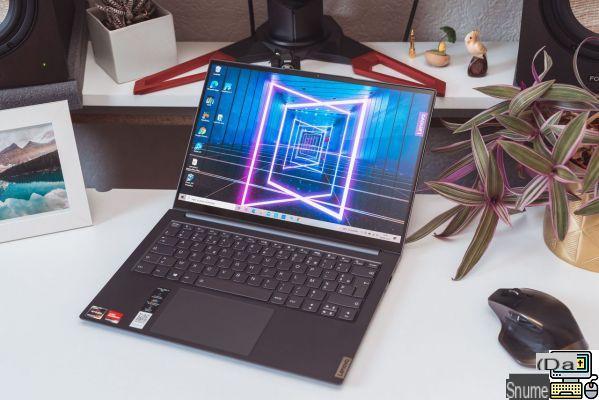 After an excellent Yoga Slim 7, Lenovo is taking up its recipe for success with a top-of-the-range Yoga Slim 7 Pro. Equipped with one of the best processors of the moment and an Oled screen, it has everything to please on paper. Let's see if this is the case in practice...
Presentation
In 2020, Lenovo had created a surprise with an excellent Yoga Slim 7 equipped with AMD Ryzen 4000. A year later, Lenovo is reviewing its copy with a more muscular configuration which is likely to appeal to a good number of users. Adorned with an Oled panel and one of the most powerful processors of the moment, all for around 1200 € (depending on the size of the storage), it appears as a serious competitor to MacBooks and other PC manufacturers. Does this computer do so flawlessly?
Construction
As on the Yoga Slim 7, the Pro version is very well finished. Its anodized aluminum frame seems solid and the 16:10 format of the screen offers more display height than the classic 16:9, which is very practical for many applications. In addition, the borders are very thin, which is always appreciable.

The design of the PC is neat.

The touchpad is smooth, responsive and doesn't sink too much under pressure. The keyboard is also successful. Typing is responsive and fairly quiet. The backlight can be set to 4 levels, including an automatic one that adapts to the ambient light. There are some interesting shortcuts at the function keys (F1 to F12) in particular to mute your microphone, take screenshots or manage different offices.

The keyboard and touchpad are efficient.

The PC does not have a fingerprint reader, but is equipped with a webcam (720p) with infrared module which allows quick unlocking with Windows Hello. For connectivity, Lenovo has reduced the possibilities by removing a USB-A port, the HDMI port and the microSD card reader. Strange for a "Pro" model... but there is still a USB-A port, two DisplayPort compatible USB-C ports and of course a mini-jack socket. Wi-Fi 6 and Bluetooth 5.1 are present for high transfer speeds.

Connectivity is more limited than that of the Yoga Slim 7.

The cooling system proved to be very effective. We noted around 38°C in the center of the keyboard and just over 47°C at the vent. This good temperature management is accompanied by a noise level of 38,8 dB in full action on a game, which is classic on this type of computer. Fan noise is therefore audible, but still bearable.

The PC does not heat up very much.

By removing the 7 Torx screws and dismantling the chassis, we discover a removable M.2 SSD, but unfortunately no accessible RAM module, it being soldered to the motherboard.

The M.2 SSD is removable, but the RAM is not.

performances
Our model is equipped with a muscular configuration with a 1 TB SSD, 16 GB of RAM, but above all an AMD Ryzen 5800H processor clocked at 3,2 GHz with turbo at 4,4 GHz which has largely proven itself, since it's one of the best performing chips we've tested so far. We normally find the H series in thicker PCs, often those dedicated to gaming and this Yoga Slim 7 Pro is an exception.
So that the heating is not excessive, the manufacturer has limited the TDP of this Ryzen 7 5800H to 45 W. Its maximum frequencies are therefore slightly restricted and it is not as efficient as those of gaming models like the Lenovo Legion 5 Pro or the Dell G15 5515, but still slightly better than the Ryzen 7 5800U normally found in ultraportables.
Either way, the Yoga Slim 7 Pro can tackle any task without flinching, from office automation to heavy video processing applications to photography. In game, the PC does well with 38 fps on average on Diablo III (graphics pushed to the maximum) and 58 fps on Overwatch (low quality). Enough to enjoy a few games that are not too demanding without any problem.
Screen
The Oled screen is a key element of this PC. With a definition of 2880 x 1800 px and a 16:10 format, it has serious arguments. It is also refreshed at 90 Hz, a very rare rate on PCs, located halfway between the classic 60 Hz and the 120 Hz which is found rather on gaming panels. The display therefore appears slightly more fluid when scrolling a page, for example, which improves reading comfort.

The bezels of the screen are thin.

The results of our measurements are quite good: color temperature of 6630 K (close to the video standard, 6500 K), maximum brightness of 391 cd/m², and of course infinite contrast ratio and zero afterglow thanks to the Oled. The screen however sins on two characteristics: the colors are not the most precise (Delta E of 4,2) and, as often with OLED panels, the average reflectance is enormous (50%). In practice, its brightness can compensate for reflections in most situations, but you have to be careful of the light sources facing the computer.
Finally, its thin borders provide a very good screen occupancy rate (82%).

From left to right, the gamma curve, the color temperature and the Delta E.

Audio
Lenovo has this time placed the speakers under the chassis, which makes listening dependent on the surface on which the computer is placed. As usual on ultraportables, the speakers deliver low quality sound, characterized by a lack of bass and rendering without depth. The mids and highs are, however, intelligible; it can help out if you don't have an alternative audio system.
The headphone output is correct despite an output power limited to 86 mVRMS which prohibits the use of monitoring headphones. Distortion is low, dynamic range sufficient and crosstalk imperceptible. We noted a current holding problem from 96% of the volume, which could interfere with the use of high impedance headphones. However, this will not pose a problem for consumer helmets.
Mobility / Autonomy
With 1,4 kg on the scale, the Yoga Slim 7 Pro is not the lightest of ultrabooks, but it remains compact (312 x 221 x 15 mm). Its charger has been designed to stand upright and therefore takes up less space on a desk. However, it is not as small as the block-shaped models.

The PC charger is original.

During our video playback autonomy test on Netflix, keyboard backlight off, brightness set to 200 cd / m², headphones plugged in and volume at 50%, the PC lasted 7 h 32 min. A good score in absolute terms, but below what many ultraportables offer. The high definition of the panel is undoubtedly responsible for this limit, computers equipped with conventional Full HD screens (1080p) being favored on this specific point.
Highlights
Excellent performance.

Neat finishes.

Écran Oled 90 Hz.

16:10 aspect ratio and thin borders.
Weak points
Autonomy that could be better.

High screen reflectance.

Limited connectivity for a "Pro" model.
Conclusion
Note globale
The Yoga Slim 7 Pro is the worthy descendant of the Yoga Slim 7. It performs almost flawlessly, with a neat design and top-flight performance driven by its AMD Ryzen 7 5800H processor. Its 14-inch OLED screen is also an asset with its thin borders and 90 Hz refresh rate, despite very high reflectance. We regret, however, an autonomy a little below certain competing models, but it is a counterpart to accept to take advantage of an Oled panel in high definition.
Sub Notes
Construction
performances
Screen
Audio
Mobility / Autonomy
Read more