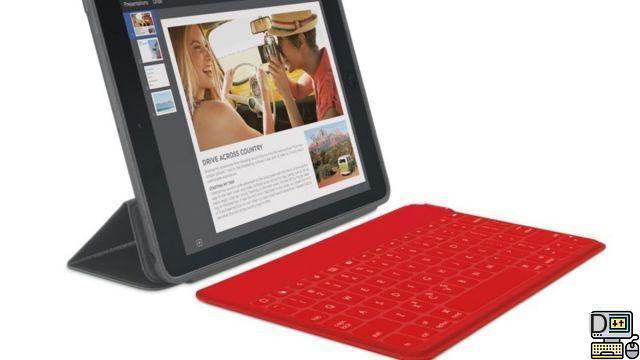 With the Keys-To-Go, Logitech continues to largely occupy the space of input accessories for Apple tablets while offering a new approach.
Presentation
No thin and magnetic aluminum keyboard cover like the Ultrathin or a complete case with integrated keyboard like the Type+ here, but an all-purpose object, or almost. The Keys-To-Go is therefore a wireless mechanical keyboard covered with a rubber-like coating which makes it insensitive to splashes of liquids and other accidental daily projections.
Ultra compact, it is only 22,8 mm long and 12,7 mm wide, and above all 6 mm thick, for a featherweight of 180 grams. It connects to iPad tablets, but also to iPhones, Apple TV boxes and even iMac computers via Bluetooth 3.0 — switching from one to the other requires some exercise in the wireless connectivity of each product — and incorporates a rechargeable battery via a micro port -USB.
The Logitech Keys-To-Go keyboard is available in three colors (black, red and blue) and sold at an indicative price of €69.
If the keyboard looks visually familiar to you, especially in its flashy blue version, that's normal. Logitech seems to have eyed the lines of the Touch Pad 2 of Microsoft's Surface tablets to design its Keys-To-Go. After this observation, what is striking with this product is its great compactness and lightness which would almost make you forget that you are carrying the keyboard in your bag. Its apparent resistance to any form of abuse, even minor twists, is a significant plus and we are not far from seeing it as a keyboard fighter par excellence.
Beware of water resistance, the Keys-To-Go is not waterproof. A dive in the water and farewell Berthe, her micro-USB socket being devoid of a protective cover. A resistance which however allows it to go through the cleaning box without too many problems in the event of a liquid accident or incriminating sweet remains. The surface is easy to clean and can thus regularly ignore traces of use, which nevertheless accumulate quickly. Another practical side of this rubber coating, the Keys-To-Go has an excellent grip on any surface, from smooth to rough. The keyboard hangs well on a wooden or glass table and even textiles (placed on the knees).
Keyboard in its simplest device, the Keys-To-Go therefore does not have a tablet/smartphone support and therefore requires the addition of a suitable case. At the time of all-integrated or partial solutions, which Logitech offers itself, not sure that this lack of practicality is ideal. For high-dose use with an iMac or the Apple TV, this kind of consideration already has less resonance.
Now let's look at the keyboard part in particular. The Keys-To-Go apes in its composition all the latest Logitech keyboards for iPad launched recently. We thus find a full keyboard in the classic layout of the Mac universe, but also an upper line composed of shortcuts for iOS. These allow, with a simple touch, to return to the homepage, launch multitasking, music, research, control the volume or even take a screenshot. At the very end of this area, two keys linked to a small colored diode announce the status of Bluetooth connectivity and the battery (blue = keyboard connected; green = battery OK; red = attention, charge). In the classic keyboard keys panel, input options via the "fn" key enable copy/cut/paste and selection of text boxes.
On the input side, this Keys-To-Go is undoubtedly the mobile accessory from Logitech that has disappointed us the most lately. The experience is closer to the moderately successful Fabric Skin than to the excellent and flawless Ultrathin and Type+. The coating, nice and original moreover, is not the most conciliatory with the fast and precise typing. We try again several times, we often magnify keys that we thought we had conquered with our fingers, the absence of real separation between the keys sometimes causes double taps... In short, we are beyond the " blow to take". Especially since the coating induces a lack of responsiveness on the part of the keyboard, a feeling of too much flexibility and softness in the stroke of the keys and the impression that you have to drum like a little brute to properly accomplish a typing job. .
Difficult as always to judge the autonomy of this type of product, especially since Logitech announces approximately 3 months of operation on a full charge (at the rate of 2 hours of use per day on average) and that the Swiss brand has not never been faulted on this point on accessories of this type. After several weeks of sometimes scattered, sometimes intense use, the keyboard has not given up. When it comes to recharging such a battery, 60 to 90 minutes are needed to start again for many weeks.
Highlights
Light, compact, discreet.

Physically resistant, but also resistant to liquid splashes.

Autonomy.

Shortcut keys for iOS.

Works perfectly with an Apple TV or an iMac.
Weak points
Strike that lacks precision.

Running too soft.

Keyboard only, without stand, to be carried next to the tablet.
Conclusion
Note globale
A rugged and all-purpose keyboard that can rather be considered as a second mobile input accessory, in addition to a more classic (and effective) companion in its approach. We appreciate the resistant side and the compactness of the product, much less the lack of precision implied by the materials used. The base is interesting, but Logitech still has to work on its copy to reach a level of quality that the brand has set itself in the market for keyboards for tablets.
Read more