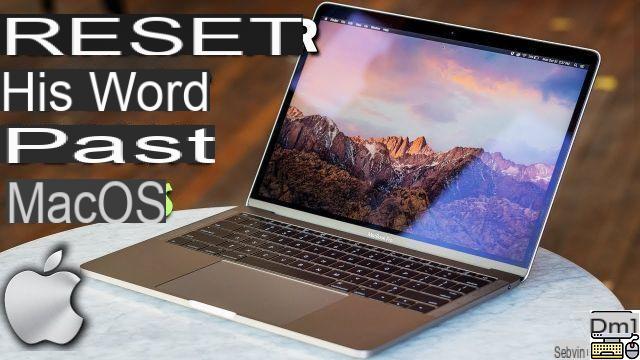 Lost your password on macOS? Don't panic, there is probably a solution to regain quick access to your data. In this tutorial, we will see how to recover your password through another administrator account or through the recovery partition of the disk.
Image DR
You forgot your Mac password or you use multiple accounts on your Mac and forgot the password for one of the accounts. Don't panic: the operating system macOS allows you to reset the password in several ways and depending on the situation. Keep in mind, however, that these solutions will not always work, depending on different conditions (forgetting Apple ID, old operating system, active FileVault, etc.). With that said, here's how you can attempt to reset your Mac password.
How to reset password through another administrator account on macOS
Here is the easiest and most common method to reset password on macOS.
Log in using a different administrator account than yours
Go to the Apple menu 
Go to System Preferences ...
Click on Users and Groups
Image TechnologiesTips
If the bottom left padlock is locked, click it to unlock the preferences pane
In the left column, choose the account for which you want to reset the password
Click on Reset password
Choose a new password and Confirm.
Your new password should be confirmed and the old one forgotten. You should normally be able to log in again with this new password.
Reset your Mac's login password with your Apple ID
If this method does not work, or if you have associated your user account with your Apple ID, you can use your Apple ID to reset your logon password.
On your Mac, choose Apple menu > Restart
Click on your user account. Enter three wrong passwords. Click the question mark in the password field, then click the arrow that looks like a "Play" logo
Enter an Apple ID and password, then click Next
Follow the instructions to reset your login password.
What to do if you can't reset your password on Mac?
You have tried everything and nothing helps, you don't remember the password. If you don't feel like trying a more complex method, contact Apple Support for personalized assistance. If you are ready to try one last option, follow the next step. First, determine if you are using a Mac with an Apple or an Intel chip. Then, follow the appropriate instructions to boot from the macOS recovery feature:
Puce Apple : Turn on your Mac and hold down the power button until the Startup Options window appears. Click the gear icon labeled Options, then click Continue.
Intel processor : Turn on your Mac and immediately press Command (⌘) + R, until you see an Apple logo or other image.
Once done, a window should offer you to restore from Time Machine, reinstall macOS, or launch Disk Utility.
From the Utilities menu in the menu bar, choose Terminal.
In the Terminal window, type: resetpassword
Press the Return key on your keyboard to open the Password Reset Wizard
In the Reset password window, click I forgot my password
In the Reset Password window, enter your new password information and click Next
Once the password is reset, click Exit.
Finally choose Apple menu > Restart, then log in using your new password. If nothing has worked, you can either contact Apple Support or attempt to reset your Mac to factory condition (this will result in loss of your data).
The editorial advises you:
Mac: how to create a bootable USB drive in macOS?
How to Reset an iPhone
How to put a password on a USB stick
The 2022 iPad Pro is going to be redesigned and will have wireless charging capability, like Apple's other mobile devices. After the presentation of the iPad mini 6,… All the power of a Mac computer on your eyes: this is what Apple promises in its future mixed reality headset, scheduled for the end of 2022. While the Apple Watch, the 'iPad… Do you have an iPhone and want to change your PIN code? The option, buried in the twists and turns, of iOS is not so easy to find. However, this code ... There are a few options available to unlock an iPhone. Some online services offer to do this quickly for a few euros. The law also obliges operators to do it for free ...