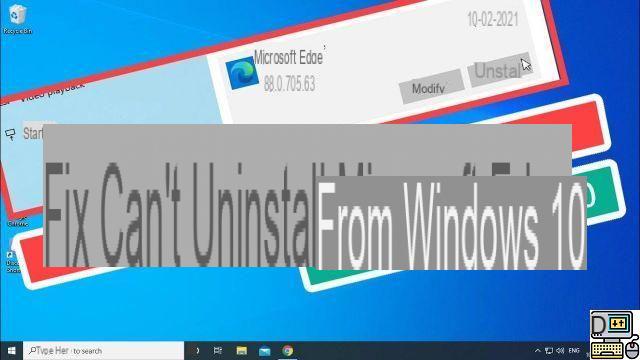 Here is a surprising news that comes from a small note published on the Microsoft support site: the removal of Microsoft Edge within Windows 10 will soon no longer be possible. In addition, it will no longer be allowed to revert to the old version.
It will therefore soon no longer be possible to remove the new version of Microsoft's browser, Microsoft Edge. At least that's what a brief note released today by Microsoft explains, in a nutshell.
The new version of the browser, released earlier this year, is based on Chromium, a free web browser that serves as the basis for several other browsers like Google Chrome. This "new Microsoft Edge" therefore actually replaced the old version which had the exact same name, formerly known as EdgeHTML.
It will soon no longer be possible to remove Microsoft Edge from Windows 10, or revert to the old version
If it has always been possible to remove Microsoft Edge from your system - the new version being integrated into the installation of Windows 10 and installed automatically -, this will no longer be the case, according to a document recently published by Microsoft. The Redmond company believes that it has "offered Windows customers" a migration from the old version to the new edition using "a step-by-step deployment". She also explains that this new version now gives its users "full control over the import of their personal data". So far, so good.
The problem is that the company now wants to make sure that all Windows clients feature the latest Microsoft Edge browser for the "performance, privacy, security, productivity, and support features" it offers. It must be said that it is now the second browser, just behind Google Chrome. One reason that prompted the company to simply remove the option to uninstall Microsoft Edge or use the old version in a future, as yet unannounced, update to Windows 10.
If it will soon no longer be possible to uninstall Microsoft Edge through the classic settings, today there is a command to do it through the command terminal (or PowerShell). However, there is no guarantee that this manipulation will work by then. Here is the process:
Right click on the start menu
Click on Windows PowerShell (admin)
Enter the following command:
cd "C:Program Files (x86)MicrosoftEdgeApplication84.0.522.52Installer"
Validate with the Enter key
Then enter the following command:
setup.exe --uninstall --system-level --verbose-logging --force-uninstall
Validate with the Enter key
The editorial advises you:
iCloud passwords: a Chrome extension is finally available on Windows 10
Online Storage: The Best Free Cloud Services
Chrome 90: HTTPS for all pages, improved video conferencing, all new
Windows 10 won't start? Several reasons can cause problems when starting Windows 10 for the first time or after an update: Bad BIOS settings,... The battery is one of the essential parts of our laptops. Like smartphones, battery life is a crucial factor for a good experience. Some applications act…Creating a WiFi access point on Windows 10 in order to share your Internet connection is done in two steps, three steps. We explain the procedure to you in this… On Windows, there are several ways to update the drivers. Generally, these update automatically. But it is sometimes necessary to force the maneuver,…