The Wireless Adapter had been left out by Microsoft for the past few years. It is back in force with a switch to 4K.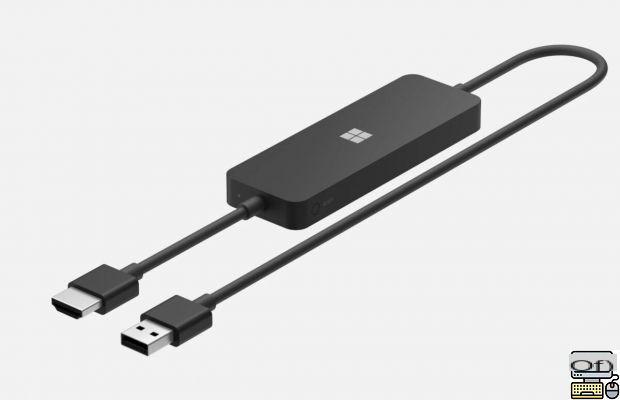 In 2013, the world discovered the Chromecast and its very simple way of offering to broadcast content from a PC, tablet or smartphone directly to a large screen. The object was not expensive, worked with any HDMI screen and was powered by a simple USB port. It was simple, and it worked immediately, but the object used Google's proprietary technology.
Facing Chromecast, or Apple AirPlay, stood an industry standard called Miracast. As an extension of Wi-Fi, this technology offered to wirelessly transmit the image from the device to the TV. One of its defenders was none other than Microsoft, which launched its Wireless Display Adapter in 2015. It is an HDMI dongle to be plugged in just like a Chromecast, and which makes any screen compatible as a Miracast receiver.
The switch to 4K will have waited until 2020
5 years later, Microsoft gives a facelift to the object with the new Wireless Display Adapter. Still selling for $70 in the US, and probably a fairly similar price in Spain, the accessory will be there to accompany new Surface products like the Surface Laptop Go.
Microsoft has revised the design of the object. It still connects through a single HDMI port and a USB port, but the two connected have been narrowed down, which should cause fewer compatibility issues. The main case, on the other hand, has been enlarged (105 x 35 x 11 mm) compared to the previous generation.
The firm did not give many details on the characteristics except that it would now be compatible with 4K screens, with support for HDCP 2.2 and HDCP 1.4. Be careful, the devil is in the details, 4K UHD will be limited to 30 frames per second. So don't expect to do anything other than stream a movie or PowerPoint presentation.
QuickConnectDark pic.twitter.com/RLmysjveCr
- Aggiornamenti Lumia (@ALumia_Italia) October 1, 2020
Connecting from Windows 10 will be quite easy. As soon as the adapter is plugged in, it will appear as ready for quick connection, as a notification in the system. Projection to the external screen should start immediately after this connection. However, the devices used must be Miracast compatible. This is the case with most Surface products and some Android smartphones.
The new Wireless Display Adapter 4K is available in the US for $70. The announcement comes the week Google announced a big change to its Chromecast. It will now feature Google TV, the new name for Android TV.