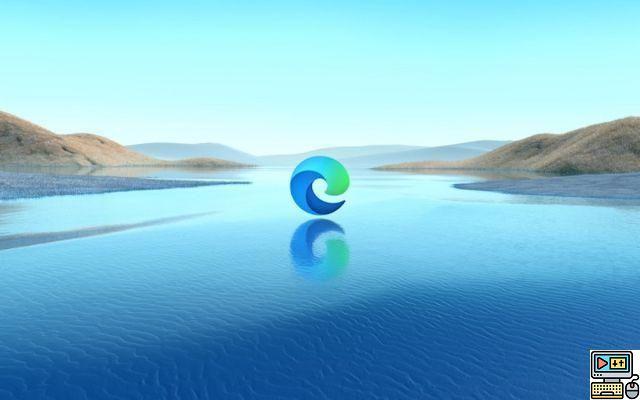 According to NetMarketShare, the new Microsoft Edge now holds 10,22% market share of Internet browsers, ahead of Firefox.
Microsoft Edge is attracting more and more Windows 10 users. According to NetMarketShare, the new Windows 10 browser now holds 10,22% market share.
It is worse than Google Chrome and its overwhelming 69,25%, but it's better than Firefox (7,22%) and Internet Explorer (5,57%). It is thus placed, and since last April, in second position of the most used Internet browsers.
Microsoft Edge: does the browser appeal, or do users have no choice?
Windows 10 users will have noticed, the new Microsoft Edge installs automatically with the latest operating system updates. The browser is actually kernel-based Chromium, the same one found at the heart of Google Chrome. On paper, this specificity allows it to be faster and more efficient than the old version.
Of course, this new version also includes new features, which generally improve its ergonomics. Note that it is possible to activate most popular extensions on it, like uBlock Origin.
All Windows 10 computers running from version 1803 (April 2018) will receive or have already received the update. This is titled KB4541301 for versions of Windows 10 released in 2018 (April and October), KB4541302 for the May and October 2019 updates, and finally KB4559309 for the latest Windows 10 version of May 2020.
Remember that if the new Microsoft Edge is rather attractive, its uninstallation is no longer possible in a conventional way. Gone are the days of going to Applications and clicking Delete. One thing is certain, this tour de force will undoubtedly not have served Microsoft to inflate the statistics of use of its new browser. Especially since when installing Windows 10, it is impossible to miss it: a window appears as soon as you first arrive on the desktop, with a tutorial dedicated to the browser, a complete presentation, etc.
How to permanently remove the new Microsoft Edge (2020)?
Rest assured, there is a solution to remove the new Microsoft Edge. There she is.
Open Windows File Explorer
type C:Program Files (x86)MicrosoftEdgeApplication in the address bar and validate with Enter.
You should see the browser installation folder. A folder with a sequence of numbers, such as "83.0.478.58" should appear. Open this folder.
Inside, find and open the "Installation" folder (or "Installer" depending on it). In this folder, click the "File" tab in the upper left corner of the File Explorer window, then go to File > Open Windows PowerShell > Open Windows PowerShell as administrator. Click "Yes" when prompted to allow the program to make changes to your system.
Finally type: .setup.exe -uninstall -system-level -verbose-logging -force-uninstall in PowerShell, and press Enter to run the command and permanently remove Microsoft Edge.
Source
The editorial advises you:
Windows 11: compatibility, design, news, release date, all the info
Windows 10: list of keyboard shortcuts to go incredibly faster
Windows 11: the successor to Windows 10 made official by Microsoft, here are the new features
Version 97 of Google Chrome is available today. However, one notable feature is a new attribute within the Keyboard API, which turns out to be quite controversial. Until…Minecraft is already one of the best-selling games of all time, alongside Tetris, Mario and Grand Theft Auto. But the game has just crossed a new… Released for a month, Windows 11 continues to reveal bugs. The current version would significantly slow down some hard drives and SSDs. Many PC owners are not yet…If switching browsers under Windows was already an ordeal, now Microsoft has made the task even more difficult. When a user chooses one of Edge's competitors, small pop-ups…