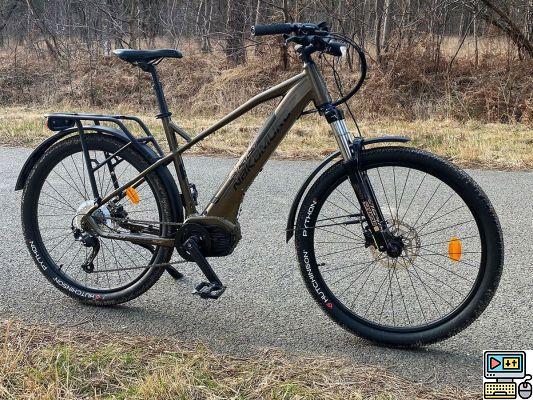 Already present in the worlds of urban and all-terrain electrically assisted bicycles, the Nakamura brand from Intersport is entering the hybrid trekking segment with its E-Summit SUV. A mountain bike equipped for the road and which does not lack resources.
Presentation
Based on a mountain bike, but ready for the city, the Nakamura E-Summit SUV electric bike (VAE) looks like a "trekking" bike. While its 130 mm fork, wide tires and powerful mid-engine invite you off-road, the addition of mudguards, a luggage rack, a lighting system and a curved handlebar more comfortable gives it good predispositions to ride on the road and in town, in all weathers.
It is however the top of the VTTAE "E-Summit" range occupied by this Nakamura "SUV" at 1899,99 €, which suggests that it is not necessarily intended to swallow the kilometers as much as a mountain bike from the E-Fit range. This "SUV" is in fact aptly named insofar as it aims above all to provide power and comfort, for a use that is certainly versatile, but much more urban than one might have thought at first glance - without make it a proper city bike. Could this ultimately be the brand's best all-purpose bike proposal, as pleasant for daily use in "vélotaf" as for going on weekend rides?

The Intersport Nakamura E-Summit SUV is available in 3 sizes (S, M, L), for users measuring between 1m60 and 1m85 approximately.

Comfort and ergonomics
If this electric bike from Nakamura is part of the E-Summit range, it is no coincidence. It is based on the same bases as the VTTAE E-Summit 740. We thus benefit from a beautifully crafted aluminum frame, with a geometry designed to offer more dynamism and agility than the bikes of the E-Summit range. Manufacturer's fit.

The Nakamura E-Summit SUV on the bike path.

The finishes are also neat and the choice of a bronze color gives a little more luxurious side to this E-Summit SUV. In any case, it does not lack pace and that is what we are entitled to expect from a model approaching the 2000 € mark.

The battery is perfectly integrated into the down tube and can be removed very easily from above.

Behind its mountain bike looks, this VAE is less sporty than the other E-Summit models and offers a more relaxed ride. This translates primarily into a curved handlebar to straighten the riding position to reduce fatigue.

A rather relaxed driving position.

The very pronounced curvature of this handlebar surprises us, however, because it significantly reduces the dynamic qualities of the bike, especially if you decide to increase the speed on winding paths as we did during our test. Especially since Nakamura has not chosen to equip this hanger with ergonomic handles to go to the end of an approach based on comfort. A slightly less curved handlebar with slightly wider grips would have been a better compromise between relaxation and dynamism on such a bike.

The "mustache" hanger.

This very pronounced curvature also makes it difficult to install a smartphone holder, especially since the on-board computer already occupies the entire central position. The installation of a mirror is also a little trickier and even the doorbell struggles to find its place, being far too far from the thumb. A ring bell like the one we were able to handle during the Winora Yakun Tour test could however have been easily lodged right next to the handles.
We find this strange mixture of genres at the level of the seat. The E-Summit benefits from a spring-suspended seatpost, designed to absorb the biggest shocks. If it is not as comfortable as a parallelogram rod like that of the Yakun Tour, it remains in line with the level of the range (the SUV is 2 times cheaper) and still plays its role well.

The saddle on a suspended rod.

The problem is that this gain in cushioning is wiped out by a saddle that does not offer the expected softness. Unless you wear shorts with chamois leather, beware of pressure points that can quickly turn a nice walk into an ordeal for the buttocks. Too bad, especially when the designers have probably made the choice of comfort for the driving position.

Don't rely too much on the words "comfort plus" printed on the saddle.

Does that make the E-Summit SUV an uncomfortable bike? Certainly not, since you can count on its 130 mm travel fork to absorb bumps, roots and other potholes without flinching. If it remains quite basic, this Suntour XCM 34 fork does its job on a bike that is ultimately more intended for all-road than all-terrain.

MTB tires and fork.

The Hutchinson Python 2 mountain bike tires also offer the volume of air needed to smooth out the roughness of the road. Their 2,10" section at the front and rear is well suited both to maintaining correct performance on the road and ensuring reassuring all-road use, even all-terrain if there is no too much mud.

If off-road use is possible with the Nakamura E-Summit SUV, it is however not ideal with such equipment and such a curved handlebar.

For comparison, the E-Summit 740 is fitted with 2,25" tires at the rear and 2,35" at the front, for better grip, but at the expense of performance on hard surfaces.

A robust crutch, but which can interfere with large feet (size larger than 42/43).

Equipped to carry some luggage or accommodate a child seat, this Nakamura bike can count on a luggage rack supporting up to 40 kg of load, against 25 kg usually. On the other hand, this results in a very massive structure with large diameter tubes (16 mm) which will not necessarily be compatible with all bindings. Our Ortlieb saddlebags with QL2.1 attachment fit just fine, but we still had to press down a little on the attachments to engage them properly.

The imposing luggage rack.

The robustness is found at the level of the wide aluminum mudguards which cover the width of the tires well. The front one, however, could have been lowered or extended with a bib to better protect the shoes from projections. However, it is not a city bike, which also explains why the chain is not protected. Only the tray benefits from protection to prevent the bottom of the pants from rubbing against it.

The chainring is protected, but not the chain.

Question lighting, we have at the back not one, but two lights! Clearly visible, the main one is nicely integrated into the mudguard and directly powered by the battery, while the second is fixed to the luggage rack and runs on battery, providing a welcome surplus of visibility.

Two lights rather than one.

We would still have appreciated that one of the two is triggered when braking or could flash, for example, to add to the interest of such a duo.
Lighting 120lm
At the front, the Herrmans H-Black MR4 headlight offers, according to its manufacturer, a lighting intensity of 120 lumens. It illuminates over a good width, with a beam that starts just in front of the wheel, but only up to about twenty meters. Just a little out of town.

A rather wide light beam, but not very long.

Racing
Like the E-Summit 740, the E-Summit SUV benefits from a Naka E-Power Max crank motor capable of providing a maximum torque of 80 Nm. It is in fact a motor manufactured by the Chinese Ananda (based on the M100 BBTR) and programmed specifically to Nakamura's requirements. More powerful and torquey than the Naka E-Power that equips the E-Fit 150 that we also tested, it provides more muscular assistance when it comes time to overcome obstacles and big climbs in off-road use. If this VAE could have been satisfied with less, this extra power is not too much when the bike is loaded and you ride on somewhat rough and hilly paths.

The Naka E-Power Max mid-engine.

Four assistance modes are available: Eco, Standard, Turbo and Boost. The first is already enough to ride on the flat and even for slight climbs, if you accept to lose a little speed. We will gladly go to the second if we want to stay close to 25 km/h, the assistance actually cutting off at 26,5 km/h (the legislation for a VAE imposes a cut at 25 km/h +/ -10%). The Turbo mode is to be reserved for the frailest legs and especially for the steepest climbs, while the last Boost mode will be used rather as a last resort, if you find yourself in a delicate position (bad gear uphill, for example). If we hear a little the engine express itself, it remains quite discreet.

No problem in Eco mode on such a track.

The change of mode is done via a control fixed to the left of the handlebar. This is unfortunately not very practical to use because of the small size of its buttons, especially when it comes to scrolling through the various information available (remaining battery life, total and partial distance, cadence and pedaling power , consumption...). The central color LCD display, on the other hand, is pleasant and easy to read, even in direct sunlight.

The small buttons on the control, difficult to operate with gloves.

On the transmission side, Nakamura surprisingly made the choice to go downmarket, going from a Shimano Alivio groupset to a Shimano Altus. The SUV costing 300 € more than the 740, we could have just expected the opposite, or at least a conservation of the Alivio which on paper offers greater robustness. In any case, these are entry-level groupsets that do not offer the longevity or responsiveness of Shimano components from higher ranges (Deore, for example). Despite the use of a new bike and an adjustment in store, we also had to adjust the derailleur during our tests to go to the last 2 gears without incident.

A classic Shimano Altus drivetrain.

It's also a shame that Nakamura didn't opt ​​for a slightly larger chainring for this version, which has to make do with a 32-tooth model (for an 11/34-tooth cassette). If this does not pose a problem in off-road use due to a generally limited maximum speed, it is a little more troublesome for a bike driven on the road. The largest gear ratio (32 x 11) hardly allows you to exceed 30 km/h without starting to grind seriously. The E-Summit SUV is thus more suitable for rolling quietly at a cruising speed of 25/26 km/h, with a pedaling rate of 70 to 80 rpm. In comparison, the E-Fit 150 allows you to ride at a faster pace with its 44-tooth chainring and 14/28-tooth cassette). To be taken into account depending on the use you want to make of the bike.
Braking < 3 m
As far as braking is concerned, the E-Summit SUV benefits from the same components as its 740 brother and can therefore count on a 180 mm disc at the front and another 160 mm at the rear. The Shimano MT200 twin-piston hydraulic brakes make it easy to stop the bike in less than 3 m on dry ground when launched at 26 km/h with a total load of 110 kg (25 kg bike + cyclist with equipment ).
Autonomy
Supplied by the manufacturer BMZ, the 37 V lithium-ion battery of the E-Summit SUV displays on its label a capacity of 473,6 Wh (12,8 Ah) – Nakamura only announcing 460 Wh. Enough to offer a relatively comfortable autonomy if you do not constantly request the engine with a high assistance mode. Using Turbo mode, we were able to drive 56 km on a mainly road route with a small portion on trail and a passage through the woods typical of off-road, all in outside temperatures of barely 10°C. A result barely superior to that obtained with the E-Fit 150 and its 375 Wh battery, which is explained by much lower temperatures (we tested the E-Fit in the middle of summer), rolling resistance higher because of wider tires and assistance from the Naka E-Power Max engine in "Turbo" mode which is more generous in comparison and probably more greedy since the 2 engines share the same bases.

We were able to drive 56 km before the Nakamura E-Summit SUV died out.

In Eco mode, the higher capacity of the battery of this E-Summit is however more clearly revealed, since we were able to drive for 91 km on our usual road route. A result to also qualify, the outside temperature during this test having not exceeded 5 ° C, which can reduce the endurance of the battery by a few percent.
to read also: 6
NEWS: Electric bike
Lab – The autonomy of the Nakamura E-Summit SUV, Intersport's half-off-road, half-city electric bike
Our test of Intersport's Nakamura E-Summit SUV electric bike is coming to an end and our latest measurements regarding its auth...
9 months ago
Note that when the battery indicator on the display flashes red, it is still possible to drive about ten kilometers in Eco mode. However, we do not recommend driving on this reserve, because when the battery of the Nakamura E-Summit SUV no longer has enough energy, the whole system is cut off, which can be dangerous when driving at night since the light also turns off. Fortunately, you can turn on the system and the lighting again and continue driving without assistance, but security to avoid total extinction would have been welcome.
Nakamura provides a 4 A charger with his bike, allowing him to replenish his energy in 3 h 48 min. The battery connector remains accessible even when it is installed in the bike, unlike that of the E-Fit 150 battery.
Highlights
Voluntary central engine, even in Eco mode.

Good general behavior.

Relatively comfortable driving position.

Luggage rack 40 kg.
Weak points
Entry-level transmission with limited development.

Very curved handlebar which restricts the dynamism of the bike.

Inconvenient OBD control (small buttons...).

Uncomfortable saddle.

Stand close to the pedals, which can interfere with large sizes.
Conclusion
Note globale
Dynamic and go-anywhere thanks to its good mid-engine and MTB capabilities, the Nakamura E-Summit SUV is a good all-around bike. Without really offering the benefits of a real hiker and despite some questionable ergonomic choices, it offers the power and comfort that we are entitled to expect from a mountain bike equipped to ride both on paths and on the road and in town.
Sub Notes
Comfort and ergonomics
Racing
Autonomy
Read more