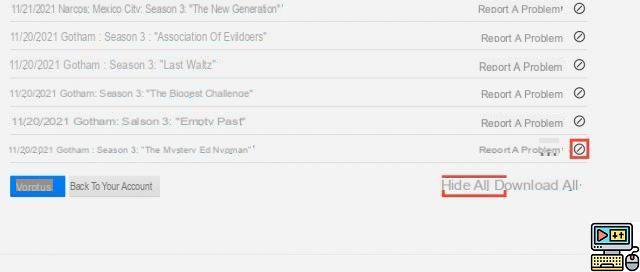 You can easily remove an item from recently watched series or movies on Netflix. Or even the entire viewing history. But how to proceed? This is not necessarily obvious for new users or for those who have never done it. Hence the usefulness of this little tutorial.
Your Netflix viewing history is useful in many ways. The platform uses it in particular to suggest films and series based on your tastes and habits. It's also a great way to easily find watched content that you can't remember the name of.
Still, some users don't want to be inundated with recommendations from the Red N algorithm. Others share their account with relatives and do not want to keep track of a viewing history that is not theirs. To erase all traces (or only part of the content viewed), follow the guide!
Lire aussi >> Netflix: how to save videos to play them later?
How to clear history on Netflix?
As we said above, the Netflix history will accentuate the ergonomics of the service by offering you content modeled on your tastes. In doing so, it would be better to delete some of the recently viewed content in case you have reason to do so rather than erasing the entire history. Before we start, let's note that it is not possible to delete the history from the Netflix application. To do it :
Sign into your account Netflix from a web browser.
At the top right, click your profile icon and select Account.
Scroll down the page. In the section Profiles and Parental Controls, select the profile where you want to clean.
Then click Show in category History.
You can hide only specific content by clicking on the circled bar or decide to hide all.
Netflix: history management by profile
To share your Netflix account with several people, the best thing is to configure several profiles, including profiles for children. Each profile has its own history. Everyone can therefore have their own suggestions and browse recently watched series without interference from other users.
Lire aussi >> Netflix: how to suggest a movie or series to add to the Spanish catalog
The editorial advises you:
Google Maps: how to plan a road trip or add a stage to your itinerary
How to Delete YouTube History
Netflix: how to delete a profile or your account?
What to watch on Netflix this weekend? Films, series, documentaries, animated films: every Friday, we offer you a spoiler-free home selection of all new releases... After a less trial or several months of sifting through all genres of films and series on Netflix, you have decided to unsubscribe. Be it…The fourth (and final) season of the Netflix crime drama series Ozark is coming soon. Over three seasons, viewers have immersed themselves in lies, deception, and… Autoplaying Next Episode on Netflix makes it easy to binge-watch your favorite shows. Many users appreciate not having to press the "…