Netflix adds new features – essentially parental control – with a useful new feature even for those who do not have children: profile locking by PIN code. Here's how to enable the feature.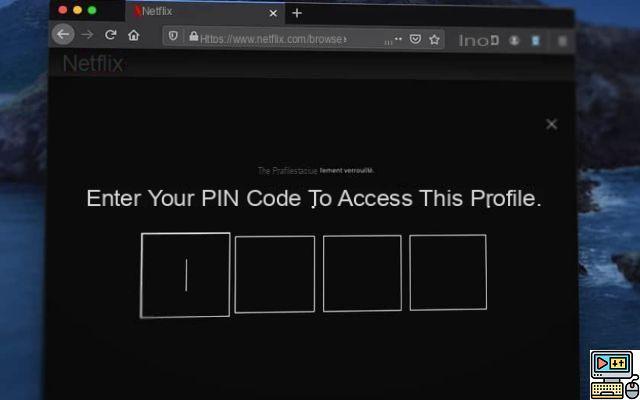 Netflix adds a series of parental control features, including one that should also appeal beyond couples with children, especially those who share accounts. Netflix now allows you to lock each profile with a different PIN code. What prevent for example other members of your family or friends from using your profile and sow discord on your personalized homepage. In addition to being able to better limit what children can watch.
Concretely this PIN code is a four-digit code. To set it up, it is imperative for the moment to go through the web version of Netflix. However, once activated, you will be asked for it both on the web and in the platform's applications (smartphones, tablets, Android TV, etc.). Among the other features that Netflix has just added is the ability to set up filters on a profile by age category.
What restrict viewing to suitable titles. It is also possible to delete content individually so that a specific profile no longer has access to it. Profiles now have a section in account pages. This makes it easier to control parental settings for each account. It is also possible to consult the list of programs watched in the children's profiles.
And to disable the automatic reading of episodes in these profiles.
How to protect a Netflix profile with a PIN code
For it :
Go to Netflix from your PC / Mac
On the home page, after the profile selection screen, click on your avatar at the top right
Click on Account in the drop-down menu
Click on the profile you want to lock by PIN code in the Profiles and parental controls section
Click on Edit to the right of Lock profiles
Enter the password of your Netflix account and click on Continue
Check the box Require entry of a PIN code to access the profile and enter a four-digit code on your keypad
Click on Save
You will now be asked for the code each time you access the profile in question on Netflix.
How to remove or change the PIN code on a Netflix profile
If you have lost the code or no longer want a PIN code:
Connect to Netflix from your PC/Mac
On the profile selection page, select the one whose code you forgot
At the bottom of the page, click Forgot your PIN code?
Enter the password of your Netflix account and click on Continue
Uncheck the box Require entry of a PIN code to access the profile or enter a new four-digit code on your keyboard
Click on Save
Also read: Netflix Party – how to watch movies and series together from home
What do you think of this new feature? Share your opinion in the comments!