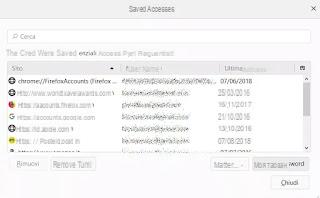 All browsers have the option to store the logins and passwords used to access websites.
This function is useful for being able to enter various web accounts quickly, without having to write passwords every time.
So, for example, if every day I access Facebook from my computer that only I use, I can enter my profile by saving the password in the browser used, therefore without having to write it down the next time.
In modern browsers like Chrome and Firefox, website passwords can even be synced online to Google and Mozilla accounts, respectively.
This allows you to keep the saved passwords of websites to be able to log in without having to write them, even if you change PC or using Chrome / Firefox on your smartphone or tablet.
These stored passwords, when they are automatically entered by Chrome or Firefox, are always unreadable and covered by dots or asterisks, so as to preserve privacy in case someone uses the same PC.
In reality, however,
it is always possible to recover passwords saved on a PC with Chrome and Firefox and view them in various ways
, even without the need to have the master password of the Google or Firefox account.
This fact is not surprising.
The first security problem of any computer, in fact, is that if it is not used only by the owner, then the data inside it can never be truly safe.
Therefore, if we cannot guarantee that the PC is protected from the access of other people, it is important to know that the passwords saved within it can always be recovered or, vice versa, that by putting your hands on another's PC, you can easily find his passwords.
It goes without saying, moreover, that in case you go to use the computer of others, then you must always be careful not to save passwords and, for better security, use the incognito or private mode of the browser.
-
Recovering passwords stored in Chrome
, of each site, can be done directly from Chrome by pressing the button at the top right with three dots and opening the settings.
Almost among the first options you will find the Password section which allows you to see all the logins used to access the stored websites.
The passwords in this list are covered by dots, but they are visible by pressing the eye icon on the right.
The protection that Chrome offers is to tie the vision of the saved passwords to the Windows account used.
The user will then be asked to type in the Windows login password or PIN in order to see them.
Note that the passwords saved in Chrome are visible via the web from any PC or mobile phone, by going to the site https://passwords.google.com/.
You will always be prompted to enter your Google password in order to see the list of passwords and accounts.
On this page you can activate or deactivate two important options:
- Automatic access to saved sites
- Save new passwords in Google account when used in Chrome or Android apps.
-
Password Recovery of sites from Firefox
it can be done by opening the Settings, in the Privacy and Security section, under Forms and passwords.
Here is the option to save website passwords and the button to see saved logins.
From the saved logins window you can then press the key
Show Password
and see all the credentials used and saved for each web account.
The same can also be done on Firefox for Android and for iPhone.
The passwords of each stored site can be recovered in clear text
on installed browsers
on the PC, both on Chrome, Firefox, Internet Explorer and Opera
, including passwords to log into Facebook, Gmail, Google, Twitter and any other account using a special little program:
WebBrowserPassView
.
This Windows tool is free to download and requires no installation.
After downloading it as a ZIP file, you can extract it to a folder so that you can then launch the WebBrowserPassView.exe file which opens the program.
Automatically and without having to do anything else, the list of passwords will be presented, in clear text, saved by the browsers, indicating whether they are in Chrome, Firefox, Internet Explorer and so on.
You will also find the site of the account and the username thus completely uncovering any saved credentials.
With WebBrowserPassView you can export the selected information to an HTML or CSV text document.
This automatic tool does not work with
64-bit Firefox
(which is now the version installed on all newer computers), for which there is
PasswordFox
, by the same author and very similar.
WebBrowserPassview is available for download at the Nirsoft project web page from which, remember, you can download many other applications to recover network passwords, websites, PCs and wifi routers.
To protect web accounts
from this type of vulnerability it is therefore important that no one can access the PC or phone used, always use authentication or two-step verification, always set an effective screen lock with password or PIN and perhaps use a program such as Lastpass, to memorize and protect login data to websites.
Password recovery of each site stored in Chrome or Firefox