GIMP (Windows, Mac and Linux)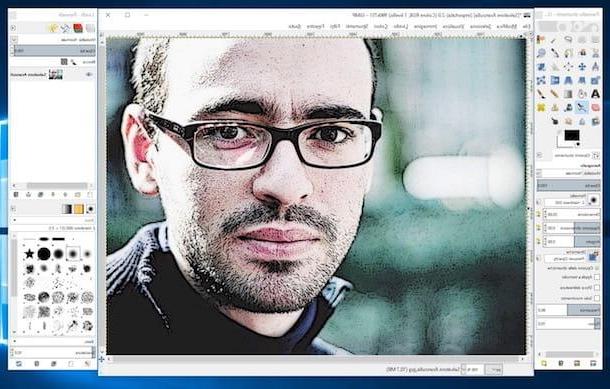 GIMP is the first among the programs to transform photos into drawings that I want to suggest you try. It is a totally free software, open source in nature and fully functional on all major operating systems (Windows, Mac and Linux). It offers a very wide range of features that allow it to compete on equal terms (at least for what concerns the not strictly professional needs) with the famous Adobe Photoshop and includes many incredible features that allow you to edit photos and images and obviously also to transform your shots in beautiful drawings.
The program, in fact, includes many customizable brushes, filters and adjustment effects through which to make all digital photos into real little masterpieces. Its user interface is divided into three columns (basic tools, photos to edit and advanced settings related to levels, etc.) and is very easy to use for anyone as well as very intuitive. For more info, you can read my guide on how to use GIMP in which I proceeded to talk to you in great detail about how the software works.
To download GIMP to your computer click here.
XnSketch (Windows, Mac and Linux)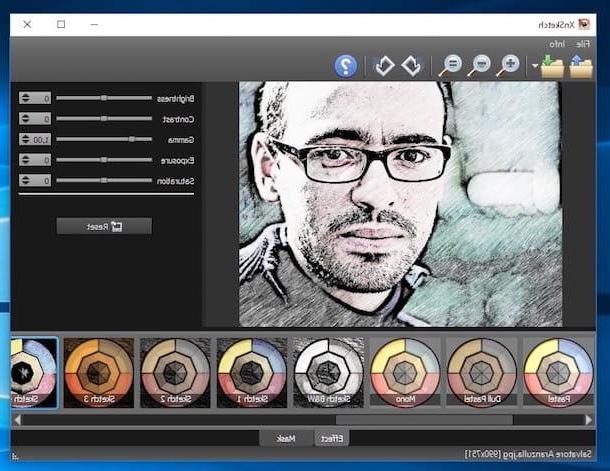 XnSketch is another great software in the category. It's free, can be used on Windows, Mac as well as Linux, features a simple and highly understandable user interface, and comes with eighteen different effects including: Black and White, Neon, Pastel, Mono, Sketch, Sketch, Pencil , Comics, Cartoon, Oil, Print, all adjustable at will using the appropriate sliders.
What do i need to do to use the software? Nothing could be simpler: just install it, start it, open the photo to be transformed into a drawing and select the desired effect from the many available. The final result can then be saved locally or shared.
To download XnSketch to your computer click here.
Photoshop (Windows and Mac)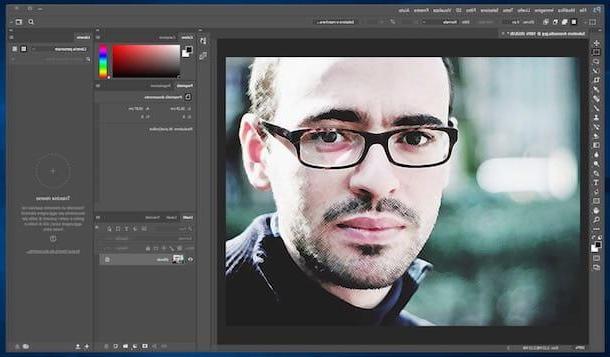 Does it really need any introduction? Photoshop is the software par excellence for photo editing through which any modification to images can be made, including transformation into drawings, paintings and comics. It can be used without problems both for purely amateur purposes and for professional reasons. It offers an infinite series of tools to edit photos and has a fairly simple and immediate interface although it requires a minimum of effort to be able to start serving seriously. For further information, I suggest you read my guide on how to use Photoshop.
Photoshop, it should be emphasized, is a paid software and its purchase is currently linked to the subscription of a monthly subscription to Adobe's Creative Cloud service. However, it is possible to use the program without spending a single cent for a trial period of 7 days. You can download Photoshop to your computer.
To download (and possibly also purchase) Photoshop on your computer click here.
InstantPhotoSketch (Windows and Mac)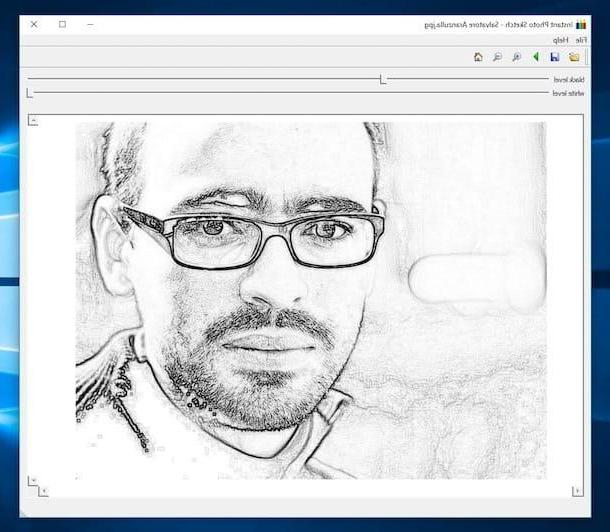 Another great program that I want to suggest you try to turn your shots into beautiful drawings is InstantPhotosketch. It is free, it is only available for Windows and it is perfect to use even by those who do not consider themselves an expert in photo editing as it has a very simple interface and can allow you to get pencil sketches starting from any type of photograph. . It offers only one type of effect - pencil drawing, in fact - but allows you to completely adjust the level of white and black to your liking in order to obtain personalized and always different results.
In order to apply other effects, you must instead switch to the Pro (paid) version of the program - which can still be used at no cost for a trial period of 14 days - which can be used not only on Microsoft operating systems but also on Mac. Pencil drawing aside, the paid variant of the software allows you to apply the ink drawing effect, the poster effect and the oil on canvas effect. In all cases it is possible to adjust the intensity.
To download InstantPhotosketch to your computer click here. Instead, to download the Pro version of the program click here.
AKVIS Sketch (Windows and Mac)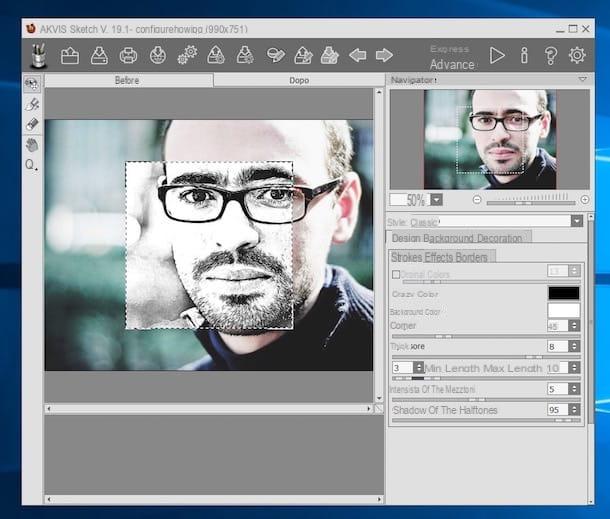 AKVIS Sketch is another excellent program for Windows and Mac belonging to the category in question. Allows you to convert photos into color or black and white drawings by imitating the technique of graphite and colored pencils. By adjusting the settings you can also add painterly effects such as watercolor, pastel and charcoal.
The software integrates various drawing styles and provides a whole series of ready-to-use presets. To be particularly interesting is the possibility of being able to create snapshots of the image to be modified during the editing phase simply by clicking on a specific button. Note that the software is for a fee but can possibly be used at no cost for a trial period.
To download (and possibly purchase) AKVIS Sketch to your computer click here.
FotoSketcher (Windows and Mac)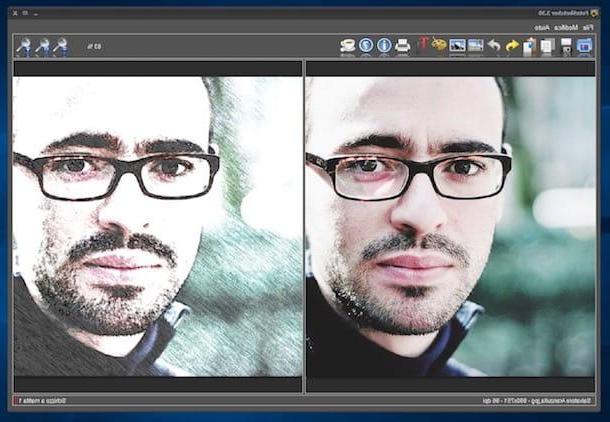 FotoSketcher is a free application available for both Windows and Mac that allows you to transform photos into drawings and works of art of various kinds, such as oil paintings and watercolors. It includes over 20 different effects, which can be used without any problem even by less experienced users, and tools to adjust all image parameters: contrast, brightness, saturation, etc.
It supports all major graphic file formats and works on all the latest versions of Microsoft and Apple operating systems. As far as the PC side is concerned, a portable version is also available that works without the need for installations and which can possibly be transported on any USB stick.
To download FotoSketcher to your Windows PC click here. To download the Mac version of the software you have to click here instead.
Paint.Net (Windows)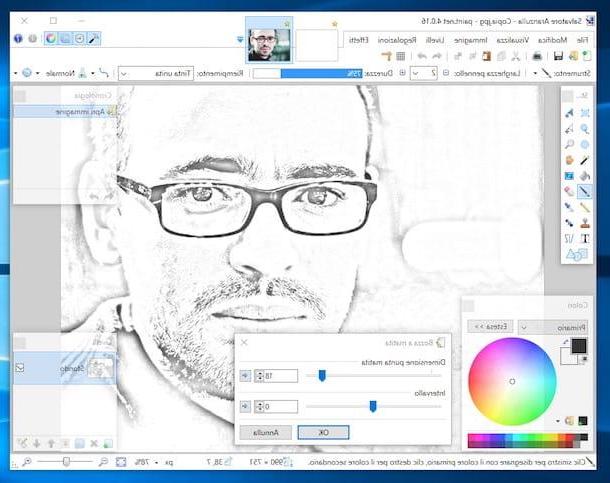 Paint.Net is a free and fairly well-known photo editing program that combines the ease of use of the classic Windows Paint with some advanced features typical of more advanced software, such as Photoshop and GIMP.
It allows you to edit digital photos by acting on multiple levels and includes a wide range of automatic filters. Among these there is also the one that allows you to turn photos into pencil sketches. Its user interface is very accurate and fully translated into cittàn.
To download Paint.NET to your computer click here.
Pixelmator (Mac)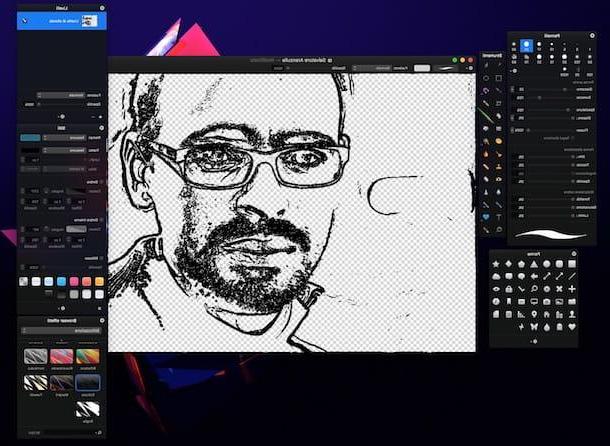 Now known to most as the Mac-specific alternative to Photoshop, Pixelmator is a powerful graphics program that perfectly combines extreme ease of use with particularly advanced functions. While not specifically designed to turn photos into drawings, it includes numerous tools and effects that make it perfect for the purpose in question.
Pixelmator can be purchased for 32,99 euros on the Mac App Store but possibly a free trial version lasting 30 days is also available. It should also be taken into account that the software is often subject to discounts and promotions that allow you to purchase it at a much lower price.
To purchase and download Pixelmator on your Mac click here. Instead, to download the trial version of the program click here.
BeFunky (Online)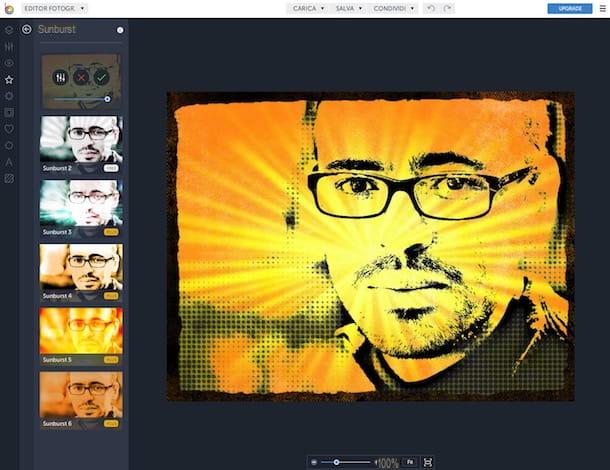 Don't feel like installing new programs on your computer but still looking for a way to turn your photos into drawings? Then I can not help but suggest you contact BeFunky, an online application very easy to use, full of effects of all kinds to be applied to the images and able to return final results that have absolutely nothing to envy to most of the above software. The service can be used at no cost and from any web browser (as long as it has been installed on the computer in use Flash Player).
Using BeFunky is very easy. Just connect to the main page of the service, select the photo to be transformed into a drawing and choose the effect to apply using the appropriate menu on the left. Using the adjust bar at the bottom it is also possible to set the degree of intensity according to your preferences and needs. Note that most of the filters and functions available are free but there are also some that are intended for users who subscribe to a Plus (paid) subscription.
To connect to the BeFunky website click here.
Pho.to (Online)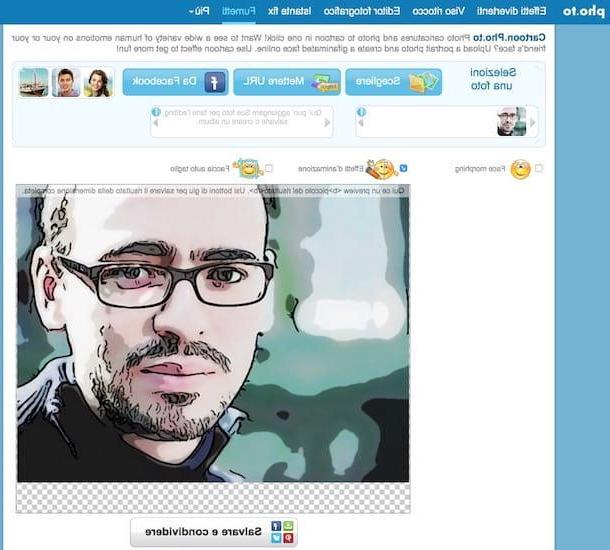 A haughty nice Web service for turning images into drawings is Pho.to which is free, very easy to use and compatible with all browsers and with all operating systems. It offers multiple tools for image editing including a tool through which you can apply the cartoon effect to the loaded images. Also noteworthy is the presence of the "face morphing" function which allows to give an animated effect to the modified images.
Using the service is very easy: just load the photo to be edited, wait a few moments for the effect to be applied automatically and click on the button to save the modified image. It practically takes longer to explain than to do!
To connect to the Pho.to website click here.
Programs to turn photos into drawings