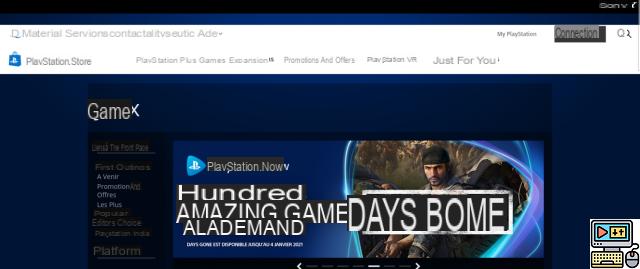 As the release of the PS5 approaches, Sony plans to give a makeover to the web version of its PlayStation Store. Consequence: PS3, PS Vita and PSP games will be withdrawn from sale there.
Sony is obviously betting a lot on the PS5. To prepare for its arrival as it should, the Japanese firm is making some adjustments. So, after unveiling a brand new rewards system, it plans to revamp the PC and mobile versions of its PlayStation Store. As a reminder, these allowed you to buy games without having to launch your console. They will nevertheless sound a little hollow in the future for fans of vintage Sony consoles.
According to information from the Planète Vita website, an update will indeed remove many games from virtual shelves. From October 19, PS3, PS Vita and PSP games and DLCs cannot be purchased through PlayStation Store on PC. It will be the same from October 29 for the mobile version of the Store. Note that themes, avatars and applications are also affected by this deletion.
PS5: Sony looks to the future
However, it is worth remembering that the aforementioned products will still be available for purchase. To do this, you will have to go to the PlayStation Store from your console. Except of course for the PSP where the Store has been inaccessible for several years now.. In addition, any purchases made on the web or mobile version will still appear in the PSN account. Which is a lesser evil. It will therefore be possible to download games and applications that have already been purchased onto your console.
However, this turning point illustrates Sony's desire to focus on the future, effectively abandoning part of the community still attached to old consoles. But the Japanese company will not look in the rear view mirror as the release of the PS5 gets closer every day.
It does not hesitate to shake up the habits of its own nationals. They will now have to use the X as a validation button on the DualSense. So far, first impressions of the PS5 are positive to say the least. Even if we can estimate that the space on the SSD of the console is insufficient. Especially for games over 100 GB.
The editorial advises you:
PlayStation 5: release date, price and technical sheet, everything you need to know
PS3, PS Vita and PSP: the closure of the PlayStation Store is planned for this summer
PS3, PS Vita: finally, the PS Store will not close its doors this summer!
Shaquille O'Neal, former basketball star, has shown unparalleled generosity. This one offered a large number of PS5 consoles and Nintendo Switch has children whose…The PS5 and PS4 games offered as part of the PlayStation Plus subscription leaked a little early. On the menu in December: abominable creatures, dark fantasy and supervillains… After the smash hit of God of War in 2018, the eighth installment of the license, Sony Interactive Entertainment is actively working on its sequel. This will be called God of War: Ragnarök and…We introduce you to the PlayStation Plus games offered in November 2021. Like every month, Sony offers a selection of titles to subscribers: PS5 and PS4 games,…