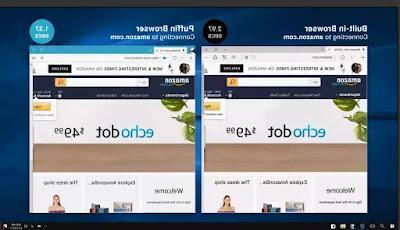 Puffin Browser
is an old acquaintance, already reported in 2012 as the browser that displays sites in flash without the need to install plugins or extensions. Puffin now deserves to be reported and recommended again because compared to 5 years ago it has really evolved and has become one of the best browsers that can be downloaded and installed on any device, ideal as a secondary browser
on Windows PCs, on Android smartphones and tablets, on iOS devices, iPhone and iPad
.
Puffin browser's strength lies not only in its being
fast and super performing in loading websites
, but also in its internal and predefined functions, which allow you to freely browse each site
uncensored and without geographical restrictions
, to save data and open
pages also with Flash content, without installing any additional plugins
.
Puffin is a browser
really basic and simple, of those with few options, which works well for surfing the internet, which opens any type of website without problems. While loading speed is its primary feature, Puffin Browser, both in the iPhone and iPad version as well as the Android and Windows PC version, includes a
automatic compressor
which acts by passing the internet connection through a remote server before displaying the requested site. Much like Opera Turbo did, Puffin compresses sites making them faster to load and, at the same time, disguises the IP address by making websites appear to be from the US. The result is that Puffin manages to open all the sites as if you were browsing from the USA,
thus bypassing the geographical blocks
due to censorship or violation of laws.
The Puffin Browser, also through its "Cloud Server", includes Flash technology, runs it on its servers and then shows it to users on the terminal. In practice, when you visit a site with Puffin, the navigation is filtered by the servers that process the
Flash animations
showing the contents on the small screens of smartphones or tablets. Puffin Web Browser also allows you to play video games online as well
watch Flash videos in full screen
. To enable flash on Android and iPhone, you need to request the desktop version of the open site, using the menu button.
The virtual mouse function of Puffin then allows you to make the mouse arrow appear also on the mobile phone screen in order to click in the right places to close the advertisements and control the video player when opening a normal site not optimized for mobile.
Finally, there is also the incognito mode, both in the PC version and in the mobile version, in order to browse without storing data and without using previously saved cookies.
-
Puffin for Windows
is a very fast and simple browser, with a very narrow and essential options menu, with a button in the top left where you can activate or deactivate data compression via the Cloud Server.
-
Puffin for Android
it works very well, fast and with active data saving, with special functions to virtually activate a mouse, a joypad and an on-screen keyboard, capable of opening flash content and bypassing restrictions. Puffin Browser is also great to use on Fire TV Stick.
-
Puffin for iPhone
is the browser to load Flash sites, which works well even if it receives fewer updates than the decidedly more accurate version for Android.
In other articles I remember:
- Best Safari Alternative Browsers for iPad and iPhone
- Best Android Browsers.
- Best PC browsers
Puffin Browser quickly loads any website (even Flash) on Android, iOS and Windows