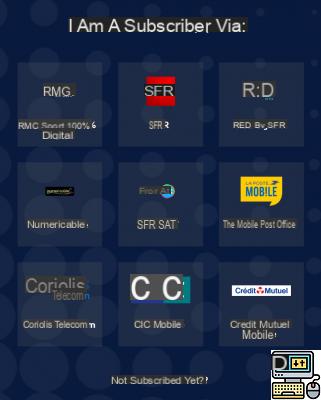 Do you want to unsubscribe from RMC Sport? It is possible, in this article we will show you how to do it. The channel has become essential for sports fans for the simple reason that it is now the only one to broadcast the Champions League, friends also the Europa League. But if for some reason you wish to unsubscribe, here is the procedure to follow.
SFR is now a significant player in the sports audiovisual landscape. His channel RMC Sport (formerly SFR Sport) has been broadcasting the English Premier League since 2016 and the Champions League and the Europa League since the 2018/2019 season. This big blow allowed him to take on a new dimension. But unlike Canal+ and beIN Sports, you have to be an SFR subscriber or go through the RMC Sport digital offer, which costs €19 per month.
How to unsubscribe from RMC Sport?
If you are a subscriber, you may decide to cancel your RMC Sport subscription. The potential reasons for unsubscribe are varied. The channel sometimes encounters technical difficulties related to broadcasts, the presenters and consultants are not unanimous, your favorite team is no longer in the race in the competition, without forgetting that RMC Sport has lost the broadcasting rights of the English championship which returns to Canal+ from the 2019/2020 season.
Read also : Ligue 1, Champions League, Premier League, La Liga: which subscription to miss nothing of football
How to unsubscribe from RMC Sport
Log in to your Customer Area.
Select the service through which you access RMC Sport and identify yourself
Then click Your services
Choose RMC Sport monthly subscription
To unsubscribe, simply click on the icon which is in the form of a trash can to terminate the subscription.
Validate to confirm your unsubscription.
That's it that's all. Finally, if you decide to subscribe again, perhaps to follow the Champions League from a certain stage of completion, all you have to do is add the RMC Sport subscription again via the " My services ".
The editorial advises you:
Insufficient storage: how to clean your Android smartphone
Android: how to transfer your SMS and MMS to a new smartphone
How to Download YouTube Video on iPhone, Android, PC and Mac
While the PS5 is still not found at retailers, SFR is trying to attract customers by including the next-gen console in a fiber subscription. Here's what you need to know about… Which offer to choose in the category of cheap mobile plans from the main operators? We have gone through the different catalogs to offer you a comparison of mobile plans... 5G began to be deployed in France at the end of 2020. A gradual deployment so that the network is still far from being available all over. In…5G has appeared in France. To benefit from it, you must obviously have a compatible smartphone but also choose an appropriate package. Orange, Free, Bouygues and SFR have…