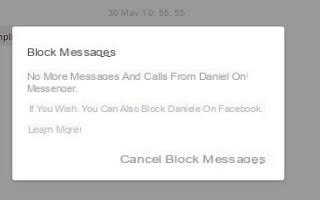 One thing that not everyone knows about Facebook Messenger is the possibility of being able to block someone, without removing the friendship on Facebook.
In practice, we remain friends on Facebook, but the messages sent by those who have been blocked cannot reach us.
Obviously, those who are blocked have no notification and will be able to write messages as much as they want, perhaps thinking that the recipient will read them without replying.
To avoid writing messages in the void, in the absence of a clear indication that our messages sent to a Facebook friend are actually read, let's see what is the clue that makes us understand that
a contact blocked us on Facebook Messenger
.
What is important, above all, is to understand if that person has blocked us or if he has deactivated the account.
First of all, let's remember
what it means to block a user on Facebook
there is a big one
difference between the terms "blocked" and "deleted"
.
In short, when someone is blocked on Facebook, this person not only can no longer contact us and ask us for friendship, but they will not even see our profile anymore and they will not even be able to read what we publish.
It is a complete block, which prevents any contact attempts.
If you delete someone from your friends, they will still be able to see our Facebook profile, the things we publish with public visibility and even contact us via Messenger.
If you delete a person's friendship without blocking them on Messenger, their messages will still be received in the "Message requests" mailbox, the one that contains messages received from all non-friends.
The block on Facebook Messenger chat
can be made
also on a Facebook friend
, who will continue to see our posts and all, but will not be able to contact us with messages.
If I block a contact of mine, he will no longer see me online and he will not be able to send me messages in chat or even call us, even if he is still on my friends list.
Obviously, even those who block will not be able to send messages in chat to the blocked person.
Note that if the person who blocked me on Messenger and I are added to the
same group
conversation, Facebook will notify who has placed the block, so that they can choose whether to join the group or decline.
See who blocked me on Messenger
it's pretty simple.
Whether from PC or from the Messenger app on your smartphone, when you send a message and receive the reply immediately "
This person is not available at the moment
", then we have been blocked and the message will not be read by the recipient.
Furthermore, we will never be able to make voice calls to him, because even Messenger calls are blocked.
If we have been blocked on Messenger by a Facebook friend we will not find the button to call, which instead is normally present
The only other reason that "This person is not currently available" may appear is if the person we are writing to has disabled their account.
To check, just try to open his Facebook profile and see if the page is available.
If it is and we can read his data and his posts, then the account is not deactivated, but we have actually been blocked in chat.
How do you block someone on Messenger and leave them as a Facebook friend?
You can block the messages of a friend or even a stranger on Messenger both from PC and from the app on the smartphone.
Your pc
, open the Facebook message list or open the page www.messenger.com, search for the name of the person to block, then press the i key at the top right.
In the information tab, next to the name, click on the gear button and then on Block messages.
On the app
it is the same thing: search for the name, on Android press the key with the i at the top right, while on the iPhone press the name at the top to see the information.
Then scroll down the options tab and activate the one that blocks messages.
See who blocked me on Messenger even if they are friends on Facebook