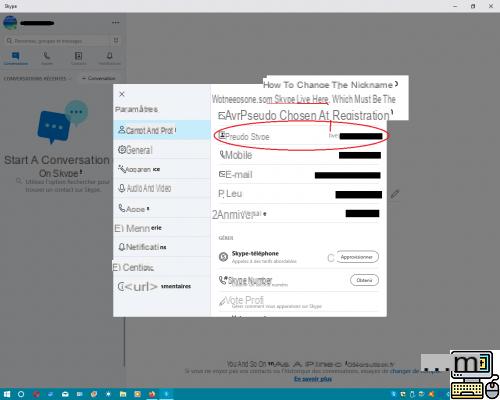 When you create a Skype account, you also create a pseudonym, a name by which your contacts can find you on the network. On the other hand, you can easily change your display name, that is to say the name that is displayed in your contacts, in addition to your pseudonym.
Unfortunately, it is not possible to directly change the pseudonym attached to your account Skype. If you really want to get rid of your nickname, you will first have to save all your contacts and delete your current Skype account. This is unfortunately the only option offered by the videoconferencing service. You can immediately create a new Skype account for free and import your contacts again.
But there may be another solution: change your Display name. This is the name that is displayed instead of your pseudonym in your contacts. But let's say it right away: your contacts Skype will not necessarily see this new name. It is indeed possible to change the name of your contacts yourself in the application.
How do you change your display name on Skype?
Dance Skype, click on your name at the top left of the application. Click on Skype Profile.
Click on the little pencil to the right of your current nickname. Type your new name, then validate by clicking on the icon instead of pencil.
There you go: your Skype name is officially changed. You can change it at will. Also know that you can change the name of one of your contacts by proceeding in the same way. Just click on their name, click on the pencil, and change their display name.
As popular as it is, the service Skype sometimes behaves in a curious way: deleting your Skype account requires deleting your Microsoft account, for example. You can also find our selection of the best open source or proprietary alternatives to Skype.
The editorial advises you:
How to permanently delete your Skype account
How to create a skype account for free
Skype: how to delete a message
Permanently deleting your Skype account is not easy, especially since the VoIP software was bought by Microsoft in 2011. However, there is a solution that… Skype allows you to delete any message sent in a conversation. It's even very simple! Skype is one of the most popular video conferencing applications, and creating an account is free. The application, available on all platforms, allows you to call your friends for free. Plus…Skype now allows you to blur the background of where you are located during a video call. A seemingly innocuous feature, but which will prove useful for many users. In…