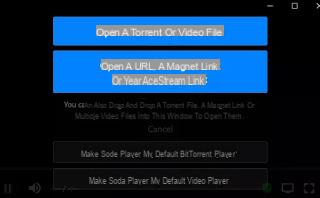 Soda Player
it's a
program for PC and Mac
that allows
view videos of all kinds on your computer
in an ultra simple way.
Unlike VLC Media Player and other similar programs, this Soda Player has practically no options, but it includes all the codecs within it to see practically
any existing video format
, including contents
streaming from websites
and from peer to peer applications such as
Torrent Videos and those transmitted via AceStream and Sopcast
.
It is therefore a universal player that is worth installing on every PC, as an alternative to use especially if you want to watch internet videos outside the browser.
This program is very interesting not only because it works well, it is open source and free without advertising and without those trackers that often accompany terrible programs like AceStream (which I always advise against installing because it is almost a virus), but also because
any video viewed on the computer with Soda Player can also be streamed to TV on Chromecast
.
You can
download SodaPlayer
from the official website of the project, where the most complete video player ever made is described.
After downloading and installing Soda Player, you can open the program and choose which video to view and open.
One button allows you to open a video saved on your PC or Mac or a BitTorrent link, while the other button is used to open a streaming video, a video from a Magnet link or an AceStream video.
SodaPlayer uses a Socks5 proxy to open Torrent videos, in order to avoid the risk of being tracked by trackers.
This service will be paid for when the final version of the program is released.
When you go to open any video, a button will appear at the bottom right next to the one to enlarge the screen, which allows you to transmit the video on Chromecast and on the connected TV.
This works with any type of video, including Acestream and computer video.
To make it easier to open streaming video links (which would otherwise require you to copy and paste), you can install the extension
Open With SodaPlayer
.
The extension displays a button on the Chrome extensions bar that when pressed opens the video of the web page that is being viewed on Soda Player.
There are no other options and settings to configure in this program which, due to its versatility, is practically unique in the panorama of video players.
Soda Player to watch Acestream and Torrent videos (also on Chromecast)