An Apple patent suggests a radical future design change for the Apple Watch. According to the document, the bracelet and the dial would be part of the same flexible OLED screen, with a wider part with rounded edges. Since the first model in 2015, its characteristic rectangular design has never really changed.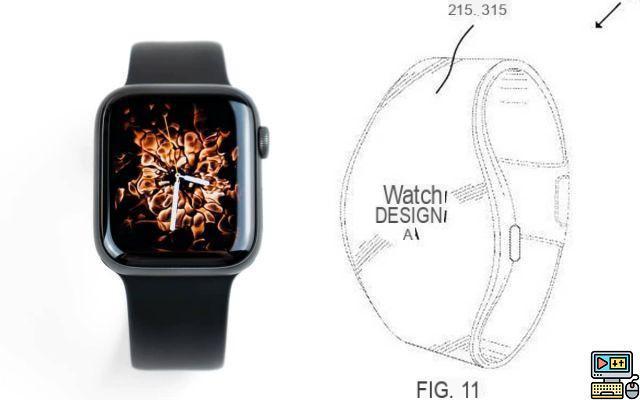 Is Apple preparing a radical change in the design of the Apple Watch ? A new patent published on March 23, 2021 describes how a future smartwatch from the firm could implement flexible OLED screen technology. The document goes so far as to show the sketch of a watch completely covered with a continuous screen. The central part is a little more rounded like the dial of a classic watch.
The document describes the concept as follows: "The display module should include a display substrate comprising a front surface, a back surface and a display area on the front face. A plurality of interconnects extend through the display substrate between the front and rear face. An array of LEDs forms the display area, itself electrically connected with the plurality of interconnects, and one or more control circuits integrated into the rear surface of the display substrate. Examples of such a system include wearable, rollable and foldable displays".
In the rest of the patent, Apple talks about a new technology for flexible OLED and/or LCD screens, called "Chip-on-film". This manufacturing process involves creating OLED or LCD pixels in the form of chips, rather than something successively deposited in layers as in conventional OLED screens for example. The document explains that the compounds of OLED screens degrade quickly on contact with oxygen – and that this is also the main problem with current flexible screens: air always ends up getting between the different layers. of the substrate, which reduces their lifespan.
Also read: The Apple Watch dominated the smartwatch market at the end of 2020
For now it is not really known if Apple will dare such a radical design change. After all, the designers of the firm have rather accustomed us to improving the original designs by successive iterations rather than making too radical changes. What do you think of this possible new design direction for the Apple Watch? Tell us what you think about it in the comments.