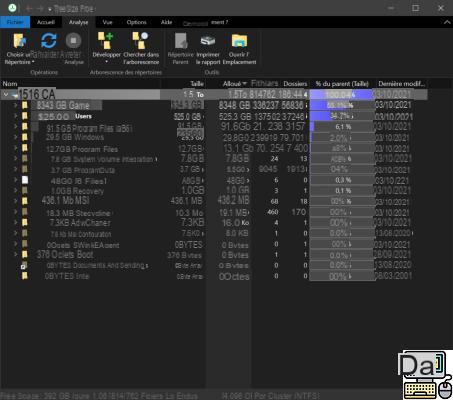 Is your PC doing its own? This probably means that you need to do a heavy cleaning. Cache, fragmentation, wrong registry keys, too much RAM-intensive process, unnecessary files… these free software should be of great help to you to effectively clean your PC. This will ultimately allow you to turn it into a real war machine!
In this article, we have selected several free software that should help you effectively clean your PC. While the system of your machine must obviously be neat, remember that it must also be cleaned in the true sense of the word. After discovering the following solutions, therefore, also take a look at the right products that will allow you to clean your PC or Mac.
CCleaner: the most complete tool for cleaning your PC
Let it be said, CCleaner is probably the most effective freeware to do a spring cleaning on your Windows installation. CCleaner removes cookies, temporary files and a lot of data that has no other use than to slow down your system.
Finally, CCleaner repairs your registry which makes your computer much more stable. All through a very intuitive user interface. To try it is to adopt it !
>> Download CCleaner <
Glary Utilities: The Alternative to CCleaner
Glary Utilities is free software that greatly simplifies cleaning your computer. And that's exactly what makes this software interesting. It attacks the sluggishness of your PC problem in the same way as CCleaner, but it does it in an even simpler way.
The list of features is daunting. The leitmotif of this application is indeed the two buttons Analyze et Run cleaner that can be found everywhere when browsing the menus of the interface. How could it be simpler?
>> Download Glary Utilities <
CleanUp! : for more experienced users
CleanUp is also a good tool, allowing to perform more or less the same operations as CCleaner and Glary Utilities. Namely: carefully clean your PC. The interface is on the other hand a little more complex to use, and above all, the updates are not frequent.
If you are a power user, already know the root of the majority of problems and just want a centralized program to fix them, choose CleanUp.
>> Download CleanUp <
Revo Uninstaller: uninstall your programs for good
When you uninstall a program, you usually don't have too many questions. And yet, some of this software does not go away even after it has just been uninstalled. And some of their processes remain active, unnecessarily consuming your computer's resources.
It is precisely to prevent this that Revo Uninstaller is there: it uninstalls your applications and scans the system to remove everything down to the slightest trace. Convenient, isn't it?
>> Download Revo Uninstaller <
Duplicate Cleaner: get rid of duplicates
Duplicate Cleaner is a handy free application for removing many duplicate files from your hard drive. Its operation is very simple: the program analyzes your hard disk, and you can then choose to keep only one version of a file if it is identified several times on the machine.
Due to lack of organization, it often happens that we download the same thing several times, and it quickly becomes a headache to delete the extra files. Particularly at the top to keep a nickel music library! Nothing like cleaning your PC and saving a significant amount of storage space as a bonus.
>> Download Duplicate Cleaner <
WinDirStat: view the use of disk space
How not to mention in this list WindDirStat? This program scans your hard drive and lets you see which type of file or folder is taking up the most space. Essential to really understand how to free up space on your computer. All you need to do is identify the data that meets two selection criteria: large and unnecessary. Sweep up and breathe your dear machine!
As a reminder, the lack of space is indeed a big hit from a performance point of view. Speaking of which, here are 5 tips to free up hard drive space on Windows 10.
>> Download WinDirStat <
To read also: The best free video editing software
Using these programs, you should easily be able to boost your computer's performance without adding RAM or replacing your hard drive with a faster SSD, but not necessarily safer for your data. And you, what is your favorite program to clean your PC? Tell us all in the comments!
The editorial advises you:
Windows 11: compatibility, design, news, release date, all the info
The Best Free VPNs for PC
Windows 10: the best antiviruses for your PC
Version 97 of Google Chrome is available today. However, one notable feature is a new attribute within the Keyboard API, which turns out to be quite controversial. Until…Minecraft is already one of the best-selling games of all time, alongside Tetris, Mario and Grand Theft Auto. But the game has just crossed a new… Released for a month, Windows 11 continues to reveal bugs. The current version would significantly slow down some hard drives and SSDs. Many PC owners are not yet…If switching browsers under Windows was already an ordeal, now Microsoft has made the task even more difficult. When a user chooses one of Edge's competitors, small pop-ups…