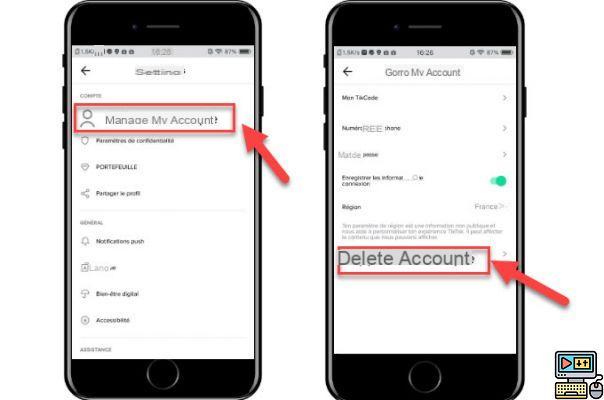 Tired of endless videos scrolling through your newsfeed? TikTok no longer finds favor in your eyes? It is entirely possible to permanently delete your account. We detail the procedure to follow in this tutorial.
Launched in 2016, TikTok has indeed won its bet. The craze around the video sharing application does not weaken. Evidenced by its attendance figures. It actually has 689 million monthly active users around the globe., according to Data Report. TikTok thus ranks seventh in the world ranking of social networks.
And the platform does not hesitate to reinvent itself to satisfy its users. At the end of the year, TikTok had tested the 3-minute videos on a small selection of people. Before that, we learned that the application had partnered with Sony to expand its music catalog. Despite its growing success, however, it is possible that the application is no longer your cup of tea. And you just want to delete your account. We explain how to do it in this article.
Lire aussi >> TikTok: how to change your password
Here's how to delete your TikTok account
Open the application then click on the Me tab nestled at the bottom right of the screen.
Then click on the three small dots located at the top of the screen on the right.
Then choose the Manage Account section.
Then select the tab located at the very bottom entitled: Delete account.
Several warning messages then appear on your screen. We learn in particular that once the deletion has been made, the user has 30 days to reconsider his decision. After this time, the account will be permanently deleted. After reading everything, click Continue.
In case your account was created through social networks like Facebook, then you will be asked to verify your account.
Once done, press the red Delete Account button. To confirm the deletion of your account, you may be asked at this stage to verify your number by entering a code.
Lire aussi >> TikTok how it works: the guide to using it well
The editorial advises you:
TikTok: how to change your password
Netflix: how to delete a profile or your account?
How to delete your Facebook account
The ability to speed up or slow down a video on YouTube can be very useful. It was possible to do this in the web version of the platform for a while…Facebook allows you to deactivate the automatic playback of videos in your news feed. It's very simple, even if the path is not obvious to anyone who has never seen it...Google Chrome includes a reading mode that allows you to consult a page in optimal conditions. The functionality, however, is hidden in the bowels of the browser. In this tutorial,…It is easy to know if a contact has blocked you on WhatsApp, but some indicators can also trick you into believing it unfairly. So how do you know...