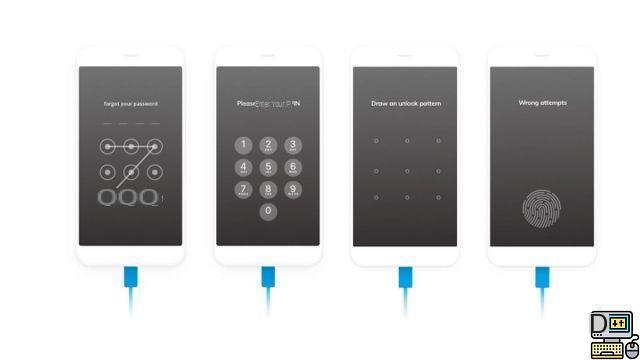 Your Android unlock pattern is a bit too convoluted and it was newly created without you bothering to master it well. This scenario is quite common and when it happens, you find yourself unable to access your own smartphone. Ditto for the PIN code which happens to be forgotten by many users. Here's how to unlock your smartphone in case you find yourself in such a situation.
Over the versions, the methods for unlock your android smartphone when unlock pattern or PIN is forgotten have evolved. The OS offered a way to bypass your PIN or pattern, but this method has been removed since Android 5.0. This unfortunately means that for smartphones that do not have a fingerprint sensor, there is no direct way to reset the authentication pattern from the lock screen to access mobile.
And even if a fingerprint is configured, entering a PIN code is required each time you restart. The trap therefore remains valid for smartphones with this biometric option.
Unlock your smartphone if you forget the unlock code
If you have a mobile running Android Lollipop or more recent versions of the OS, unfortunately there is no solution other than resetting the smartphone, unless it is Samsung branded. In this case, you would have a reprieve: use the functionality Locate my device of the manufacturer. But again, you should have previously configured a Samsung account on your device.
If so, go to this page. Log in by entering the identifiers linked to your Samsung account. In the left menu, click on the "Unlock my screen" option.
If you are using an Android version older than Lollipop
Older versions of Android (4.4 KitKat and lower) have an option to unlock the smartphone screen when the PIN code is forgotten. Just try a wrong code five times. You will see a "Forgot Password" link. Press it. You will be prompted to enter the Google account username and password associated with your Android device to unlock the screen.
Factory restoration
It is the ultimate solution to unlock your Android smartphone when the unlock pattern or PIN code is lost. Due to the stricter security measures implemented by Google in the latest versions, this will unfortunately remain the only way out for most users. Note that all data located on the internal memory of the smartphone will be lost.
You can reset an Android smartphone from the bootloader if the bootloader is unlocked. Otherwise, the easiest way is to go through the Find my smartphone web application from Google. Go to this webpage. Log in with the same Google account as the one on the smartphone. It must be connected to the internet.
In the left menu, select Clear. Then confirm the action. Your smartphone will then be reset. The lock code will be deleted at the same time. You will have to start all over again, as if you were configuring a new Android smartphone.
The Pixel 6 has a music recognition app named Now Playing. But it seems that it is not quite developed… One of the features of…An application, called Color Messages, contains a malware called Joker. This automatically registers users to various premium services without their consent… Color Messages is an application that offers to improve…While the majority of its competitors have already taken the plunge, this is a first for OPPO. The firm is indeed presenting its very first smartphone with a foldable screen, the…Mobile game developers can use this development kit to offer advanced performance to their players. Qualcomm Technologies has partnered with Razer to create…