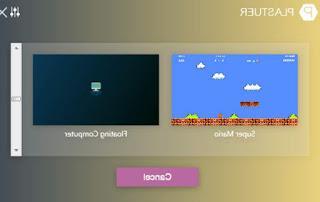 Finally in this blog an article of value, which raises the general level of the blogosphere, to present a trick on Windows of those so useless that I personally like very much!
One of the questions that surely does not make you sleep at night will now have an answer:
"Can I see a video or animated GIF image as a desktop background?"
Microsoft really took this issue to heart back in 2007 when it released a program called Windows DreamScene, dedicated to the unfortunate Windows Vista, which allowed you to set a video or animated GIF image as your desktop background. Unfortunately, Microsoft immediately withdrew Dreamscene which by the way no longer worked in Windows 7 and not even in Windows 8.1 and Windows 10.
Who, therefore, still wants today
use a video as wallpaper in Windows 10
, it needs to install an external program, and luckily, there is a really easy to use one that works well on every version of Windows.
It is
Awesome Wallpaper
, a software designed to allow users to
set a video as wallpaper in Windows 10 and also in Windows 7 and 8
. The program is free and open source. Video formats supported by AwesomeWallpaper include MP4, MP3, MPG, MPEG and AVI. You can create a nice background using short videos like rainy day, swaying flowers or blades of grass or whatever you want. You can configure the video to loop (repeat), auto play and also to cancel or set the volume.
AutoWall
is a simple free and opensource program that allows you to use animated GIF images and videos as Windows 10 wallpaper. In addition to animated GIFs, AutoWall also supports video formats: AVI, MP4 and MOV. Sounds are not played.
Bionix GIF Wallpaper Animator
is a free program for Windows 01 that allows you to select an animated image in GIF format as your desktop background.
Another program to try that works for viewing a video on the Windows desktop is
Desktop movie Player
which should also work in Windows 8 and Windows 10.
If you want a wallpaper with video that changes by itself and is already optimized you can install the
Push Video Wallpaper
showing images taken from beaches and other moving scenery.
In Windows 7
you can use a video as a background with a tool called
Dreamscene Activator
which allows you to activate this function for free and without paying anything.
Alternatively, I remember that in another article we saw how
use animated wallpapers in Windows
and also how to watch a video on the desktop via VLC, which is one of the
more interesting tricks of VLC
.
Use a video or GIF as a desktop background on Windows