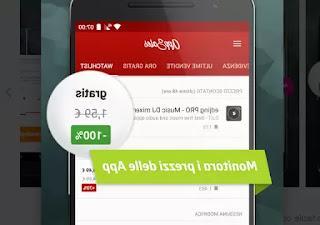 Every day is possible
download paid applications and games for free for a short period of time
, the problem is knowing what these temporary offers are. In fact, both on the Google Play store for Android smartphones and on the iTunes store for iPhones, it is possible that some apps, even expensive ones, are reduced at prices of a few cents or even given away.
There are several ways to know
which paid apps are offered for free download every day
and in this article we are going to see some apps and then some tricks to know for
download without buying and without paying
.
App to find free app offers
1) AppsFree
AppsFree
is a simple and straightforward Android app that notifies you about free available apps at a certain time. On the same homepage you can see a long list of apps that have 100% discount at that moment and it is also possible to search based on ratings, based on the number of downloads and categories. You can also exclude apps based on a word to prevent them from appearing in the list, for example to hide the offers of games or applications that download icons. By activating the notifications, you can be informed every day of the apps that you can download for free just for today.
2) AppSales
AppSales is another tool for Android that allows you to download paid apps for free, with better sorting and listing features. Inside the app, you can find the most expensive apps that can be downloaded for free and also a histogram showing the price of the app in the past, useful to see if it's worth it.
In addition to downloading paid apps when they become free, you can also see partial discounts, set up a blacklist and follow some apps to be warned in case they drop in price or are available for free.
3) Paid Apps Gone Free
Paid Apps Gone Free
, for Android, shows a list of apps that are temporarily free. This application is just a blog interface, so it doesn't have many features, just a daily update. There are however the sorting and search options, the choice of the category and the sorting based on the overall ratings, the number of total downloads and the price of the app.
4) Freapp
Frapp
for Android shows a long list of free and discounted apps of the day, with also app and game recommendations broken down by category.
FreeApp can also be used as a website, without installing any app.
5) Shareware for sale
Sharewareonsale
is a website that allows you to see, every day, which applications are free on temporary offer. The site can be used both to find apps for Android smartphones and tablets, and also to find programs and apps for Windows PCs.
6) Giveaway Of The Day
Giveaway Of The Day
it was perhaps the first site to provide such a service, with the daily reporting of one or more programs to download for free. Now the Giveawaytoftheday site also has two separate sections dedicated to the free iPhone apps and Android apps. In addition to showing the list of apps discounted by developers, this platform also provides exclusive freebies, often with a limited number of activation licenses to offer.
7) AppShopper
AppShopper is a directory of apps for iPhone, iPad, and Mac, which helps you discover new applications by browsing the best deals on the Apple store. There is also an iOS app from AppShopper, but it hasn't been updated in some time so it can't be installed on the latest iOS versions either. a little bit and you won't be able to run it unless your iOS device is running on iOS 10 or earlier.
Try the app for free
A trick to know is to be able to ask for an immediate refund for the money spent on the Google Play Store. Practically
you can buy an application, use it for two hours and then ask for a refund if you don't like it
. This way you can try as many apps and games as you want without spending a dime. This can be done either from the Google Play application on the smartphone, by clicking the gear button at the top right, going to the order list, selecting the app and, finally, from the menu, press Report a problem and request a refund.
Earning credit on Google Play
As already described some time ago, they can
earn money to buy apps on the Android store with Google Rewards surveys
.
Basically it is an app that offers surveys (unfortunately not many) to which you just have to answer to earn some money to spend in the store on a paid app. This system is certainly the simplest and safest, even if it requires some patience and time to accumulate the necessary money (I have had it for about a year and I have earned about 15 Euros)
Amazon App Store
The Amazon store has many of the applications of Google Play and offers free offers of new paid apps every day. You can also buy applications using Amazon store gift vouchers (see the tricks to save on Amazon) or using Coins, virtual money packages that can be purchased with a little discount.
The number of coins offered in the packages are always higher than the value in Euros of the games so, if they are used often, with the same amount you can buy more applications than you would with the Euros spent on the coins.
To use the Amazon app store you must download the Android application.
Telegram Channel
If you download Telegram you can go in search and find channels to follow that every day publish app messages that have become free on a temporary offer.
Ways to download paid apps for free (Android and iPhone)