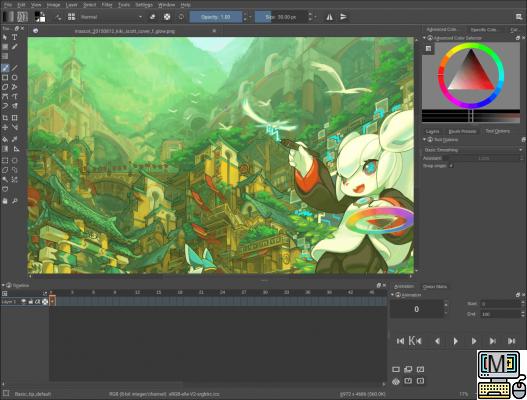 What are the best free alternatives to Paint? To replace the irreplaceable By
Michael Beck
Posted on 29/07/17 at 14h00 Share:
By deciding to remove the iconic Paint from future versions of Windows, Microsoft has triggered a veritable little earthquake on the computer planet. Dear to many users, the program was still very useful for performing the most basic tasks. And even if this faithful companion will remain available on the Windows Store, it may be time to find a real good replacement.
Paint.net: the essential
Very practical for basic operations such as cropping an image, Paint quickly shows its limits in the case of slightly more advanced modifications such as adding text and other content enrichments. Ultra complete and rather easy to learn, Paint.net goes much further and allows you to perform the simplest tasks while offering the possibility of using layers, a beautiful gallery of diverse and varied tools, but also many effects. Far from being a gas plant, the software is also very responsive. Thus, it only takes one to two seconds to launch it on an average PC. It is therefore very suitable for replacing the swift Paint while going much further in the features offered. In free offline software, we don't do much better and the only downside comes rather from the official site armored with misleading download buttons and in fact linked to commercial partners. The developer has already confirmed that it is working on a presence in the Windows Store, but without giving an online date. One thing is certain: it will be soon.
Pixlr: power in the browser
Installing software like Paint.net is not possible? No big deal, since all you have to do is turn to the best online services! Admittedly, the first editing tools of their kind have often proved to be a bit sluggish, but some current solutions come downright tickle the most prominent programs. With Pixlr, for example, it is possible to do almost everything that can be done with "real" image editing software. The interface is classic and presents, among other things, a fairly traditional toolbar, a layers function (with masks!), many settings and filters or even the historical essentials to better identify what we are making or going back easily. Icing on the cake, it is even possible to use your own fonts in the text options. Exclusively online since the abandonment of desktop versions, Pixlr requires the installation of Flash, but remains the best online image editing service currently available. For mobility, the company offers two very well-designed apps, one for iOS and the other for Android.
Gimp: free without compromise
Well, okay, replacing Paint with Gimp is a bit like swinging your scooter to keep moving forward at the wheel of a backhoe. Nevertheless, the most famous open source image software is quite easy to use as long as you stick to basic use (cropping, text, etc.). For the rest, Gimp retains somewhat clunky aspects with ergonomic logic that is not always easy to understand for those who are not familiar with the software. Ultra complete, perhaps even too much for most users, Gimp is much more of an alternative to Photoshop than to Paint and can still be off-putting with its sometimes strange operating logic. However, it's a very high-end free software that allows you to go very far, so we select it for those who want to go far beyond Paint. Be careful, Gimp works by default with a system of detached windows that is quite confusing for neophytes. A single window mode allowing to return to a more standard ergonomics is however available (window tab, single window mode).
Fotor: retouching without the fuss
Much less complete than a Pixlr, Fotor is rather eyeing the side of ease of use in the idea of ​​"quickly done, well done" touch-ups. Here again, we find the usual cropping and text addition functions, but also basic settings such as brightness, contrast or saturation adjustments. You can also dig into a gallery of filters, modify the orientation of an image as much as correct the imperfections of a face. Fotor is therefore a very good tool, reactive as it should be, but financed by advertising. It is therefore necessary to accept banners that are fairly present on the screen, even if they are quickly forgotten. Those who bother will still be able to checkout to remove ads and have additional features. A software version is also available, for Windows and OSX.
And our favorite is...
In conclusion and if we had to choose only one solution, there is no doubt that we would go for Paint.net, because it is the tool closest to Paint, with the great advantage of offering an anthology of advanced functions without never drown the user. In 13 years of presence, the renowned software has thus been able to preserve its initial strengths without really developing any weaknesses. So of course, Paint.net is only compatible with Windows (remember that Microsoft was part of the initial development), but since we are looking for an alternative to Paint (therefore only available on Windows), it fits perfectly to the selection criteria. As a second choice, Pixlr will provide a very good service provided you have an active connection. As for Gimp and Fotor, they are excellent solutions, one very, even too advanced, the other perhaps a bit too simple. Of course, there are many other solutions (we think of Pinta), but in order to preserve a spirit of simplicity dear to the legendary Paint, it was necessary to arrive at a list as short as possible.