WhatsApp recently got a fingerprint lock option. It is possible to make the application require your fingerprint after a specific period of time. The lock also hides notifications to prevent them from being read by prying eyes. But you also need to enable this option.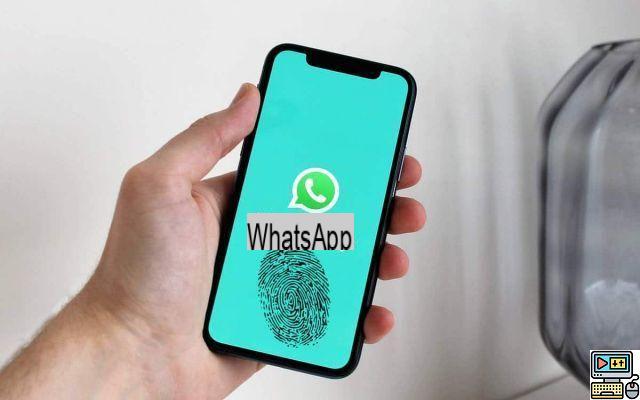 WhatsApp supports fingerprint lock on Android, just like on iPhone. Previously, to protect your conversations, it was possible to set up a six-digit code, or even two-factor authentication. Simpler and faster, this new process makes it possible to reinforce the security of the application, while preventing prying eyes from falling on your conversations.
Indeed, by activating the fingerprint lock, you can also choose to hide the content of notifications. This prevents anyone with access to your smartphone, even for a few seconds, from being able to see an excerpt of messages received in the notification bar or on the lock screen.
How to enable fingerprint unlock in WhatsApp
Incoming calls, however, are not blocked. The feature has already been known to WhatsApp users on iPhone for many months. The latter can, on compatible models, even use Face ID to make unlocking even faster and more reliable. Concretely, it is possible to choose to request the imprint immediately, after 1 minute or after 30 minutes. An option allows to show or hide whatsapp notification content when locked.
Before you start, be aware that you must first have configured one or more fingerprints in Android's security settings. WhatsApp indeed uses system-wide enabled biometric options. Then, to activate fingerprint locking/unlocking:
1. Open WhatsApp
2. Tap the three dots in the upper right corner. Go to the Settings > Accounts > Privacy
3. Choose the time beyond which the smartphone will be locked
4. Also activate (as desired) the option to hide the content of notifications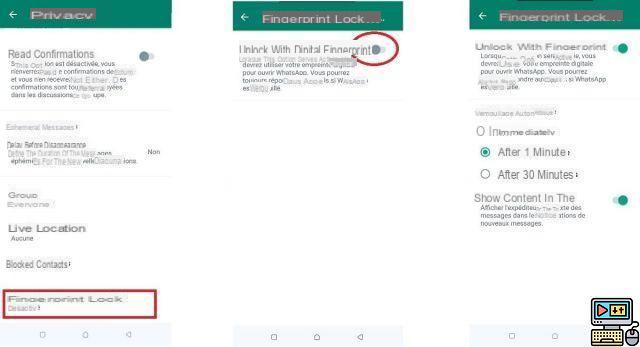 And now, it will be more difficult for the curious to access your messages. This trick is one of the WhatsApp features you should know. Finally, note that when the application is locked by fingerprints, it is still possible to answer incoming calls without unlocking the application first. On Android, the feature is only accessible on devices with system version 6.0 or any later version.
For iPhone users, the procedure is very similar, just go to Account > Privacy > Screen Lock. Activate Use Touch ID ou Use Face ID.