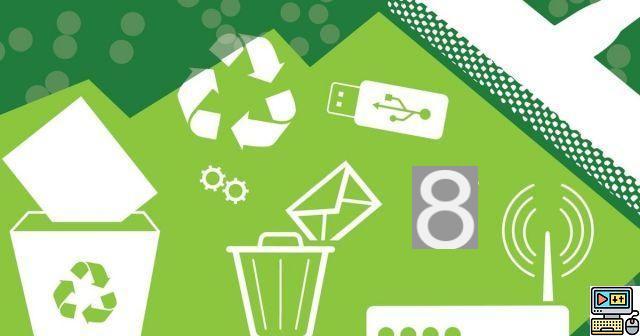 Comment (10)
CCleaner is a utility designed to clean up temporary files, browsing traces, the Windows registry, and unnecessary items from a computer, among other things. Here is a tutorial on how to use it best ...
CCleaner is a classic in system maintenance software. It integrates many tools to clean cookies, temporary browsing and application files, obsolete registry entries and duplicates. It also offers an advanced program uninstallation tool and the ability to change the components that run when the computer starts up. In this article, we will go over the main functions of CCleaner.
Download CCleaner
Easy and personalized cleaning
If your hard drive is showing an alarming fill level, and you don't know where to start to free up space, you can use CCleaner's "Easy Clean" feature. It automatically examines cookies from your various browsers (CCleaner recognizes tracking files from Microsoft Edge, Internet Explorer, Mozilla Firefox, Google Chrome and Opera). But it is particularly its action on unwanted files that will allow you to regain disk space by erasing the contents of the recycle bin and temporary files for browsing, the system, and applications.

The "Easy cleaning" option allows us to free up more than 8 GB of disk space! © Copyright Piriform Ltd

Before confirming the deletion of all the elements, you can decide to exclude from the selection the cookies of a browser or the files found in the recycle bin. If you are looking for more options, you should use the "Custom cleaning" module. This advanced mode allows you to differentiate the cache, history, cookies, and download information from each of your browsers. CCleaner also recognizes recent file histories from major media players, most common utilities, and all applications built into Windows. You easily understand that this tool doesn't just help free up disk space - it's especially useful if you share a computer with other users and don't want them to be able to track your activity.

The "Personalized cleaning" option allows you to manually choose all the elements to be erased © CCleaner

By default, all cleaning options are not checked. You can choose to perform a more in-depth cleaning, in the "Windows" tab, for example by clearing the DNS cache, recent documents, and the information automatically entered in the forms.
Registry cleaning
Like any self-respecting Windows optimization software, CCleaner cleans the registry. It spots obsolete entries like missing DLLs, unused file extensions, uninstalled programs, and invalid ActiveX controllers.

The registry cleaner is efficient and offers to detect several types of obsolete entries © Copyright Piriform Ltd

CCleaner is far-sighted and offers to automatically save the registry before any deletion. While there is little chance that cleaning will adversely affect your system, it is always reassuring to have a healthy copy of the Windows registry.
Uninstalling programs
Among its programs, CCleaner includes software uninstallation. At first glance, one may wonder why, since Windows already offers this tool natively. The answer appears as soon as you consult the list of software. The solution offered by CCleaner makes it possible to remove programs automatically installed by Microsoft on the Windows system, which are not accessible from "Add or remove programs". On a computer used only for office automation, you can for example get rid of components such as the "Xbox Console Companion" or the "Mixed Reality Portal". However, be careful to only remove programs you know how useful and how they work, so as not to interfere with the proper functioning of your system.

The program uninstallation tool allows you to remove the components built into Windows © Copyright Piriform Ltd

Under the "Uninstalling programs" tool, CCleaner offers an automatic update tool for common software installed on the computer. To download and update directly within CCleaner, you must have a paid license. However, the free version indicates the version used and the last existing version, which allows you to know which software is obsolete to update manually.
Boot customization
An important part of the system optimization can be managed in the "Start" menu of the CCleaner tools. To speed up Windows loading time, you can turn off some programs that run automatically. In our example, since the Adobe Creative Cloud suite is not used regularly, we have chosen not to activate it directly when starting the computer. In the case of large software suites, disabling them can reduce Windows startup by several seconds.

CCleaner allows you to disable the execution of programs when starting Windows © Copyright Piriform Ltd

In the second tab of CCleaner's "Start" parameters, you can modify the scheduled tasks that start with the system. These are usually automatic checks for the availability of an update for the software installed on your computer. The third pane concerns the contextual menu: the one displayed when you right-click on a file, a folder, or a drive. As you install programs, you may notice that the context menu gets heavier and heavier to load and contains a lot of unnecessary options. In that case, you can use CCleaner to lighten that menu and keep only the features you like.

CCleaner allows you to customize the context menu © Copyright Piriform Ltd

To finish configuring the system startup, CCleaner provides a final tab: Windows Services. As with the uninstallation of pre-integrated components by Microsoft, be careful not to disable services that would be called by other programs. By checking "advanced mode", you can activate specific services linked to the performance and stability of the Windows system (in particular via the service host Svchost.exe).
Duplicate search
Another useful feature of CCleaner to quickly save disk space and better organize your folders is the search for duplicate files. It quickly scans the hard drive (s) and identifies the presence of identical documents in several places. To avoid errors, CCleaner does not offer automatic deletion of duplicates. It is necessary to go through the whole list by checking items to be deleted. This is more tedious, but essential, because sometimes some software requires the presence of the same file in two different locations.

A duplicate file search module is part of the software © Copyright Piriform Ltd

Download CCleaner
To remember
CCleaner offers many services to improve the functioning of the system:
Free up disk space (Advanced program uninstallation tool, detector of duplicates and temporary or unnecessary files, deletion of outdated restore points)
Erase browsing and application traces (history, cache, cookies, recent files, form data, clipboard and Windows log)
Startup optimization (executed programs, scheduled tasks, context menu and Windows services)
Registry cleaning
Managing browser extensions
The free version of CCleaner is perfect for occasional use. The options reserved for users with a paid license (Super version) are:
The scheduled periodic check
Automatic update of current software installed on the computer (VLC, Java, Skype, 7-Zip, etc.)
Automatic cleaning of browser data, for an always private history
Managing multiple sessions on a shared computer
A Super Plus version includes:
Defraggler defragmentation software
Recuva file recovery software
The Speccy software which gives detailed information of the components of your PC
The free and essential system cleaning software:
Download CCleaner to read also: 17
NEWS: Apps and software
Are our Clic2Load tutorials hidden sponsored articles?
For a few months, we have been publishing tutorials and files written by Clic2Load. Some of our readers have told us about their ...
2 years ago