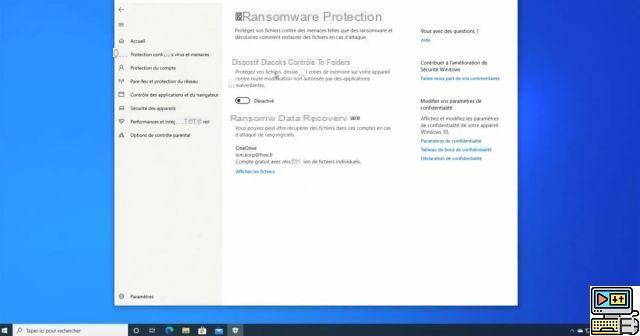 Windows 10 now has anti-ransomware protection built into the system. We tell you how to activate it. Threats of this type have been on the rise for several months. Microsoft therefore decided to take the bull by the horns. The new feature can be enabled in Windows Defender since the Fall Creators Update.
Ransomware protection was spotted in June 2017 by members of the Windows Insider Program. It is now available to everyone. At least for all users Windows 10 that have the latest Fall Creator Update. The feature is accessible in Windows Defender under the name " Device for controlled access to files ". What exactly is it and how do I activate it?
Windows 10: enable ransomware protection
First, you need to install the Fall Creator Update and then make sure Windows Defender is enabled. The tool automatically disables itself after installing a third-party antivirus solution. If Windows Defender is not activated on your computer, you must go to Settings > Updates and Security > Windows Defender > Activate Antivirus and follow the steps to the end after uninstalling your antivirus.
Once Windows Defender is activated, open it and then follow these steps:
Go to Virus & threat protection > Virus & threat protection settings
Scroll down the page to the section Device for controlled access to files. Activate the option
Now folder access control is enabled on your computer, keeping them safe from ransomware and other malicious software. Note that the tool only restricts access to folders that have been configured. Here are those that are by default: Desktop, Pictures, Videos, My Documents, Favorites, Music. To protect a directory against ransomware and other viruses:
Click on the link Protected files
Then on Add Protect Folder
To create a whitelist of applications that can access these folders, click on the second option Authorize an app through a controlled folder access device.
File access control: how does it work?
To encrypt the contents of a directory, a ransomware (like WannaCry, Not Petya, Locky, or even Bad Rabbit) must necessarily access it beforehand. The principle of the feature is therefore simple: people and programs that have nothing to do with a folder should not have access to it. Until now, Windows allowed programs to have free access to folders, which can be detrimental. A virus can indeed damage a sensitive file, block its opening or simply encrypt it as is the case with ransomware.
Despite the usefulness of this new anti-ransomware feature, we still advise you to take all the usual measures to protect yourself from viruses and hackers. The surest way to protect your sensitive data from loss is to back it up on an external medium (hard drive, USB key or optical disc).
The editorial advises you:
Qlocker: this ultra-dangerous ransomware has already collected 230 € thanks to the 000-Zip software
Hacking: 3,5 billion leaked passwords, 24 Spanish government emails affected
Windows 10 won't start? Several reasons can cause problems when starting Windows 10 for the first time or after an update: Bad BIOS settings,... The battery is one of the essential parts of our laptops. Like smartphones, battery life is a crucial factor for a good experience. Some applications act…Creating a WiFi access point on Windows 10 in order to share your Internet connection is done in two steps, three steps. We explain the procedure to you in this… On Windows, there are several ways to update the drivers. Generally, these update automatically. But it is sometimes necessary to force the maneuver,…