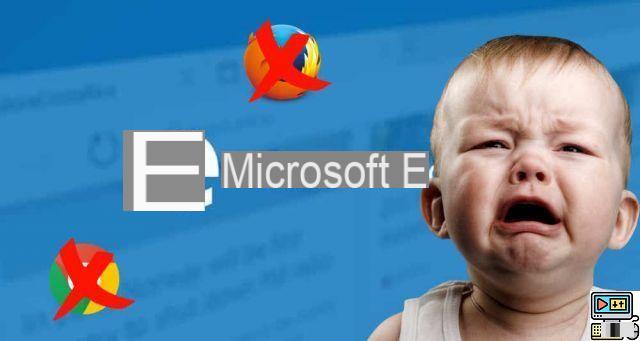 Windows 10 Parental Controls now prevent you from using Edge's competing browsers, such as Chrome and Firefox, when enabled. The Redmond company that says it thinks "about the safety of your children" seems at all costs to be looking for opportunities to promote its new internet browser. Even if it means annoying some users.
Microsoft will definitely stop at nothing. Especially since the release of Windows 10. We have seen it with the very intrusive and convoluted notifications that forced many users to update when they had not asked for anything. Or with the famous Golden Key of the system allowing to bypass the security of Windows 10, and which have been found in nature.
This time around Microsoft seems to want to attack the overwhelming supremacy of Chrome to push its in-house browser, Edge. And since adult users haven't changed their habits at all, Microsoft seems to be betting on youth. The Redmond firm has therefore changed its terms of use, which allows it to ban Chrome and Firefox browsers by default when parental controls are activated.
Microsoft pushes its Edge browser aggressively
Unfair competition, you say? Nay, Microsoft answers us! The reason for this astonishing practice is, according to the company, that "neither Chrome nor Firefox includes a parental control system". However, there is a feature of "supervised users" in Chrome to apply a parental filter. A similar feature exists in Firefox although it relies on system parental controls (in OS X).
It is also possible to block certain sites upstream, so that no browser can access them. Programs such as Norton Family make it easy to set up this kind of blockage. So once again, which fly has stung Microsoft? It seems that since the launch of Windows 10, the firm has redoubled aggressive marketing techniques to boost its sales.
Recently, for example, Microsoft has "sold" Windows 10 as significantly less susceptible to ransomware. Without specifying that the system is still affected by many other threats, both from the point of view of security and respect for privacy.
Allow Chrome and Firefox even when parental controls are enabled
In fact, Microsoft has put Chrome and Firefox on a list of browsers and programs that are considered personae non grata when the filter is turned on. Fortunately, it is possible to get them out of there:
Go to Settings> Accounts> Family and other users
Under Your family click on LEARN MORE
You will find browsers blocked by default in the section Apps and games
Also : Windows 10 restricts your internet connection, here's how to prevent it
Personally, I think Windows 10 is really fun to use, very responsive, and practical. But sometimes we would like Microsoft to tell us a little less how we are supposed to use our operating system. It's starting to get really annoying!
The editorial advises you:
Windows 10: How to turn Windows Defender on or off
Google Chome: how to activate instant captions?
Windows 10 won't start? Several reasons can cause problems when starting Windows 10 for the first time or after an update: Bad BIOS settings,... The battery is one of the essential parts of our laptops. Like smartphones, battery life is a crucial factor for a good experience. Some applications act…Creating a WiFi access point on Windows 10 in order to share your Internet connection is done in two steps, three steps. We explain the procedure to you in this… On Windows, there are several ways to update the drivers. Generally, these update automatically. But it is sometimes necessary to force the maneuver,…