Summary
Latest news on Windows 11
What's new in Windows 11?
What are the minimum requirements to install Windows 11 on your PC?
List of hardware compatible with Windows 11
What is the Windows 11 release date?
Windows 10 going to disappear?
What is the price of Windows 11?
Comments
Windows 11 opens a new era for Microsoft. If this iteration was presented as the continuity of Windows 10, it still brings its share of major new features. The most visible is obviously its design, which starts from scratch. In this file, we will take stock of everything there is to know about the OS.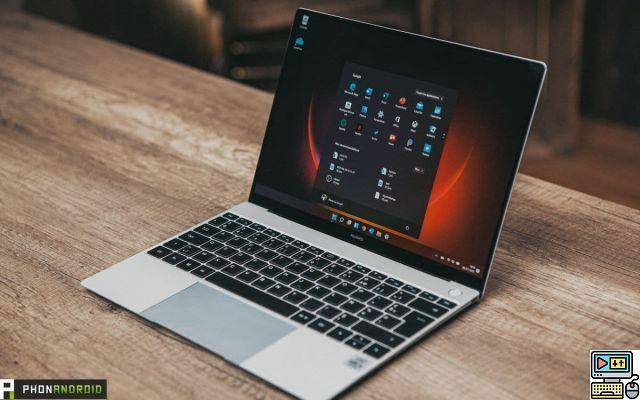 Latest news on Windows 11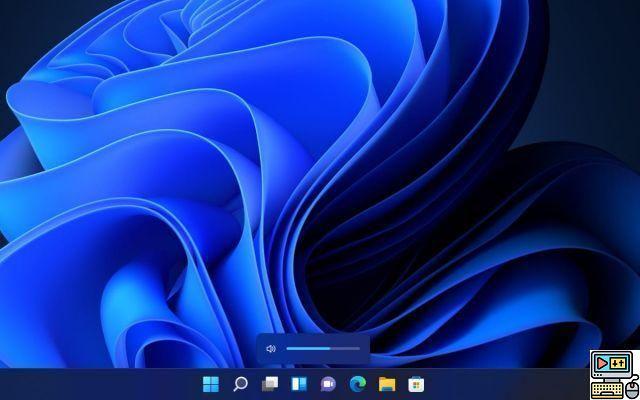 Windows 11: the volume indicator has a new look, a first since 2012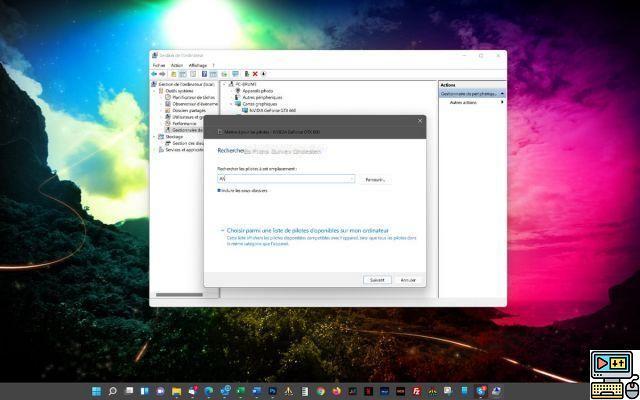 Windows 11 is starting to bury the floppy drive, it was about time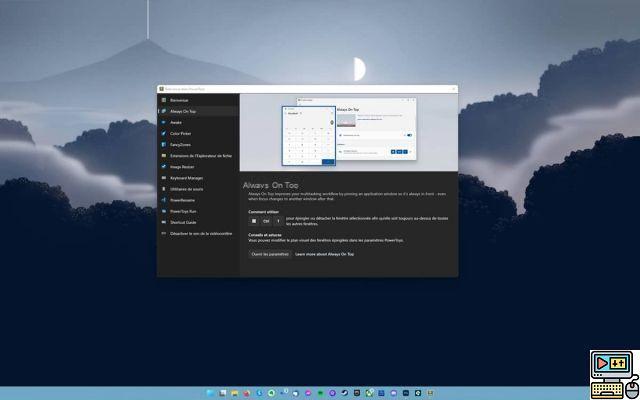 Windows 11: this application allows you to keep a window in the foreground, here's how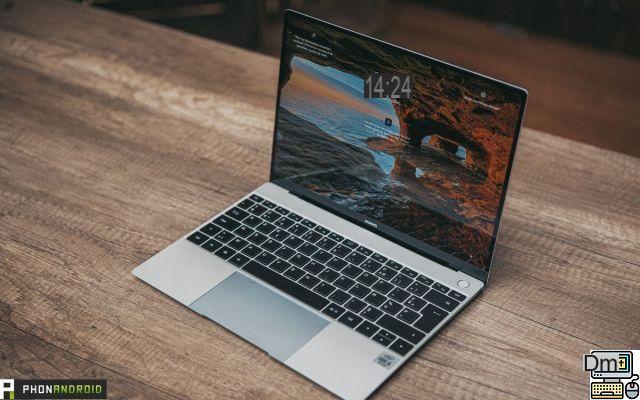 Windows 11: new features, release date, all about Microsoft's new OS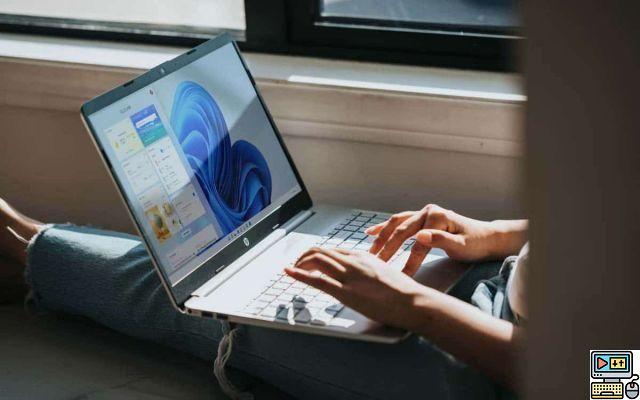 Windows 11 welcomes its first update of 2022, here's what changes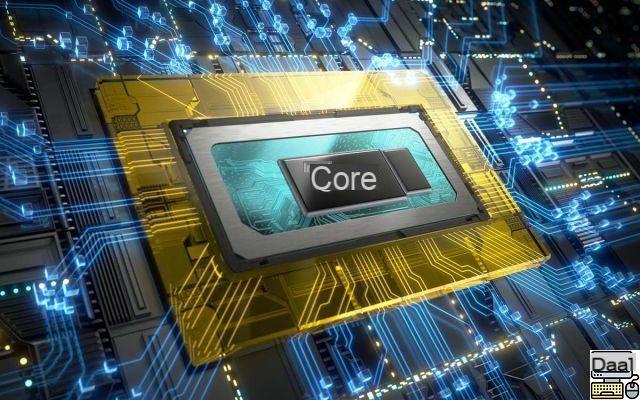 Intel: the latest drivers improve Wi-Fi and Bluetooth on Windows 11 and 10
Windows 11 is available. This is the new version which, as its name suggests, hits Windows 10 (released in 2015).
The operating system gives pride of place to a new design, with its centered taskbar icons, its windows with rounded edges, its new Widget system, etc. But these are not the only changes Microsoft is making to Windows 11. One of the biggest novelties is also its native support for Android games and applications, which opens the doors to an even richer, even richer ecosystem. powerful. That's not all, because technological innovations within Windows 11, there are in every nook and cranny, as we will see here.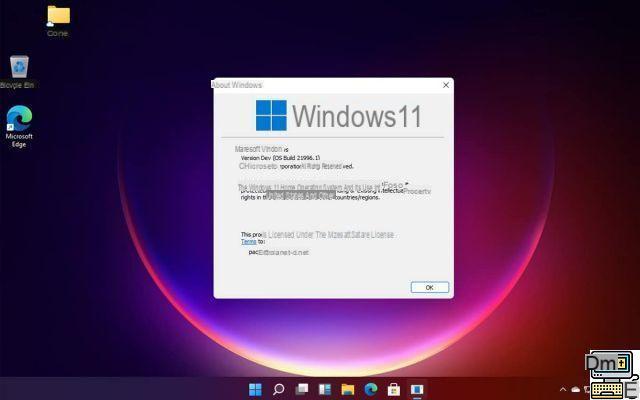 We have listed and analyzed all the news of this edition of the OS. And we tried to answer the various questions that such a change implies: what are the major contributions of Windows? Windows 10 going to disappear? Is the new OS free like its predecessor for those who already have a license of the old version? On the way to the most complete overview possible of Windows 11.
What's new in Windows 11?
Windows 11 is not a revolution. The OS was designed from the start as a continuation of Windows 10. However, this does not prevent it from offering interesting new features.
In this file, we have listed the new features that appear in this new version of Windows.
1. Windows 11 can launch Android games and apps
This is one of the most important new features of Windows 11: the operating system is now able to launch applications and games from the Android world. For this, Windows 11 needs a little help from Linux, but opening up the Google OS dedicated to smartphones and tablets should considerably increase the Windows repository, while establishing a bridge between two ecosystems.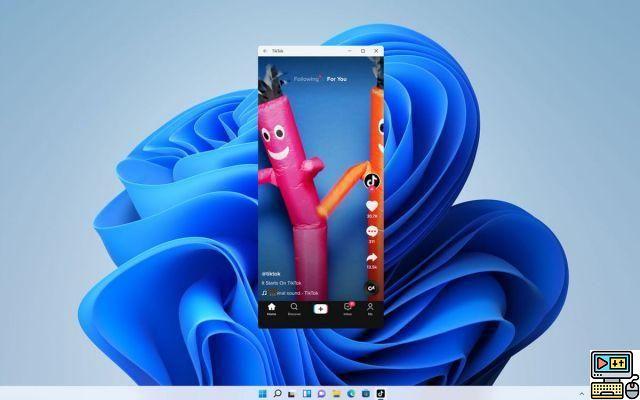 Android applications for Windows 11 are accessible from the Microsoft Store, while going through theAmazon Appstore. At least for the moment, because Google announced that its Play Store will be entitled to a PC version from 2022. In the meantime, it is also possible to install APK files, and therefore to get rid of the Amazon Android store.
Second good news: the compatibility of Android applications with Windows 11 will not depend on the CPU. Whether you have an Intel, AMD or ARM processor, you will be able to run Android games and apps on Microsoft's OS. At this time, this feature is only available through the Insider Program Dev Channel, for US users. We have all the same concocted a small tutorial if ever your PC meets the necessary conditions.
Microsoft explains on its blog that support for Android applications will not be available until several months.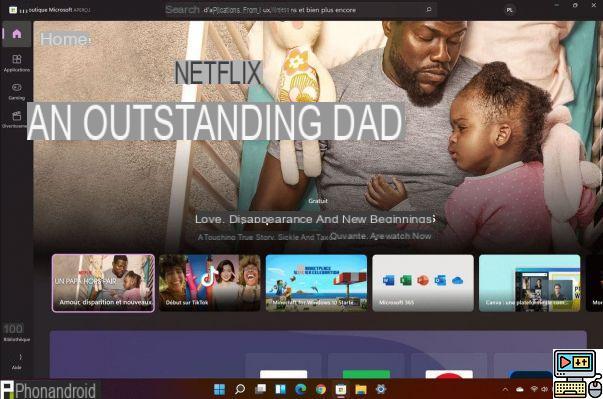 Note also that several clues suggest that Windows 10 would also be able to launch Android applications in a future update. Likewise, the Xbox (One and Series X / S) could do it as well. At the moment, none of this has been confirmed, so be careful.
2. A new Start menu on the agenda
While Microsoft hasn't completely revamped Windows 11 compared to Windows 10, as it did with Windows 8 in 2012, important changes have still been made to the OS. We can see it on arrival on the desk, which has been revamped. Here, Microsoft has kept the same principle as always. No tiles or alternative Home, we have pure Windows, but more beautiful.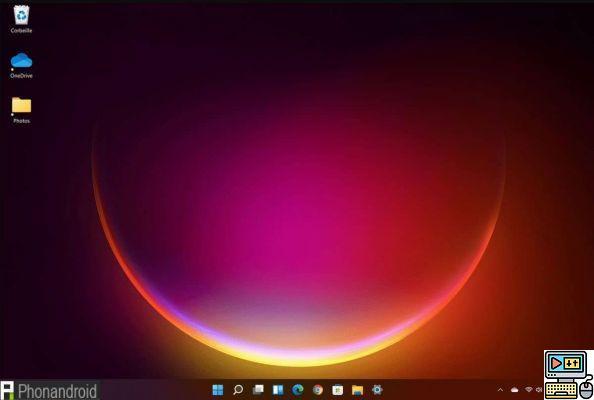 The first major modification of the OS concerns the start menu. As the capture below shows, all taskbar icons are now centrally located, not to the left of the screen. This is also the case for Windows icon, which calls up the Start menu. And when you click on it, you immediately notice that the menu "floats" above the Windows icon, while in Windows 10, the menu was attached to it. Note that in the options, it is possible to paste all the icons on the left, as before.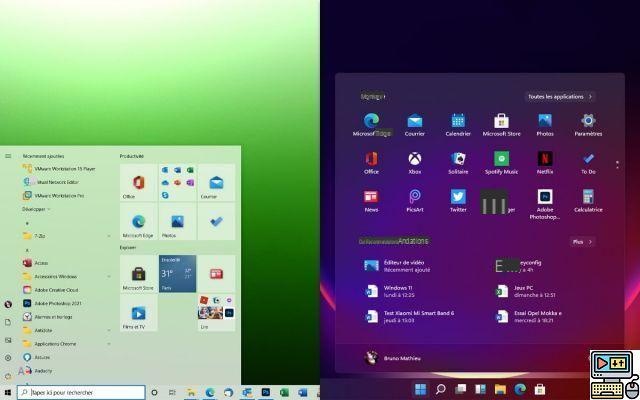 Le start menu has also changed its layout. Its shortcuts come in two very distinct categories:
the first category, located at the top of the Start menu, is made up of shortcuts that identify "pinned" applications. It's up to you to pin or remove them, as you usually do with the icons on the taskbar. This action was already in place in Windows 10, but these icons were located in the right frame of the Start menu, as shown in the screenshot above.
The second section, located at the bottom of the Start menu, deals with newly installed apps, updates, and recently viewed files. These icons are located in a box entitled "Our recommendations".
Pinned icons (in the top frame, therefore) can be removed or moved with a simple right click. As for the shortcuts appearing in the "Our recommendations" list (in the bottom frame, therefore), it is possible to delete them, open their directory in File Explorer, launch them using the browser, etc. In reality, this operation does not change drastically from Windows 10, but it is intended to be more fluid, more natural.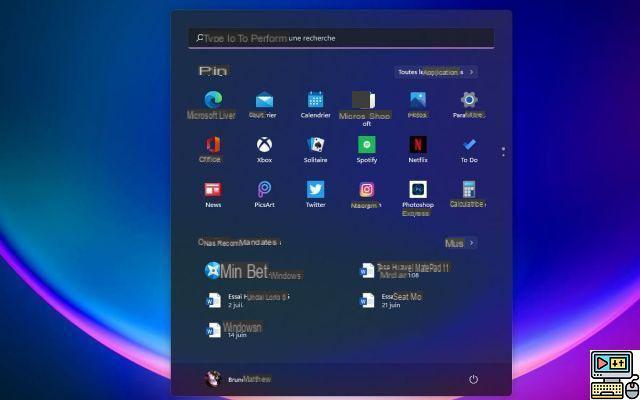 It should be noted that for the moment, it is not possible to customize the layout of these pinned software. However, it will be possible to do so in a future update. Thus, you can put your pinned software on four lines instead of three, or only two. Of course, the recommended software will have more or less space accordingly.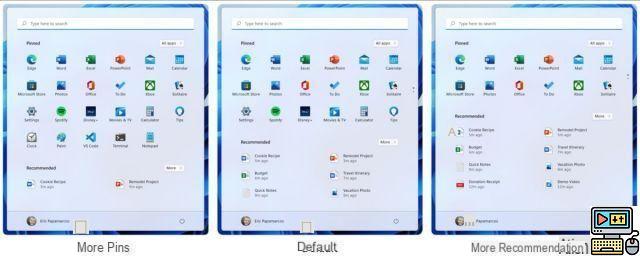 Additionally, the Start menu now incorporates a search bar, as shown in the screenshot above. What to launch a request locally or online as quickly as possible. This function allows you to find the search field as we know it in Windows 10 and which was accessible from the taskbar. And recently, Microsoft added a new "Login Options" tab to the Windows 11 Start menu, which provides more choices to the user regarding logging into Windows 11.
3. The taskbar is also getting a facelift
Just as it was possible to personalize in every way the Taskbar Windows 10, it is possible to completely customize that of Windows 11. But rather than resorting to menus and submenus as shown in the screenshot below, Microsoft decided to do away with cascading menus and group everything into one single option. When you click on the function Taskbar settings, we then open the Settings application. Therefore, it is possible to fully customize the taskbar via the settings.
Be careful, however, a bug is currently affecting the taskbar of Windows 11. Indeed, some users still claim to have the taskbar of Windows 10, despite their passage under the new version of the OS. For now, Microsoft has not yet communicated on the subject. We therefore have to hope for a fix via a future update.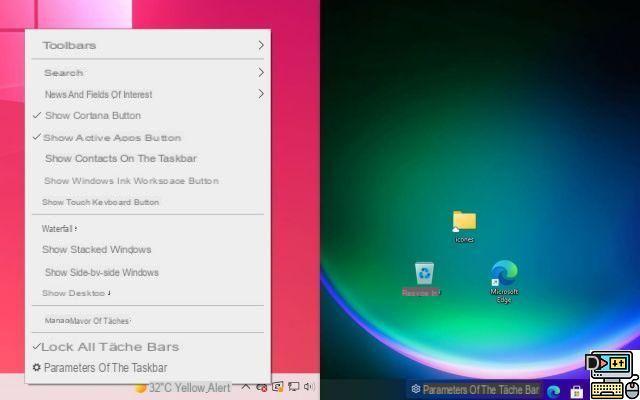 That said, let's come back to the other new features of the taskbar. The search field has also disappeared, to make room for an icon (a magnifying glass). There, as in Windows 10, we have access to a window allowing you to search locally or on the Web, to consult the top applications, to launch a specific request in the folders, music, photos, videos, etc.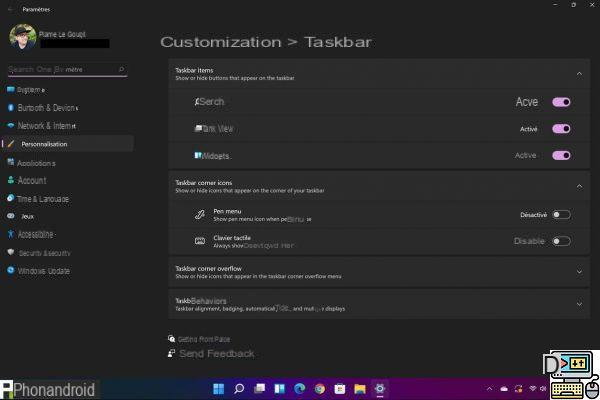 Another interesting novelty: the function News and fields of interest, integrated in build 21H1 of Windows 10, is now in the form of a widget. As a result, Windows 10 no longer constantly displays the temperature on the icon in question. On the other hand, rather than being displayed in a small frame located on the right of the screen, the centers of interest, the sports results, the stock price and the weather are now presented. in a window on the left of the screen.
This occupies half of the screen and is much more visible (and readable) than the somewhat ridiculous frame, located at the bottom right of Windows 10. Finally, the fact Microsoft calls this section "Widgets" augurs well. other small modules that can be added. As always, the information displayed will adapt to your habits and interests. It is even possible to add parental controls if you are an administrator. For example, a Widget can tell you who has used the PC, where and for how long.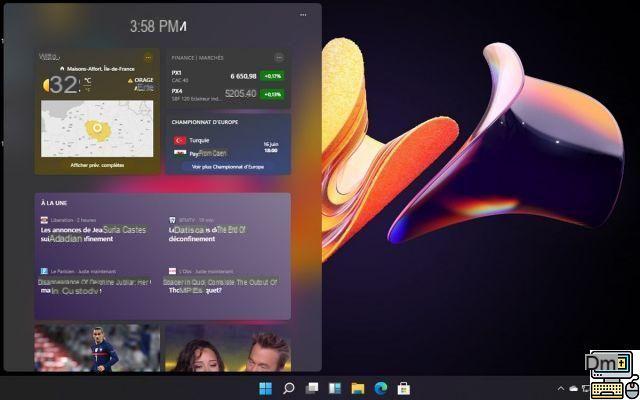 Finally, the hidden menu to the right of the taskbar has also been revised, with a more rounded design. Its use remains the same as on Windows 10.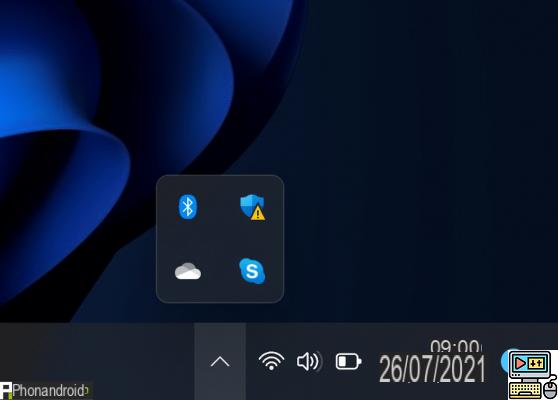 On the other hand, the taskbar does not only bring new features, since some features of Windows 10 have disappeared. For example, it is no longer possible to drag / drop a file into this bar to create a very practical shortcut. It is also no longer possible to change places. She's down there, that's all.
To overcome this shortcoming, however, note that there is now a free third-party application to drag and drop on the Windows 11 taskbar. Called "Windows 11 Drag & Drop to the Taskbar (Fix)", this app has the merit not to modify any registry of the OS and not to inject any DLL to other processes, thus making its use perfectly safe.
What's more, your calendar will no longer show in the calendar and Cortana is gone (but we won't regret it). Some users believed that these shortcomings were bugs, but Microsoft assured them not, since it is above all a desire to make the experience more fluid. However, these features may be back via an update if the Redmond firm decides.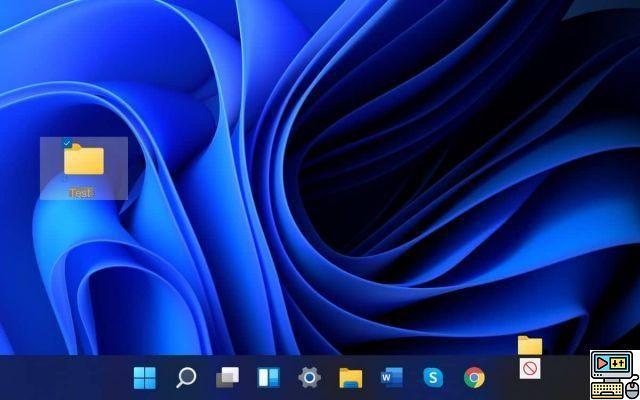 If you're a nostalgic for the Windows 10 taskbar, or even Windows 7, developer Stardock is releasing Start11. This tool (paid, sold at 6 €), allows you to customize it as you wish and adopt its old mode of operation. To be reserved for the most refractory.
4. Le Microsoft Store s'offre un gros lifting
Formerly known as Windows Store, the Microsoft Store is getting a little youthful. The platform, which allows applications to be downloaded and updated, also offers a "gaming" section and another dedicated to "entertainment" (films, series, etc.). The graphic redesign of the store makes it easier to navigate between each category, to consult and download an application faster than before. The Microsoft Store also welcomes Win32 applications, downloadable in .exe or .msi format. There are therefore very popular software, such as VLC, WinZip, Zoom, Acrobat Reader, etc.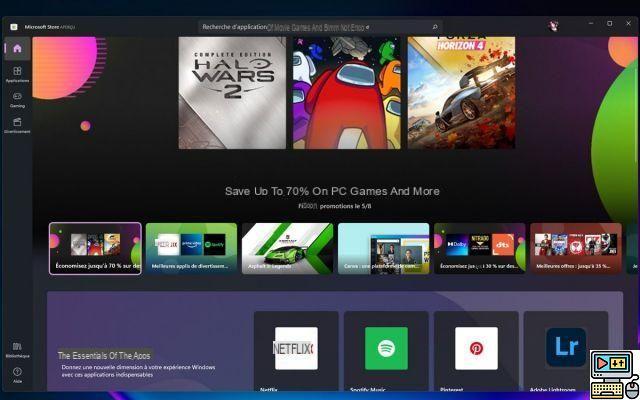 However, it should be noted that everything is not yet perfect on this new version. Indeed, many users have spotted bugs and things that are missing. For example, it is not possible to see the version number of an application. An oversight on the part of Microsoft which will soon be corrected via an update. Other oversights and interface concerns will also be resolved in the future.
5. Windows and icons change their look
When you launch Windows 11 for the first time, you can't help but notice some major interface changes. All windows now have rounded edges. And it doesn't matter whether it's Explorer windows, Settings windows, the News & Interests Widget, or the many apps you may need to install: rounded edges are a must.
The icons Windows are getting a little youthful look. We had already been able to have a preview through a preview of Windows 10, it is now acted for Windows 11. File Explorer thus benefits from new icons.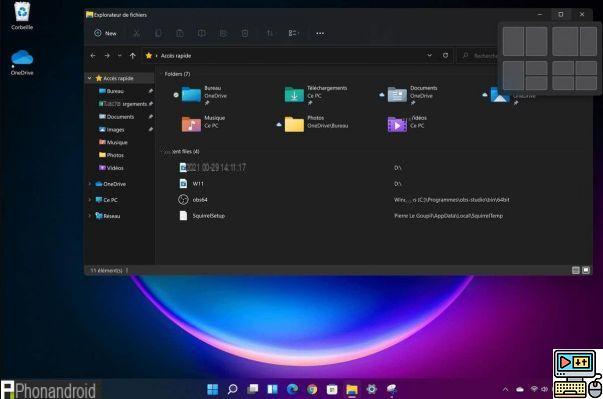 L'File Explorer in turn benefits from a makeover in the finalized version of Windows 11. The Explorer ribbon, although still present, has been simplified and knows how to be more discreet. However, it still offers the same interactions as before. These are just clearer.
6. Windows can now be positioned more easily
Until now, when we wanted rearrange all windows on the Windows desktop, you had to right-click on the taskbar, and select one of the following options: Cascade, Show stacked windows, Show windows side by side, or Show desktop. Those days are now over since, as mentioned above, the taskbar only has one option dedicated to its own settings.
So, where are the window manager and its display possibilities under Windows 11? Microsoft decided to put them directly in the applications and Explorer windows, and that's pretty smart. By leaving the small cursor on the icon which opens a window on the whole screen, a new icon menu appears. Thanks to it, we can now place a window on the left, on the right, rather downwards, rather downwards, in a "frame" of 4 windows… In short, more possibilities are offered to you as regards the arrangement of the windows. A little detail that changes life, even if the good old method of sticking a window in a corner still works.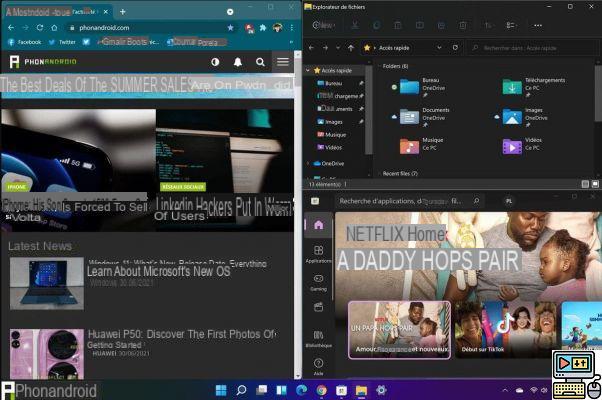 7. The Settings menu gets a makeover
The Settings menu is still present on Windows 11, but has seen some changes compared to its previous version. On the whole, we have access to the same things and the organization is the same, with a couple of details. However, navigation has been reviewed. We now have a menu in the form of lists, so exit the icons on a white background: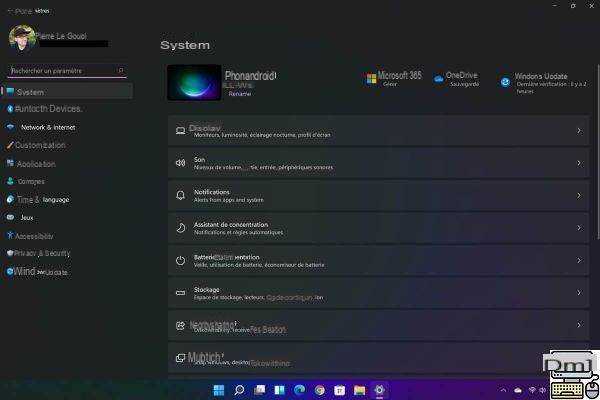 The Settings also allow you to customize your Windows experience. This was already the case in the 10, but there are more options here. Thus, different predefined themes can be chosen. Each of them offers its colors, its effects, its small peculiarities. Of course, everything can be customized at will. A lot of work has also been done on transparency effects in order to make the OS as readable as possible.
Dark mode has also been completely revised. The contrasts and the different gray levels have been redesigned from 0 compared to Windows 10 which did the minimum union in this segment. It is no longer simply a visual gadget added to the classic interface, since the OS has been developed around it, which gives a much more harmonious result. The detail has been taken extremely far, since even the sound design is smoother if you switch to dark mode. It is also a way for Microsoft to benefit visually impaired people.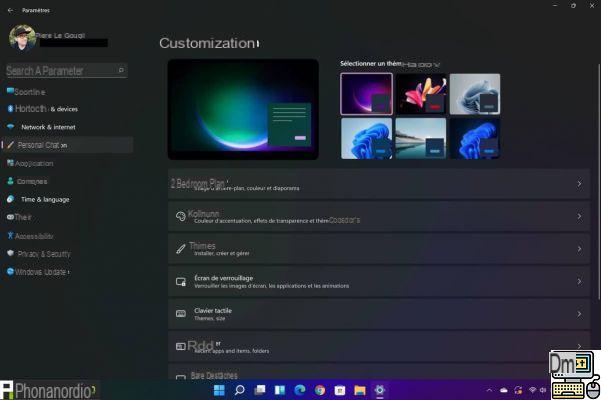 Also note, Windows now displays an estimated time to install updates. The calculated duration appears next to the download button, as well as clicking the power icon. It even seems that the OS gives a relatively high estimate, the first tests having resulted in shorter installations.
Another surprise, less good this time, awaits Windows 11 users. Microsoft has decided to make the task much more complicated for those who wish to change the default browser. Indeed, it will now be necessary to select the desired application for each file format to open, which makes the operation extremely long and repetitive.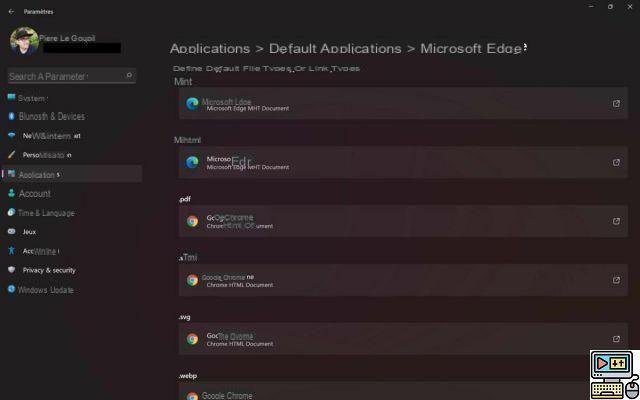 Finally, and it is important to underline it, the good old man Control Panel is still there. However, Microsoft intends to get rid of it. Indeed, several options have already found their way to Settings, and the list grows with the updates. In particular, build 22509 hit the nail on the head by migrating network settings to the new application.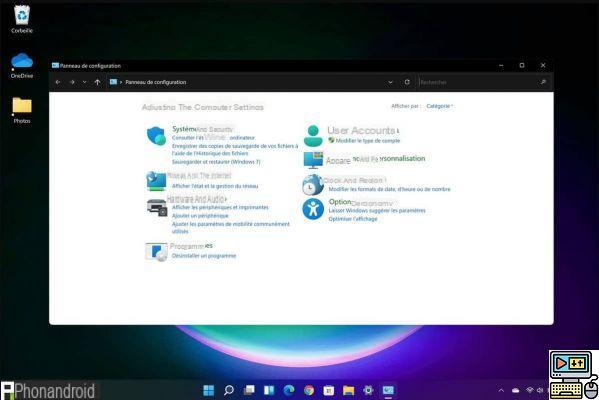 8. The context menu becomes much clearer
When you click with the right button on an item on the Desktop or in Explorer (a file, a folder, a disk drive, etc.), a Contextual menu appears. This is nothing new, it has been around for over 25 years in Windows. On the other hand, this famous menu had until now the annoying tendency to increase according to the applications installed and the possibilities of the operating system.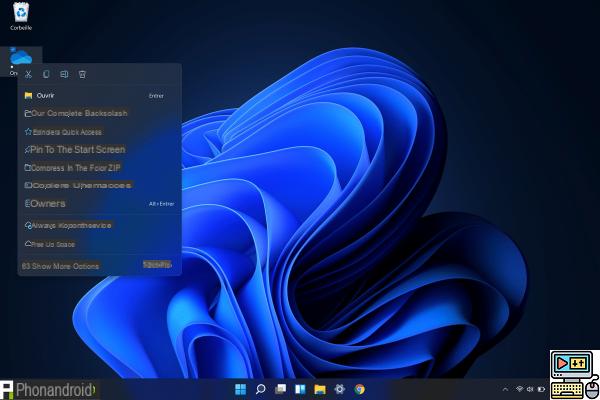 Windows 11 makes the right-click menu much clearer and more reliable. Only a small amount of options are now displayed by default. To consult the list of all the possible functions on an item in File Explorer or the Desktop, click on Show more options. Of course, this novelty implies additional manipulation to achieve the desired function.
On the other hand, it offers a less "messy" context menu when a large number of applications are installed on the PC, applications which can add as many right-click options as they wish. The menu gains in efficiency and clarity, but also in stability. Finally, note that the context menu also gains shortcut buttons (they are located at the top). These buttons allow, depending on the case, to cut and paste an element, rename it, delete it, etc. It is still not in its final version, since the last update for example reduced its dimensions.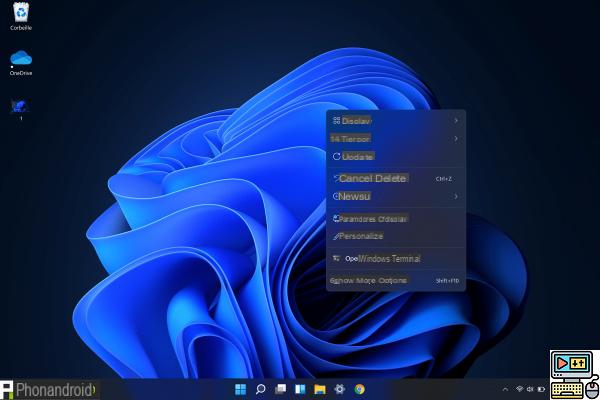 9. Skype disappears in favor of a new "Chat" application based on Microsoft Teams
It's a little surprise: Skype is not installed by default. Windows 11 replaced Skype with Microsoft Teams. Microsoft has established the following observation: following the Covid-19 pandemic and the multiple lockdowns that followed, the use of Microsoft Teams has skyrocketed across the world.
The app has over 145 million daily active users. Something to make Skype green with jealousy, which struggled last year to gather 40 million daily users. In this regard, Microsoft ensures that the integration of Teams in Windows 11 will not pose a legal problem, especially with the competition. Note that Microsoft relies heavily on Teams in the future, which it intends to impose in the long term in the business world. The firm also pampers its users in this sense and even uses this platform to test things. For example, it is on this that the mascot Clippy has made its comeback via a pack of stickers.
A new application called "Chat"And launched in May 2021 made its debut in Windows 11. Placed in the taskbar, it allows you to access your contact list very quickly, to reply or send messages or to launch a search in the discussions. But it is behind a light version of Microsoft Teams behind this new application. In short, the "Chat from Microsoft Teams" application that comes with Windows 11 is intended to be lighter and above all more general.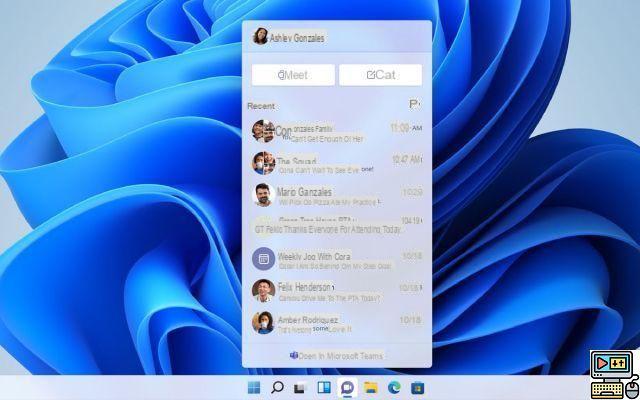 For the time being, Skype shouldn't go away completelyt, since it can still be installed through the Microsoft Store or as an x86 app. It will also remain the prerogative of Windows 10, the time that remains to live in this OS. Yet this is a major change for the software that Microsoft acquired ten years ago and that the company has always pushed to the fore, not hesitating to abandon MSN, its old system. messaging.
Note also that Internet Explorer has been removed from Windows 11. This is a historic step in the history of the browser, since it is the first time that it will not be fitted to a Microsoft operating system since its launch. launch in 1997. Microsoft Edge therefore becomes the official default browser for Windows.
10. Windows 11 is also betting on gaming
For Microsoft, the Xbox Series X does not represent the new generation of console, since it is only a terminal for accessing an ecosystem. With Windows 11, the convergence between PC and console gaming is strengthened. The Xbox app is installed on all Windows 11 devices and users can access xCloud subject to a GamePass Ultimate subscription. Cross-play and cross-save are in the game, which means you can play with your friends regardless of their platform. Even more, Windows 11 brings two major innovations. The first, already on console, is Auto HDR. If you have a game and a compatible display, Windows 11 automatically puts it in HDR, which Windows 10 didn't.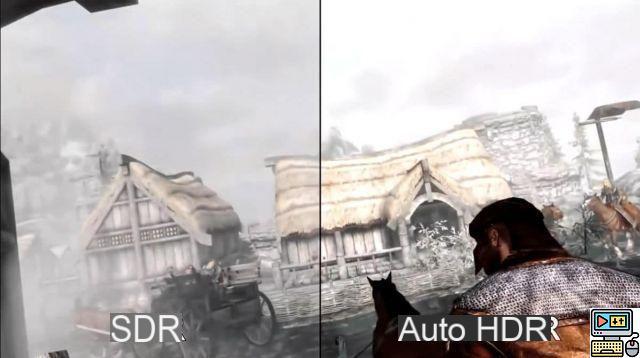 Finally, Windows 11 brings Direct Storage, which allows the SSD to communicate directly with the GPU. This results in very short loading times, or even non-existent on certain games.
However, not everything looks so rosy. Indeed, our colleagues from PC Gamer noticed that the games were less efficient up to 25% on Windows 11 PCs. VBS, or virtualization-based security, which poses a problem. You must therefore deactivate this feature in the settings. Note that only PCs with Windows 11 installed by default seem to have this problem, since those from Windows 10 have no problem. There is no doubt that Microsoft will correct this error very quickly.
Note also that Qualcomm has deployed its new WiFi Dual Station technology on Windows 11. The principle is simple: combine the two 2,4 and 5 GHz bands to drastically reduce latency rates and the various connection problems involved in particular. A feature that will be very useful for players used to playing over Wi-Fi and not over Ethernet.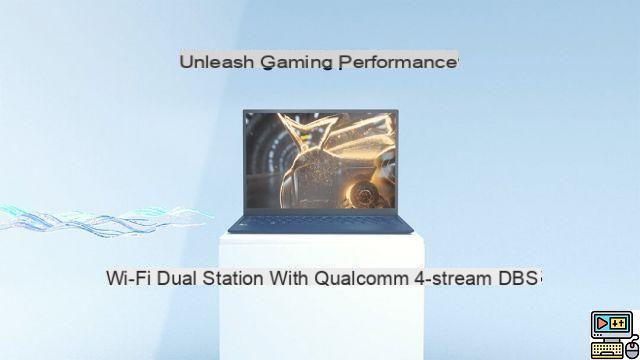 11. Windows 11 is faster than Windows 10
Windows 11 is more efficient than Windows 10. For example, Microsoft affirmed that waking up will be 25% faster than on Windows 10. The OS knows better how to prioritize the elements to wake up and communicates better with the hardware. More so, it takes up less space on the SSD and native apps are not activated if you are not using them. They are therefore not updated in the background and therefore contribute to better system performance. What's more, Microsoft has promised that 2022 will be devoted to improving performance as a whole.
In this regard, note that Microsoft plans to modify the File Explorer, always with the aim of improving the overall performance of the OS. Indeed, the manufacturer plans to add an option to disable the synchronization of File Explorer with your documents saved on the OneDrive cloud and other online services from Microsoft. Something to gain fluidity.
12. It is now necessary to have a Microsoft account
Microsoft pushed the use of an account on Windows 10, but it was still possible to have a local account. Now, for owners of Windows 11 Home, a such account is required to install it.
However, it is still possible to go back to a local account once the operating system is on your PC. You have to go to the options and deactivate the Microsoft account. If you no longer send data to the Redmond firm, you can no longer enjoy synchronization and OneDrive.
Whatever happens, you will therefore be required to have an account with Microsoft to install the OS. A Sioux technique from Microsoft to get you to use their service.
13. Microsoft applications deserve a facelift
Microsoft software has also seen its design evolve with Windows 11, although the way it is used will not change. The best known of these is Paint. We have the same icons, except that these have been modernized in order to respect the design codes of Windows 11, namely the emphasis on roundness and transparency. The software is also compatible with the dark theme. OneNote is also undergoing a big change, as the Windows 10 (via the Microsoft Store) and Office versions have simply merged for clarity.
Microsoft Office is also entitled to a new version. Those subscribing to Office 365 benefit from new features, including a new design more in line with Windows 11. For those who want to buy the software suite all at once, Office 2021 is available from October 5 at a price of 149 euros for individuals and 249 euros for professionals. Note that it is possible to install it on Windows 10, but also on MacOS.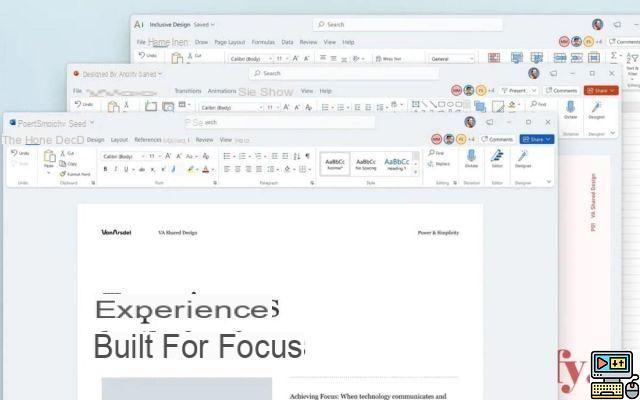 A few native apps already got a facelift in a recent update: the screenshot tool, Calculator, Mail, and Calendar. Their use does not change compared to their predecessors, however, these new new versions bring a revised and corrected design, clearer and especially adapted with the dark mode of the operating system.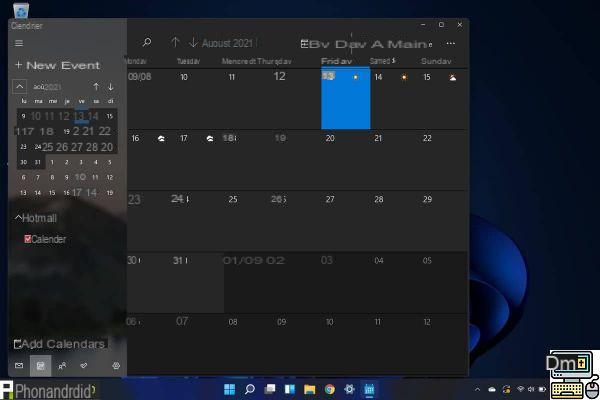 The Photos app is also undergoing quite a facelift. Its operation remains identical to what we currently know, but the menus are reorganized. It is easier to modify an image and it is possible to display several at the same time. Moreover, the information concerning the snapshot viewed, such as its creation date or its size, is more visible.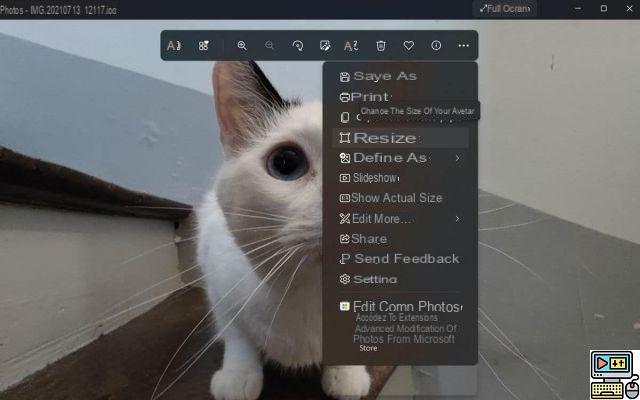 A legendary software is also experiencing a big facelift: the notepad. Present since the very first Windows, this word processing tool keeps its philosophy: it is simple, fast, uncluttered. However, the headband has been adjusted slightly to be easier to use. Likewise, a settings menu has appeared.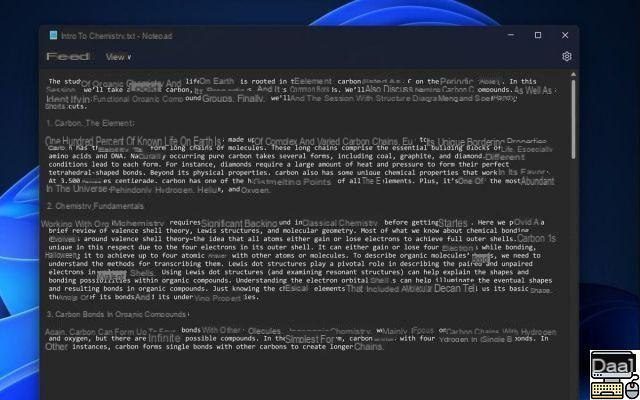 But the big novelty of this version is the inclusion of a dark mode. Thus, it is possible to display a grayed out page with white text. Much more relaxing for the eyes and especially in line with Windows 11.
14. Windows Media Player is making a comeback
It's a surprise comeback: that of Windows Media Player. The music and video player had been squeezed out a bit in favor of Groove Music, but it will return in a few weeks in a new form. Design and use revised and corrected, new way of managing its libraries, visual adapted to Windows 11, this reader is resolutely modern.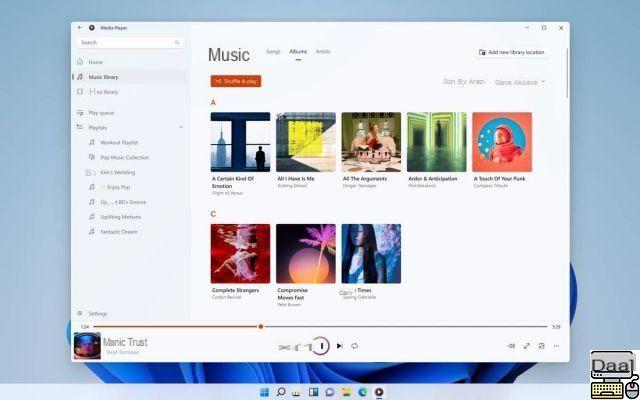 If you are using Groove Music, don't panic, since all your data and preferences will be automatically transferred to this player. For now, only Insiders can take advantage of it.
15. Linux joins the Microsoft Store
Very popular with developers, Windows Subsystem for Linux (WSL) can now be installed from the Microsoft Store. A significant improvement compared to the previous method, which required going to the command prompt. Several distributions of the OS are available, and updates will also be from the store, like a real application. Discover our tutorial now to download it.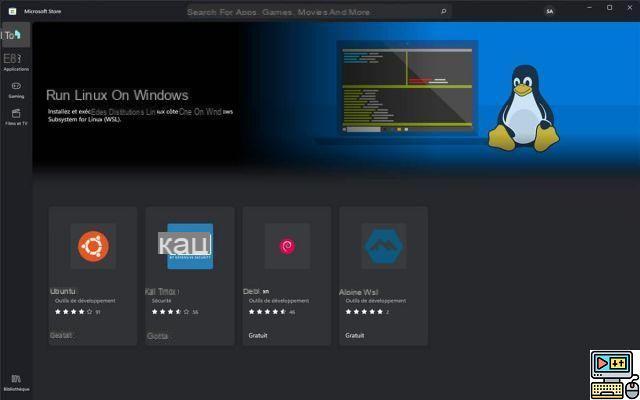 16. Terminal Replaces Command Prompt
Now is the time for Terminal to become the default application for command lines. For years, this role has been held by the command prompt, which has since become somewhat obsolete. A next update, in 2022, will definitively impose the Terminal as its real replacement. Until then, it is possible to do the configuration by yourself.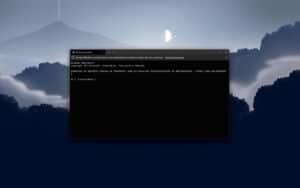 What are the minimum requirements to install Windows 11 on your PC?
A few small changes are to be noted regarding the compatibility of Windows 11 compared to the previous version of the OS. It is imperative to have 4 GB of RAM, 64 GB of disk space and above all a processor with 64-bit architecture. Fortunately, 32-bit applications are still supported. Here is the configuration needed to claim Windows 11:
1 GHz 64-bit dual-core processor
4 GB of RAM
64 GB of storage space
9 inch screen
Image definition 1366 x 768 pixels
UEFI, Secure Boot and TPM 2.0 compatibility
Support for DirectX 12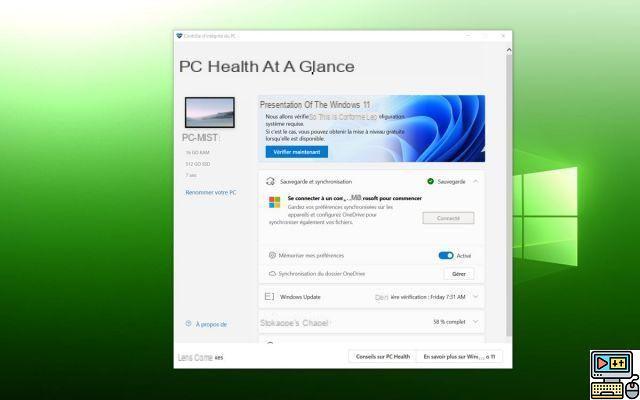 A small utility is also available to test the compatibility of Windows 11 with any PC. This is PC Health Check. Be careful, however: it may happen that, despite a recent purchase, your machine appears to be incompatible. Remember to activate the TPM option in the BIOS or UEFI settings of your configuration. Everything should be in order once this option is activated.
The need for a TPM chip makes many users cringe. In theory, a lot of old PCs are for example already excluded from the Windows 11 program. Microsoft explained this choice in a blog post. This is to strengthen the security of user data with a hardware barrier.
There is, however, a trick that allows you to bypass Microsoft's requirements: thanks to a small utility, you can not only download the most recent version of Windows 11, but also to ensure that the new operating system can be installed on a PC without TPM 2.0 and equipped with an old processor. This trick therefore allows you to set up Windows 11 on a PC that is not yet compatible. According to our first tests, it is always possible to benefit from Windows 11 updates afterwards, although there is no guarantee that this will always be the case in the months to follow.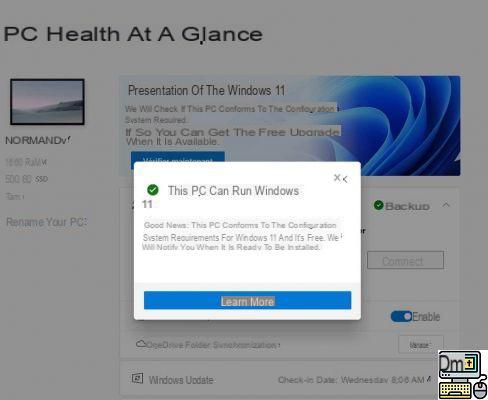 Thanks to this configuration, one might think that Windows 11 is much faster than Windows 10. For the moment, it is not. Indeed, we carried out our own comparative benchmark, of which Windows unfortunately loses. Note all the same that we used an AMD processor, currently subject to a performance problem on the latest version of the OS. The scores obtained are therefore likely to change in the near future. To discover the full results, it's here.
Note in this regard that these performance problems with AMD processors worsened with the first update of Windows 11. Indeed, the latency of the L3 cache has unfortunately increased with the Tuesday patch. Already at 17 ns, it dropped to 31 ns on an eight-core Ryzen 7 2700X. After confirming the arrival of two fixes, AMD has kept its word and deployed an update on October 22 to fix all issues with AMD processors. In theory, there are no more L3 cache management bugs to report.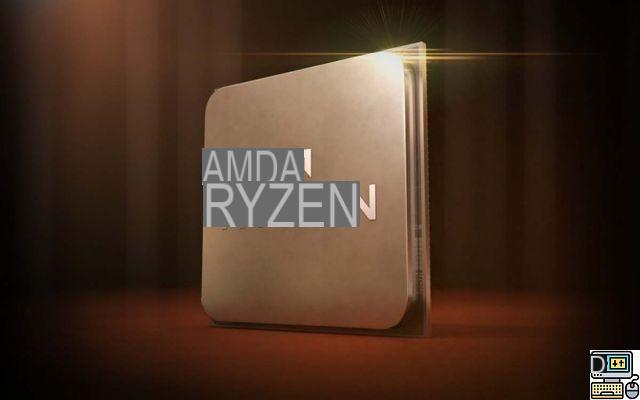 List of hardware compatible with Windows 11
Following Microsoft's announcement regarding the minimum system requirements to take advantage of Windows 11, some component manufacturers have decided to take the lead by unveiling the list of their products compatible with the latest Microsoft OS. This is particularly the case of BIOSTAR, a specialized brand particularly recognized for its motherboards.
And precisely, the company revealed this Thursday, July 1, 2021 the complete list of its compatible motherboards. Unsurprisingly, all of the models listed are equipped with a TDM 2.0 chip and Secure Boot. A good surprise, however, since it contains all of the AMD Ryzen motherboards from the 300 and 500 series. On the Intel side, however, the panel is much more limited.
AMD
A520 series
B550 series
X570 series
B450 series
X470 series
X370 series
B350 series
A320 series
Intel
Z590 series
B560 series
B460 series
H510 series
B250 series
J4105NHU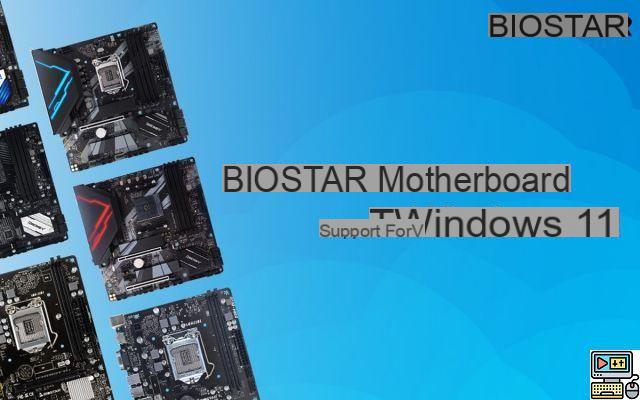 Microsoft has also officially confirmed that Windows 11 will not be compatible with Apple's Mac M1s, even when using a virtual machine. This is because one of the most popular virtualization tools, Parallels Desktop, recently upgraded to version 17. Until now, users who installed Insider builds of Windows 11 have not experienced any issues, but the software started showing hardware compatibility errors on this new version. Windows 10 is therefore the last version of Windows compatible with Apple's M1 computers.
Note, and it's a bit funny, that users have had fun trying to install Windows 11 on old processors. A Youtubeur thus noticed that a Pentium 4 from 2006 was completely compatible and could therefore officially support the OS. This would just be Microsoft's oversight, but it's fun.
What is the Windows 11 release date?
Windows 11 was released in its definitive edition on 5 October 2021. The deployment of the new operating system will be done gradually. First served will be the brand new computers, followed by the most recent machines. Older computers will benefit from the update a little later. Microsoft predicts that all PCs eligible for Windows 11 will be able to benefit from the new version of the OS by mid-2022. Note that the very first PC to embed Windows 11 will not be a Surface, which is surprising. Indeed, this premiere will go to the new Honor Magicbook V14. Honor and Microsoft have in fact signed a strategic partnership that includes the release of the very first PC to be equipped with Windows 11.
Note that Microsoft is currently working on Windows 11 SE, a lite version of the OS developed for the education market. This version would also be accompanied by a new Surface laptop, equipped with an Intel Celeron N4120 SoC with 8 GB of RAM. It would be offered under the $ 400 mark, to hope to compete with Google and its Chromebooks.
Since its release, Windows 11 has already had many updates. However, many of the features mentioned in this article are not yet available to the general public. While users hoped to be able to take advantage of it at the start of 2022, it will ultimately not be the case. Indeed, the next big update of Windows 11, called Sun Valley 2, should arrive on our computers during the next summer.
Windows 10 going to disappear?
Windows 10 is not going to go away, as Microsoft is planning to update it on a regular basis at least until 2025. If your PC isn't Windows 11 compatible, or you just don't want to switch OS, you still have four years ahead, at a minimum.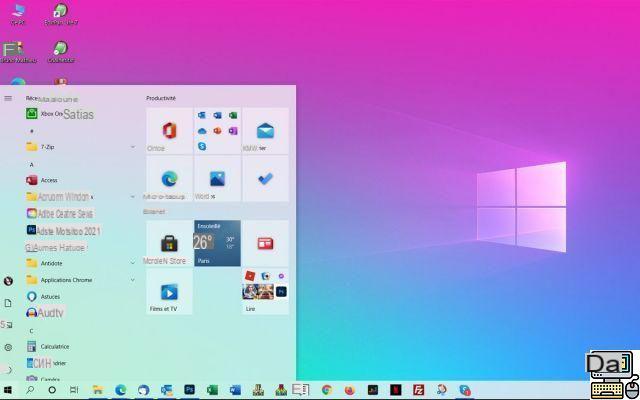 In addition, the OS will continue to receive its big annual updates. Next October, a big patch will bring various major new features, such as an improvement in Windows Hello. If you plan to switch from Windows 10 to Windows 11, you will definitely benefit from it, since Microsoft's new operating system will be deployed in early 2022.
Also note that it will be possible to switch back from Windows 11 to Windows 10 if you are not convinced. However, you will need to do this within 10 days of installation if you want to keep your data. After this period, all your personal items will be deleted.
What is the price of Windows 11?
When Windows 10 was released in 2015, Microsoft "offered" all Windows 7 and Windows 8 users a license for its new operating system. This offer was only to last for a year, but six years later it is still active. The publisher of Redmond repeats the operation with Windows 11: any holder of a license for Windows 7, 8.1 or Windows 10 will be entitled to a free migration to Windows 11.
We tested the operation which consists in using a serial number sometimes coming from Windows 7, sometimes from Windows 10. The registration of the license worked perfectly. As for the newcomers, Microsoft has taken a radical and unusual decision. Indeed, it will be impossible to buy a Windows 11 license, whether you are an individual or a company. The information was confirmed by a Microsoft spokesperson. To get Windows 11, it will actually be necessary to acquire a license for Windows 10 before migrating for free to the latest version of the operating system.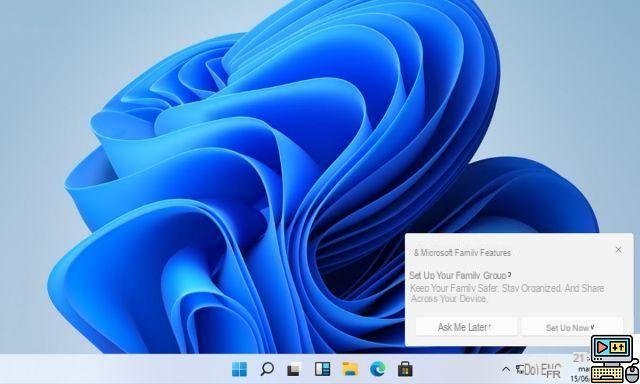 Be careful, however, there are a few things to know. The transition from Windows 10 to Windows 11 is smooth and you keep your files and personal data. Switching from Windows 7, 8 and 8.1 will be a bit more complicated, since it will require a complete reinstallation. Thus, the tool will delete and clean your storage from top to bottom, sacrificing your data in the process. It will therefore be necessary to take care of keep everything important to external storage. A reflex that we advise you to adopt in all circumstances.
Finally, the last avenue to consider: the acquisition of a Windows as a subscription. A formula that would take on its full meaning with a Windows in the Cloud, the release of which also seems imminent. Recall that Microsoft has already offered Office 365 in this format since 2011. If Windows 11 were to be available in a remote version on the Cloud, it may well be that Microsoft launches such an offer.