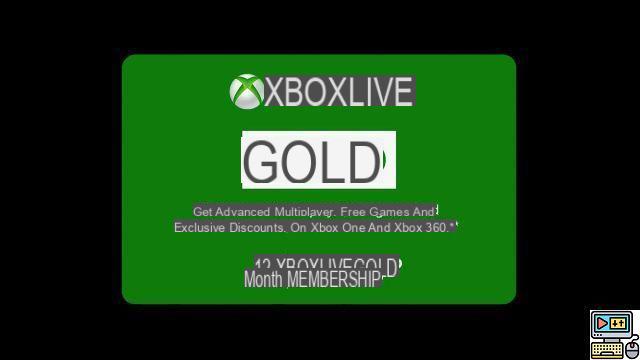 Microsoft has no plans to rebrand Xbox Live or discontinue its Xbox Live Gold service. Recent rumors were indeed circulating this week following a change in the Microsoft services contract, where the mention "Xbox online service" was confusing.
Despite the recent abandonment of the 12 month subscription to Xbox Live Gold, therefore no changes will be made to Xbox Live as a Service and Xbox Live Gold Membership, the premium version of the Xbox Live service, on Xbox 360 and Xbox One. As a reminder, this paid subscription (€6,99 per month or €19,99 every 3 months) allows its users to play multiplayer games online, but also to obtain 2 to 4 free games every monthly, in addition to early access to certain demos.
Xbox Live service won't be rebranded and Xbox Live Gold won't be free "for now"
According to a Microsoft spokesperson, interviewed by our colleagues at The Verge, the term "Xbox online service", which appeared in the updated version of Microsoft's services agreement, did " reference to all underlying Xbox services", such as cross-saves or friend requests. If this statement was confusing, it therefore officially has nothing to do with Xbox Live. On the contrary: for Microsoft, this term was precisely intended to distinguish all other online services from the Xbox Live Gold subscription. The spokesperson wants to be perfectly intelligible on the subject: "No changes will be made to the experience of this service [the Xbox Live] and to Xbox Live Gold".
See also: Xbox Games With Gold August 2020: free games of the month
Recent rumors have reported the eventual disappearance of Xbox Live Gold, or its transition to free. According to the spokesperson, this subscription is an "important part of the game on Xbox", and it will not be, "for the moment", neither free nor stopped. On July 31, on Twitter, Jeff Grub, journalist at Venturebeat, for example, said that Xbox Live Gold would simply "disappear". According to him, "multiplayer will be free and they [Microsoft] will no longer force you to go through the Ultimate subscription [the Xbox Game Pass] to play online". Microsoft has been wanting to create a unified ecosystem between its different platforms ; it would therefore be perfectly logical for it to abandon or soften this paid service, which sets Xbox players apart. We also recently learned that the Xbox Series X controller will be compatible with the Xbox One, and vice versa.
The Xbox Series X is expected to be announced in the coming weeks, so it's a safe bet that we'll be set very quickly about Microsoft's intentions regarding its Xbox Live service.
The editorial advises you:
Xbox Live: it must now be called "Xbox network"!
Xbox Series X and One: no longer need a Live Gold subscription for these 50 multiplayer games
Windows 10 won't start? Several reasons can cause problems when starting Windows 10 for the first time or after an update: Bad BIOS settings,... The battery is one of the essential parts of our laptops. Like smartphones, battery life is a crucial factor for a good experience. Some applications act…Creating a WiFi access point on Windows 10 in order to share your Internet connection is done in two steps, three steps. We explain the procedure to you in this… On Windows, there are several ways to update the drivers. Generally, these update automatically. But it is sometimes necessary to force the maneuver,…