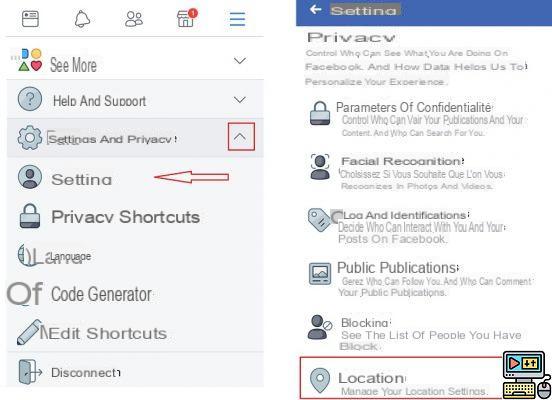 Since the entry into force of the new regulation on the protection of personal data (RGPD), Facebook has made all of their personal data stored on its servers available to users. In this article, we'll see how to access your location data history, delete it, and also turn off the tracking functionality.
We know that Google Maps keeps a history of the location data of its users. But many are unaware that this is also the case with Facebook. Thanks to the GDPR, which entered into force in May 2018 and which imposes coercive rules on all digital players, a new option appears in the application's settings.
It is now possible to view the location history kept by Facebook, but also to delete it. Better, those who wish can also deactivate Facebook's localization function.
To read also : Facebook: how to download an archive of all your data and activities
Disable Facebook location
Location history uses your smartphone's GPS to collect information about the places you visit. Depending on the privacy settings applied on your mobile, Facebook may or may not have access to this location data.
On PC:
Sign into your account
Click on the arrow at the far right, then on Parameters
In the left menu, go to the Location tab then click on "View location history"
To go faster, simply click on this link and enter your password if necessary to access the Facebook localization page
You access a page presenting a map with a history of the places you have visited, as well as the routes taken. To erase the entire history, it's simple: click on the three horizontal lines at the top right, then on delete all location history.
From the mobile application:
Tap the three vertical lines at the top right. Press on Settings and privacy to expand this section of the menu
Then press Settings> Location. On the next screen, you can view the Facebook location history and delete the data
Disable Facebook location
To turn off Facebook location if it isn't already on your device:
Go to the same menu as before (Settings and privacy> Settings> Location)
Toggle the switch to NO to disable tracking
Finally, it is also possible to deactivate the Facebook location in the permissions control on your Android or iOS smartphone. It is sufficient to withdraw the authorization for access to the whereabouts.
The editorial advises you:
How to delete your Facebook account
Android: how to disable location for an application
Windows 10: how to disable the webcam and the microphone?
Facebook allows you to turn off videos from autoplaying in your News Feed. It's very simple, even if the path is not obvious to anyone who has never seen it...Facebook Messenger has been using end-to-end encryption since 2016. To take advantage of it, just start a secret conversation with one of your contacts. Still need to know… When you use Instagram, your contacts can know that you are online, a small green circle appearing on your avatar. Except that you might want to survey the application in all… Instagram allows you to activate double authentication so that you no longer depend solely on the security of your main password. A way to significantly strengthen the protection of your account...