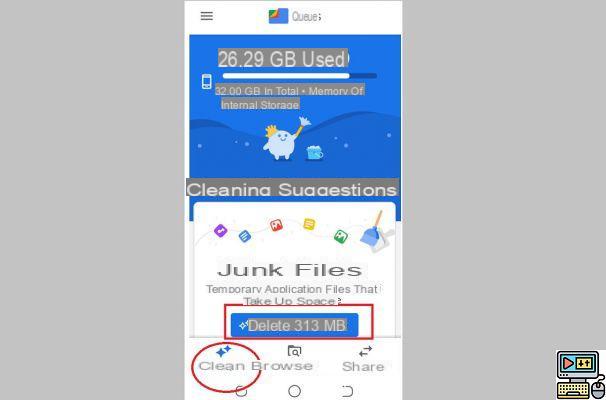 The storage space of smartphones is becoming less and less comfortable for large consumers of content. The margin shrinks quite quickly and it becomes impossible to install new applications. The smartphone starts to slow down and the fluidity of the experience takes a hit. Here's how to clean your Android smartphone to bring some order.
Insufficient available storage. You may have encountered this error in the Google Play Store before. It is not the good moment. You need to install an app for an urgent need. For a while, the Store has displayed a window showing the amount of storage to free to regain control, with a list of the heaviest applications. It's up to you to see which ones do not serve you and to uninstall them according to the impact of their weight.
But this solution is not temporary and requires other actions to avoid the recurrence of the call to order. You can move apps and data to the SD card from internal memory. But to go further in solving insufficient storage problems, it is better clean your android smartphone in depth. A household is essential.
Clean your Android: Files by Google, the magic application
Files by Google is a file manager that has a very useful component for cleaning up your smartphone. The app is installed by default on most Android smartphones. If it's not available on yours, download it from the Play Store first. Files has a menu Clean in the lower left corner of the home interface.
Delete junk files
Once in the Files by Google Clean menu, the first section displayed on the screen concerns junk files. These are basically temporary files that take up unnecessary space. Press the delete button in blue which also tells you the amount of storage to free.
A new window will appear. Tap the link View junk files to delete temporary files by application or select the Clean button to delete everything at once.
Remove memes
Memes are everywhere in messaging apps and on social media. These images which usually contain text can take up considerable space on the smartphone. In the Files by Google Clean menu, the second section is about memes. Press on Remove or select files to clean up.
Remove duplicate files
This is one of the most useful options in Google's file manager. It makes it easy to spot duplicate files that take up unnecessary space. Whether you have the same photo, video, or any other file in two or more different locations. Press on Select files then All duplicates then delete them. Files will keep the original files and remove any duplicates. You could potentially free up several GB of space.
Other Files by Google cleaning options
Besides temporary files, memes, and duplicate files, Files has other cleaning tools to easily free up storage space. In particular, you will be able to:
Clean up WhatsApp media folder
Delete unused apps
Delete large files.
Free up space with other utilities
Several other apps from the Play Store allow you to clean your Android smartphone. CCleaner, the best known on PC is also available in mobile version. The solution embeds a set of tools to free up space on your device. As soon as it is opened, the application offers you a button to perform a scan of the smartphone.
Several options then allow you to clean up: cleaning the application cache, the history of your web browsers, videos, images that take up too much space, etc. Apart from its role of cleaner, CCleaner also includes a much more advanced application manager than the one offered by default in Android, an optimizer to free up RAM memory, etc.
As an alternative to CCleaner, you can opt for the excellent Clean Master, Starup Manager or even Smart Manager.
The editorial advises you:
How to delete a Google account on Android
Netflix: how to delete a profile or your account?
Windows 10: 3 tips to find files more easily
The ability to speed up or slow down a video on YouTube can be very useful. It was possible to do this in the web version of the platform for a while…Facebook allows you to deactivate the automatic playback of videos in your news feed. It's very simple, even if the path is not obvious to anyone who has never seen it...Google Chrome includes a reading mode that allows you to consult a page in optimal conditions. The functionality, however, is hidden in the bowels of the browser. In this tutorial,…It is easy to know if a contact has blocked you on WhatsApp, but some indicators can also trick you into believing it unfairly. So how do you know...