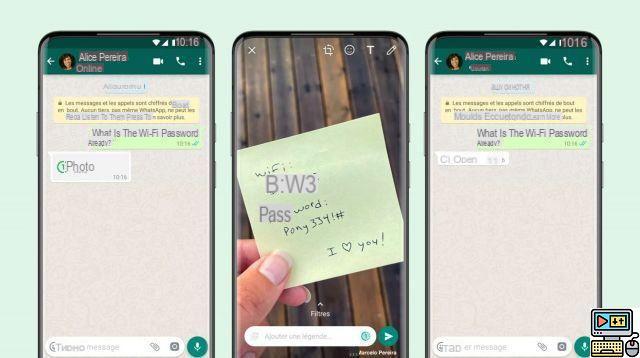 Modeled on Snapchat, WhatsApp now allows users to send media (photo, video) that can only be opened once. Entitled View Once, this feature is being rolled out to the app. Here is how to use it.
Threatened by competition from Signal and Telegram, WhatsApp is striving to renew itself to keep users in its net. In doing so, the messaging application has just acquired a new feature inspired directly by Snapchat. This is called View Once. As its name suggests, it allows you to send ephemeral media to your interlocutor. In other words, a video or a photo that he can only open once.
Such a feature can come in handy if you want to send a sensitive file to your recipient. As revealed by WABetainfo, it is currently only available in beta. It should therefore be deployed soon on all smartphones. In the meantime, you can download and install WhatsApp Beta 2.21.14.3 on Android. This will allow you to have the possibility to start using View Once.
Lire aussi >> WhatsApp: how to create a sticker or sticker from a photo
WhatsApp: tutorial to send single-view media
Once done, Here's the procedure to follow :
Open a WhatsApp conversation and start sending an attachment.
A button (a 1 surrounded by a semicircle and dotted lines) appears in the text box.
Click on the button to activate single viewing.
A window will appear stating that "single view is enabled" and that the media in question will disappear after it is closed "for privacy concerns".
For your contact to be able to open it, however, it must have a version of WhatsApp that supports View Once. If not, they'll be encouraged to update their app.
There are, however, some limitations. On the one hand, screen capture and recording are not disabled. So your sender may well keep the ephemeral video or photo. You will not be informed if your contact does so. The latter will also know upstream that you have sent him a single-view media. This will give him time to initiate the capture.
WhatsApp has introduced a secret Easter egg for photos and videos set to view once on WhatsApp for Android.
I forgot to publish this video yesterday, thank you if you mentioned me ? pic.twitter.com/RIx4jAuvWk
— WABetaInfo (@WABetaInfo) June 30, 2021
The editorial advises you:
WhatsApp Web: how to read and send your messages from a PC or MAC
How to migrate from WhatsApp to Signal: the complete guide
WhatsApp: how to download the latest version APK
It's easy to tell if a contact has blocked you on WhatsApp, but some indicators can also trick you into believing it unfairly. So how do you know… You sent a message by mistake on WhatsApp and want to delete it? It is quite possible as we explain in this tutorial. WhatsApp is full of features…WhatsApp now allows you to disable notifications from a conversation for life. Something to let you breathe when the latter are incessant. Here's how. Notifications are often abusive.…The photos you receive on WhatsApp end up in your gallery by default. But a very simple maneuver allows you to stop the automatic backup, which turns out to be very…