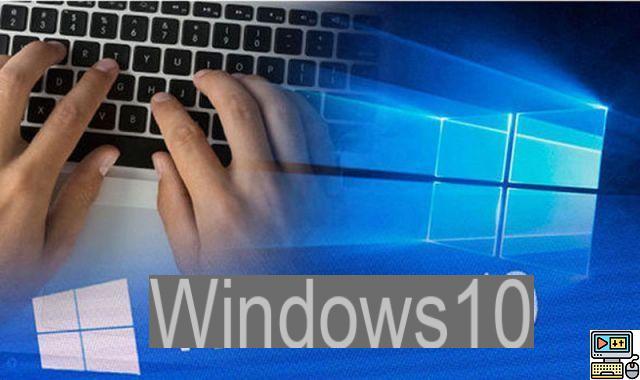 Windows 10 is often criticized for its many features that compromise the privacy of certain user data. If privacy is a sacrosanct principle for you, then it probably wouldn't be a pleasure for you to learn - in case you didn't already know - that the operating system has a privacy feature. collects input and write activity from users. Here's how to turn it off.
When we talk about keylogger, we immediately think of a program responsible for collecting user input data. Considering this purely functional aspect, Windows 10 has a Keylogger enabled by default, even if it does not attribute to it this "malicious" character that the usual Keyloggers can have.
Indeed, the latter are generally designed to trace all the input activities of users without the latter having the slightest suspicion. But on this point, Microsoft remains transparent since the options are visible in the settings. However, we can blame him for the fact that they are not deactivated by default.
Why collect seizure data?
The purpose of this feature, according to Microsoft, is to allow Windows 10 to record your typing and inking habits (if you're using a tablet or convertible with a stylus) in order to promote "typing and writing optimization". On the other hand, these recordings also concern searches carried out via Cortana, which learns more about your voice and your search habits in order to serve more relevant results.
Despite this transparency, which seems to be a sign of good faith, it is certain that not all users would necessarily be in tune with this feature.
How do I disable input and voice data collection?
Dance Settings > Privacy. On the "General" tab, deactivate the option "Send information about my writing to Microsoft to help with future typing and writing optimization".
Then, even if you already disabled cortana, go to the tab "Voice, inking and typing". Click the "Stop Knowing Me" button. This will disable the collection of voice, handwriting, and keystroke history information.
It is important to know that if Cortana had not been disabled, this will happen automatically.
All of these configurations are just the tip of the iceberg. If you want to go further in disabling data collection and everything related to telemetry, do not hesitate to consult our article on this subject.
The editorial advises you:
How to encrypt a USB drive or hard drive to protect your data?
Windows 10: How to turn Windows Defender on or off
Windows 10 won't start? Several reasons can cause problems when starting Windows 10 for the first time or after an update: Bad BIOS settings,... The battery is one of the essential parts of our laptops. Like smartphones, battery life is a crucial factor for a good experience. Some applications act…Creating a WiFi access point on Windows 10 in order to share your Internet connection is done in two steps, three steps. We explain the procedure to you in this… On Windows, there are several ways to update the drivers. Generally, these update automatically. But it is sometimes necessary to force the maneuver,…