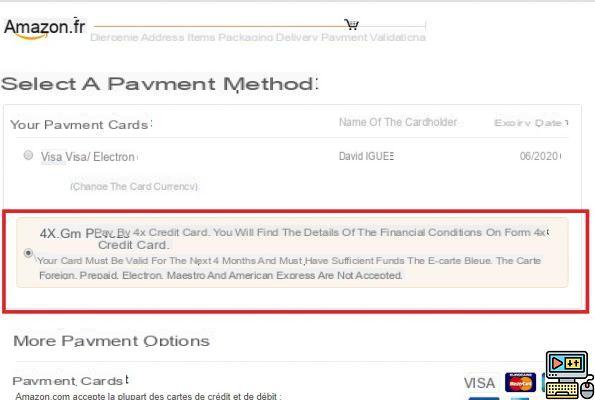 Amazon launches payment for orders in 4 instalments by credit card. This possibility, long awaited by users of the e-commerce site, comes just before the end of the year holidays, but also before the Black Friday period. It is therefore timely to allow you to make your purchases without breaking the bank.
This happened without fanfare. It is in all discretion thatAmazon launches the payment in several installments in Spain. Like other merchant sites, such as RueDucommerce, Amazon's new payment method is based on a partnership with Cofidis, the consumer credit specialist. The settlement in 4 times by credit card is therefore not free of charge. You will be charged interest of up to 2,25% of the amount of your purchase. Note however that the order must be for an amount of 100 to 1000 euros, sold and shipped by Amazon.com.
Amazon: you can pay for your orders in 4 installments by credit card
To take advantage of payment in 4 instalments by credit card, nothing could be simpler. The option is offered directly in the payment methods, as you can see in the screenshot at the end of the article. Just select it. And if you don't see it, click on "edit" to change the payment method. After validation of your order, you will be directed to a Cofidis page on which you will have to complete a small form to validate your credit request. It is without file, nor supporting documents to be provided.
Amazon continues to improve its services to best suit its users. The e-commerce giant continues to multiply initiatives. For example, entering your home to deliver packages when you are not there. The payment solution for purchases in 4 instalments by credit card is very good news. The timing couldn't be better. Black Friday is November 24th. And it spans the whole weekend, right through to Cyber ​​Monday.
The editorial advises you:
Amazon delivery people must now accept being tracked or lose their jobs
Amazon is now streaming Ligue 1 on its Prime Video service. Thus, to be able to follow almost all the matches (8 matches out of 10 per week), you must subscribe to the Pass… Price, advantages, cancellation and refund: here is our file to know everything about Amazon Prime, the collection of services paid and subscription offered by Amazon. Amazon Prime is a subscription program…Amazon's highly anticipated MMORPG, New World, is finally available on Steam. It is therefore high time to embark on the world of Aeternum, to create factions, to… While season 3 of The Boys is still awaited, we know a little more about the spin-off of the series satirical. As expected, this one will take…