Transferring your data from iPhone to Android smartphone is less complicated than you might think. Some brands like Samsung made it really child's play. Here are some methods to transfer data from iPhone to Android in Zen mind.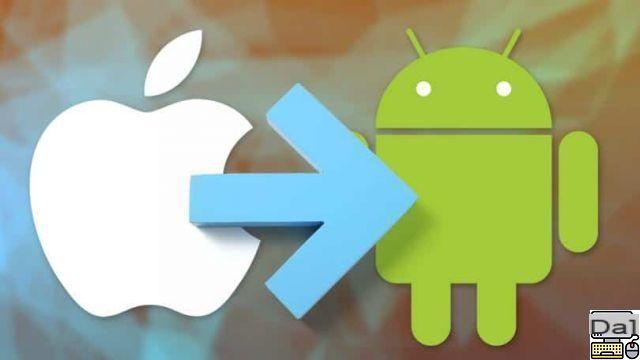 We will explain here the different steps necessary to find your iPhone content on your Android smartphone. If you are going to be able to recover most of your data, it is not possible to directly transfer the applications that you have on your iPhone since the App Store and Google Play do not allow it (that would be too good). But apart from most of your data (contacts, emails, calendars, etc.), you can install Android versions of your favorite applications from the Play Store or their equivalents if they do not exist. We explain how to switch from your iDevice to Android!
Summary
1. You need a Google account
2. Activate the synchronization options
3. Sync your photos and videos
4. Transfer the music
Forward your SMS
Use the builders transfer applications
Conclusion
Comments
1. You need a Google account
When you turn on your Android smartphone for the very first time, it will always ask you to sign in or create a Google account.
If you skipped this step, don't panic, you can go to the options of your smartphone, more precisely:
Settings> Accounts & sync> Add account
Then choose to connect or create a Google account by entering a username and password. The username is actually your Gmail address.
2. Activate the synchronization options
On your Android smartphone
Once on your activated Google account:
Go to the account options, Data and synchronization section to select the synchronization options
Then check the calendar, contact details and Gmail boxes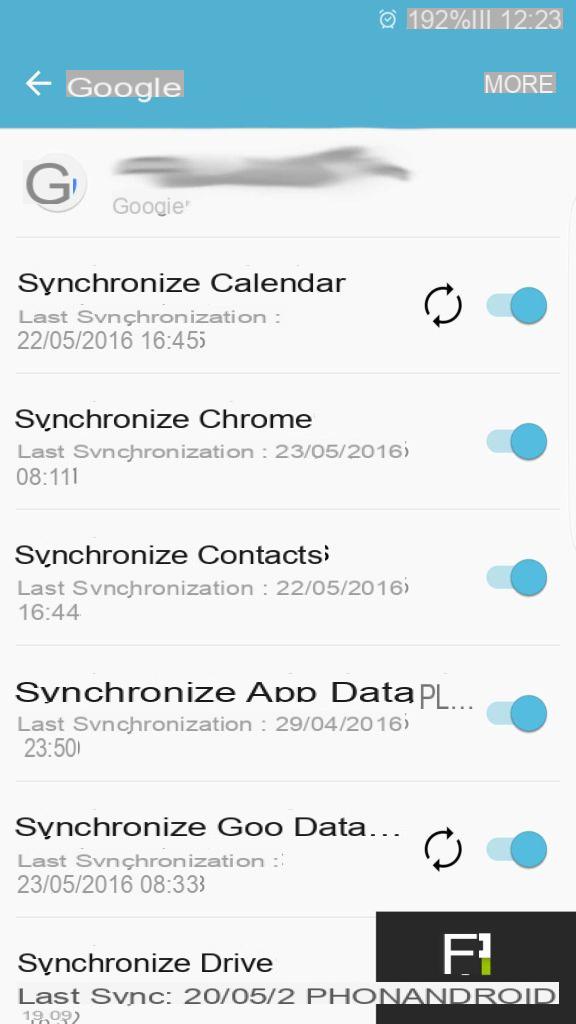 As you can see, other synchronization options are possible such as Chrome or Drive. For the Chrome browser, this allows you, among other things, to find your favorites both on the phone and on the computer. It's up to you to synchronize what you think is useful to keep or not: your favorites, your history, your bookmarks ...
On the iphone
Go to: Settings> Your avatar> Mail, contacts, calendars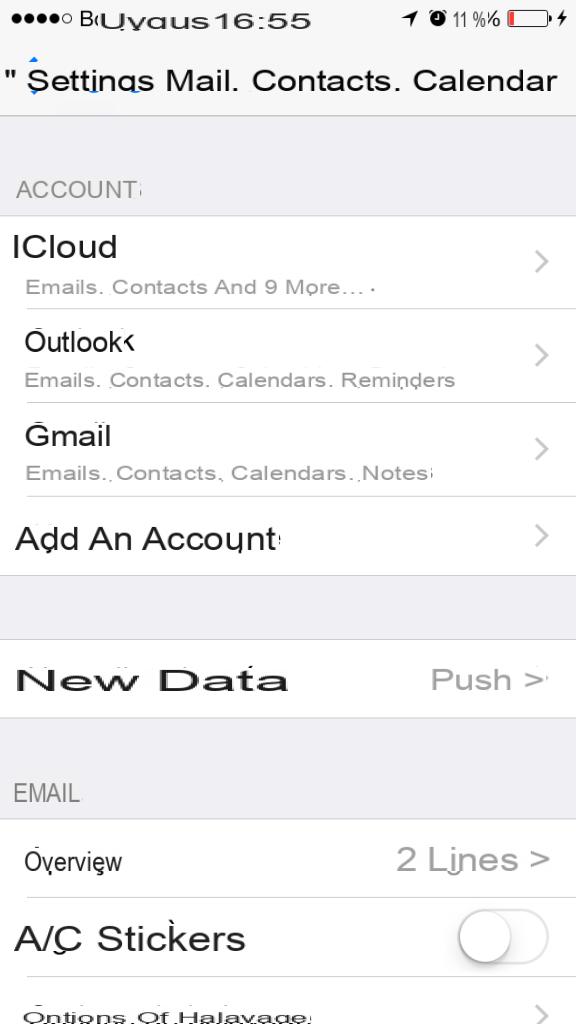 From here you will be able to add a Google account and log in with the same username and password that you used on the Android phone. Once connected, a screen asks you what to synchronize, all you have to do is select what you want to synchronize or not between the emails, contacts, calendars and notes.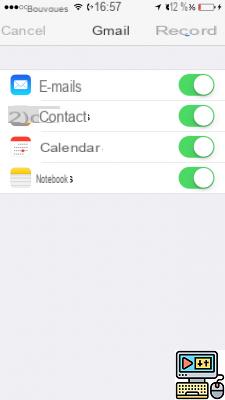 Use a vCard to transfer your contacts
Go to iCloud.com
Go to your iCloud account. Normally your contacts are synchronized, if this is not the case go to Settings> Sync contacts
On iCloud, go to Contacts, click on the small cog of the parameters there you will see the option exporter vCard - click on it and select all your contacts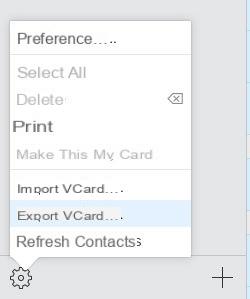 Now you have a vCard with all the information of your contacts. To use it on your Android smartphone, you need to transfer the file to your smartphone:
Go to Contacts> Settings
Go to the tab import / export your contacts
touch Import via vCard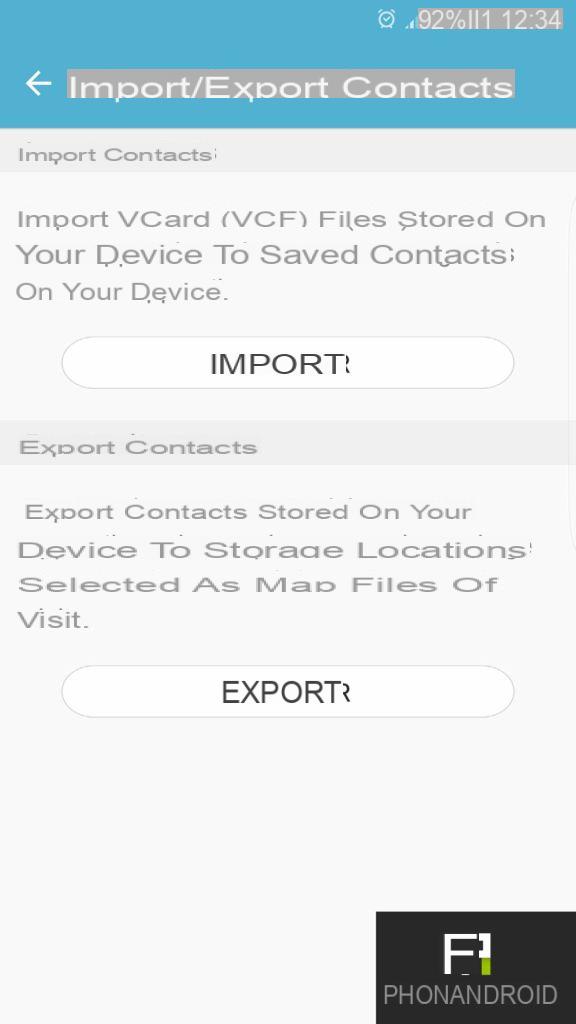 3. Sync your photos and videos
Via Google Photos
Easy as pie :
On your iPhone, install Google Photos from the App Store
When opening for the first time, switch to WiFi and activate the transfer of photos to the cloud
On your new smartphone, make sure all your photos are in Google Photos (if necessary, just wait a few hours)
On pc
For it :
Connect your iPhone to your PC using the cable
On your PC, click Computer, then right-click on the icon representing your iPhone
Select Import images and videos. By default, everything will be saved in the Images folder, it's up to you to change the target folder if you want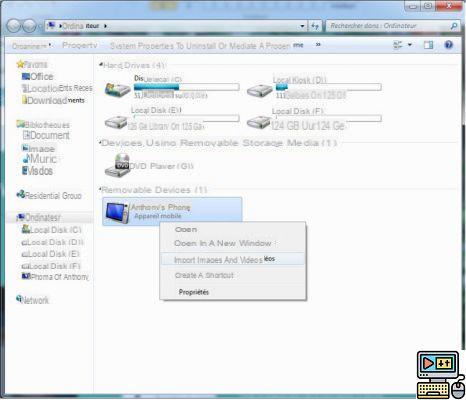 It's also an opportunity to sort through what you want to keep and what you don't want to keep before putting it on your new phone. We know how much we store unnecessary things on our mobile ...
Then connect your Android phone to the PC
Get the photos and videos you want on your computer and make a copy / paste to the "DCIM" folder from your Android smartphone
On Mac
Connect iPhone to your Mac and use the Image and Video Transfer utility
Use the software in question to select and copy the files you want on your computer to the folder of your choice
install Android File Transfer that you will find here. It will allow you to transfer your images and videos that you have placed on your Mac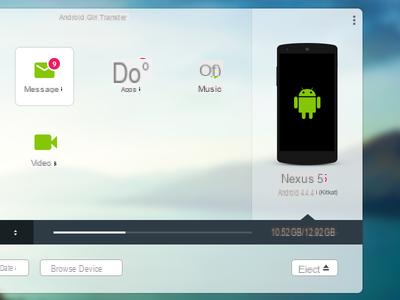 Then connect your Android phone to the Mac and make sure that the USB connection either in "MTP" or "disk drive" mode
These options will be offered to you when you connect the cable and in the notifications bar.
Using software, copy files directly to phone folders
4. Transfer the music
Via copy / paste
You will also be able to recover your music and your albums. The first solution is very simple, it is to copy / paste your music files from your computer to your Android phone. The solution also works if you are using iTunes * - then you will find your music files in the folder "Music> iTunes> iTunes Media" on your PC.
* Except for purchased songs protected by DRM
With the DoubleTwist app
The other solution if you are using iTunes (on PC or Mac) is toinstall the DoubleTwist application for free, which you will find here. This application works like iTunes, but you will have the advantage of finding an application on Android that will facilitate the import of your music on your new phone.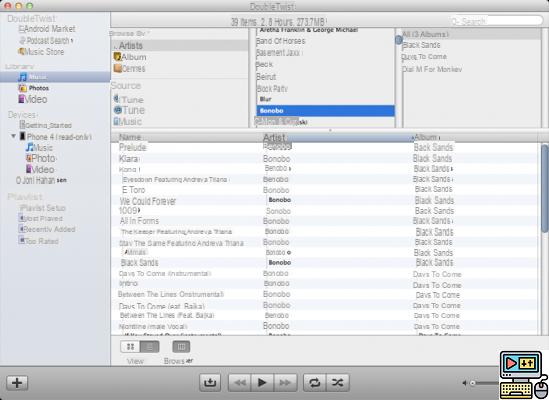 Once this is done, you just have to import your music library into the software and install l'application DoubleTwist Player which can be found on Google Play:

Now that you have installed the application on your computer and your new Android phone, you will be able to connect the two to synchronize your music. You can do this using a USB connection, or wirelessly thanks to the AirSync option (however reserved for the paid version of DoubleTwist Player - 4,99 euros).
With Google Play Music
Go to the Google Play Music site
Click the gear icon at the top right, then click Parameters.
Scroll to Music on this computer, click the Add your music button.
iTunes will be displayed as a source option on the screen. Check the box for ssynchronize your music in the Cloud.
Leave your browser open to allow your music to download. The progress can be seen in the lower left corner of the Play Music window.
Open the Google Play Music app on your smartphone. Once the addition is complete,songs in the cloud will be displayed in the app.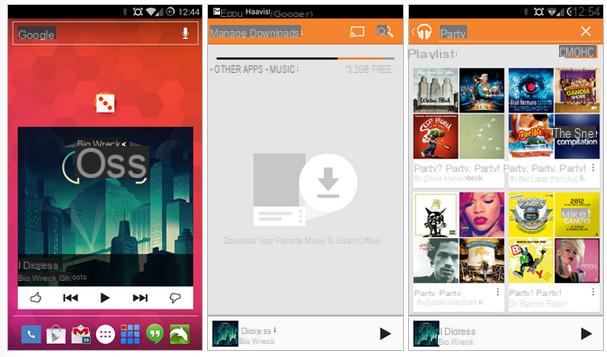 What about your ringtones?
Whether you bought or created a ringtone on iTunes, you can also use the same ringtone on your Android smartphone. It is first necessary to know via iTunes what type of file it is. If it is the .m4r format for example, it will be better to convert the extract in advance to .m4a or .mp3 in order to be able to use it directly on your new smartphone.
Forward your SMS
Make a backup of your iPhone with iTunes. You must then find the backup, on a PC it is generally located in the folder "C: UsersYourNomdUtilisateurAppDataRoamingApple ComputerMobileSyncBackup", on Mac with the Finder do the following search "~ / Library / Application Support / MobileSync / Backup".
Find the following file in the backup "3d0d7e5fb2ce288813306e4d4636395e047a3d28"- whether on PC or Mac use the search.
After copying the file, you need to transfer it to your Android smartphone. Once the file has been transferred, you need to download the iSMS2droid application, which you will find here. You have to open the application then select Select File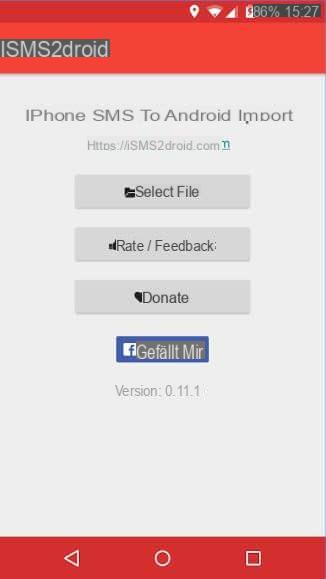 From there you have to take the file of your SMS, then click on it. The application tells you the number of SMS then lets you choose between converting all or selecting conversations. Once the choice is made, start the conversion, you will have an XML file.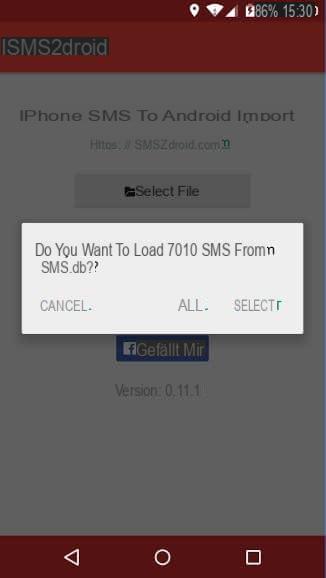 With the XML file, you need to use the SMS Backup & Restore application, which we tell you everything about here, to restore your SMS. Open the application, press "restore" then select the XML file you got, voila your SMS are transferred.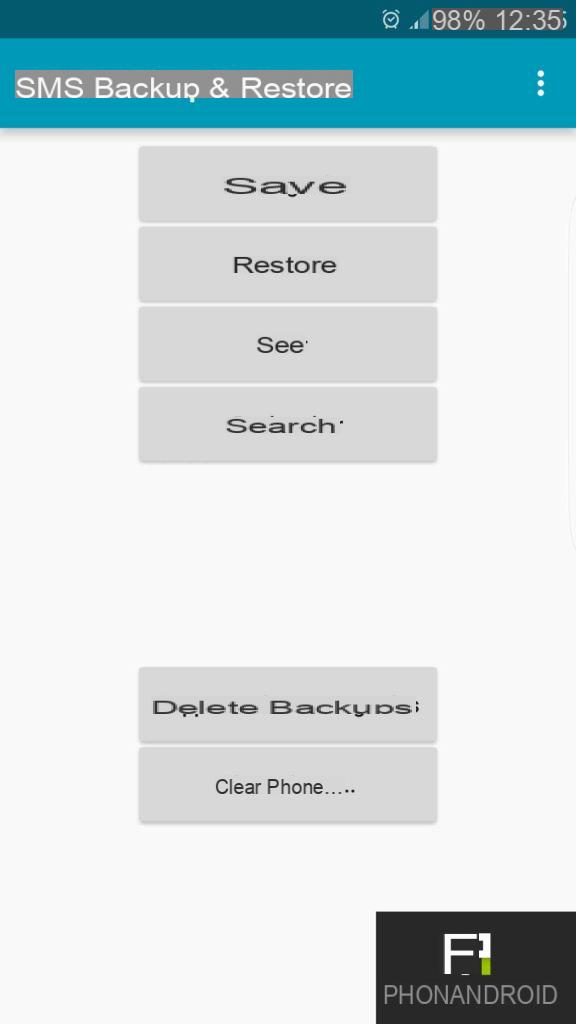 Use the builders transfer applications
Samsung : Smart Switch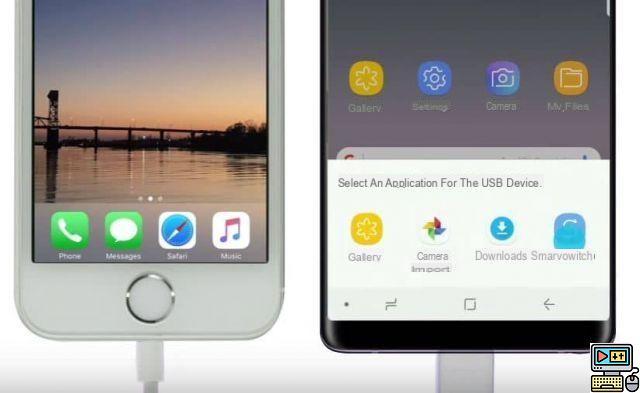 At Samsung there is a solution to easily transfer all kinds of data from your old iPhone to your Galaxy which is called Smart Switch, the transfer is done using an adapter which is notably supplied with the brand's flagships such as the Galaxy Note 8, for example. Or directly with a USB type C to Lightning cable. You can thus retrieve on your smartphone the contacts present in the directory, messages, call history, calendar so as not to lose appointments, internet browser favorites as well as Wi-Fi-related settings, and the operating principle is of course very simple.
To get started, just plug the cables into the sockets lightning (iPhone) and USB Type-C (Samsung) of the two smartphones. You just have to wait a bit until you are asked on the Galaxy if you want to open an application and of course you will have to select "Smart Switch". On the iPhone side, nothing to do except accept the pairing request when a popup appears so that the two terminals can communicate for the transfer.
It may take some time for the two smartphones to detect each other. Once connected, you will be asked to select the data you want to recover and at this point you just have to check or uncheck the different elements then validate by clicking on the transfer button and you're done. For once, it can go quickly, however as usual it will mainly depend on the amount of data to be transferred.
Samsung offers a solution that holds up well, the only problem is the adapter is only supplied as standard with high-end terminals. It will therefore be necessary to go back to the cash register for people who do not have a flagship, unless in the meantime Samsung provides this accessory with all his smartphones in the future. In any case, the solution is practical in use and will allow everyone to recover their precious data.
With OnePlus Switch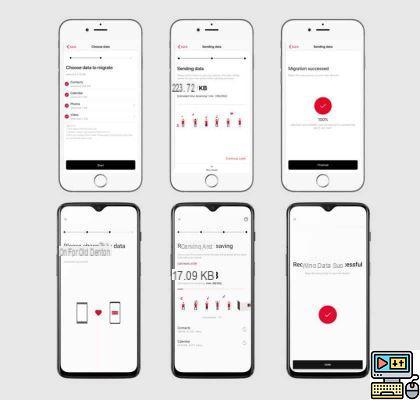 OnePlus has planned an iPhone application and an Android application:
On iPhone, go to this address and tap Install App
On the new smartphone, click here to install OnePlus Switch
Launch the app on your new smartphone and follow the instructions
Conclusion
Congratulations, you have upgraded from iPhone to Android phone without losing your data! As for the best Android apps, you should easily find the same ones you were already using on your iPhone. You will also see that Android is an extremely customizable OS. When you have mastered the basics, you may be able to test Android launchers to further personalize your phone!
For further : How to choose between an iPhone and an Android smartphone?
Are you one of those people who made the switch from iPhone to Android phone or vice versa? How did it go for you?