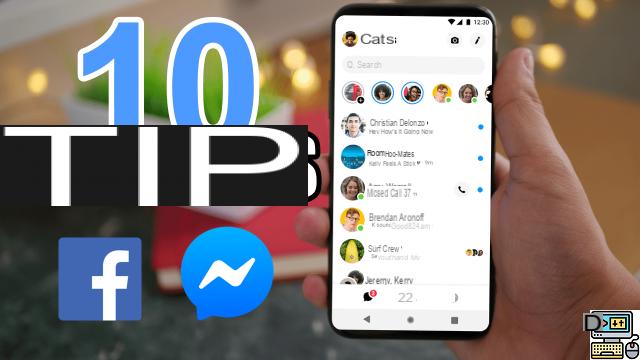 Facebook Messenger does more than give you the ability to exchange messages with your friends. It houses several features some of which are less known than others. Here are 10 of the most interesting ones accessible in the messaging app.
More than 1,3 billion people use Facebook Messenger every month around the world. For the majority of users, its usefulness is limited to sending and receiving instant messages. Since the messaging application is accessible separately from the social network, Facebook has continued to improve it by adding new features.
Here are some of the coolest things you might not know you can do with Facebook Messenger.
Encrypt your conversations
Secret conversations were added to Facebook Messenger in 2016. It is therefore possible to encrypt your exchanges from end to end, avoiding any kind of interception by third parties, whether hackers, information and even your internet service provider.
Encrypted messages can only be accessed from the mobile app. On Android, select a contact, tap the icon with an "i" in the upper right corner, then tap Start a secret conversation. On iOS, tap the pencil icon in the top right, then tap Secret. Then select the contact with whom you want to exchange encrypted messages.
Share your location with Facebook Messenger
If you want to tell a friend the exact location where you are at a given moment, all you have to do is share your location. To do this, tap on the "+" icon on the far left inside a conversation, then on the button " Location ". Follow the instructions.
Create a shortcut to a group
Is there a group that you consult regularly? Facebook offers the possibility of creating a shortcut on the home screen that leads directly to it. If you find this possibility useful, just go to the group tab from the Facebook Messenger home page, tap on the three vertical dots in the upper right corner of a group and then on To create a shortcut.
Create polls
Do you want to gather the opinion of as many people as possible on a particular issue? Facebook Messenger allows you to create polls in the groups you belong to. Enter a group, press the "+" icon on the left and then polls. Follow the instructions to create your complete questionnaire.
Send and receive money between friends
This is one of the latest features to be added to Facebook Messenger. Do you want to borrow or lend a small amount of money to a loved one? Facebook has decided to make things simple. Check out this article on how to send money to your friends.
Disable read confirmation
This is one of the most popular features on WhatsApp: the ability to read messages without the interlocutor knowing. But unfortunately Facebook Messenger does not allow this by default. However, it is always possible, thanks to tricks, to read messages without sending the mention "seen".
Interact with a bot
Do humans bore you? It can be so much more fun to chat with bots. Facebook Messenger offers a "Discover" tab accessible on the far right of the application (the icon in the form of a thunder). It allows you to chat with several AIs offered by companies or individuals in order to answer your specific questions or needs.
Open secret inbox
Facebook hides an inbox containing received messages that you have never been able to see. The reason is simple: the application filters certain messages from people who are not on your friends list. Read this article to learn how to show hidden messages on Facebook Messenger.
Entertain yourself with a myriad of games
This is not the least known of the possibilities offered by Facebook Messenger. You're bored ? The messaging app is packed with games to help pass the time. You can play various types of games: from Basket Ball to Solitaire, including Pac-Man and Space Invaders. Just access the games section, the icon of which is in the form of a joystick on the right, in the menu. downstairs.
Use Messenger on a computer without going through Facebook
The Messenger app used to be available as a separate PC app. Even if some sites still offer to download a Messenger on PC, the official application has been abandoned and is no longer maintained. If, however, you want to use Messenger without having to be distracted by the Facebook news feed, you can only access messaging through messenger.com.
Do you know of any other hidden features on Facebook Messenger? Feel free to share them in the comments.
The editorial advises you:
Instagram, Facebook, Uber Eats: here are the 50 apps that collect your data the most
Our pick of the best video editing software in 2021
Facebook allows you to turn off videos from autoplaying in your News Feed. It's very simple, even if the path is not obvious to anyone who has never seen it...Facebook Messenger has been using end-to-end encryption since 2016. To take advantage of it, just start a secret conversation with one of your contacts. Still need to know… When you use Instagram, your contacts can know that you are online, a small green circle appearing on your avatar. Except that you might want to survey the application in all… Instagram allows you to activate double authentication so that you no longer depend solely on the security of your main password. A way to significantly strengthen the protection of your account...